How to Train Your Dog to Ride on a Motorcycle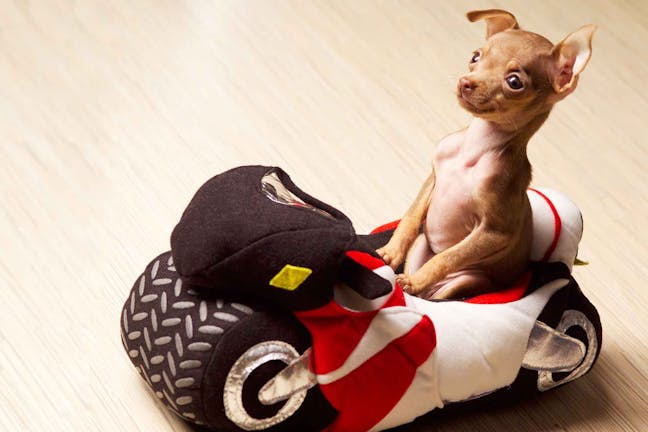 Introduction
There is nothing quite like the feeling of the wind rushing past you when you're out on the open highway on your bike. Now, imagine how much fun it could be if you could take your furry friend along for the ride with you. By now you must have seen other motorcyclists cruising down the road with their pup sitting on the fuel tank. It's quite a sight and, while you may not realize it, going for a cruise out on the bike can be a lot of fun for your pup too!
However, there are several stages to training your dog to ride on a motorcycle, so depending on the age of your dog, the breed, and his anxiety levels, it could take weeks or even months before he is comfortable riding with you. But, once the hard part is over, the two of you will be able to enjoy many miles of happy riding together. 
Top
Defining Tasks
While you could get a sidecar or trailer for your pup to ride in, this would never be as much fun as training him to ride in front of you. Of course, bear in mind that some larger breeds are simply not suited to being in this position, for your safety and theirs. The most important thing to remember is that your pup needs to learn how to sit still, hold on, and not get freaked out around traffic.   
Your pup also needs to be comfortable with having your arms on both sides controlling the bike as the two of you go down the road. There is one thing you should check before you get too hooked on the idea of having your dog go riding with you. That is whether your state has laws against having your dog ride on top of your bike with you. 
Top
Getting Started
While this trick may not seem to be that complicated, there are several steps that must be followed in order to make this training successful. If you are going to train your dog to ride "on" your motorcycle, there are a few supplies you will need, including:
Treats: To reward your pup when he does it right

Tank bag: Your pup needs something to hang onto while he is on your bike. There are special tank mats available in some pet stores and online designed specifically for this purpose. Never try to make your pup ride on the painted surface, as it is far too slippery for him to get any type of grip on.

Dog helmet: While this is optional, if you are going to wear a helmet to protect your head, shouldn't your pup be wearing one too?

Dog goggles: Your dog doesn't want dust, dirt, and bugs in his eyes any more than you do.

Doggy jacket or sweater: To help keep your pup warm when its chilly outside.

Some people also choose to include some kind of harness that keeps their dog attached to them in the event of an accident. But, at the same time, a harness may not allow them to leap free of the bike and avoid injury. 
Top
Start young
Start by putting your pup inside your jacket and climbing on your bike and sitting there with him.
Fire up the bike
Once he is comfortable with being in your coat, go ahead and start the engine so he can get used to noise and vibrations.
Side motion
Using your legs, hold the bike upright and move it around from side to side. This will let him feel what it's like to be out on the road. It will also give him time to get his balance under control for when you are going down the road.
Roll along slowly
Put the bike in gear and slowly roll down a quiet street until your pup seems to be quite comfortable riding on the bike with you.
Pick up the pace
Take your time getting up to riding speed, this will give your pup plenty of time to get used to the feeling of the wind in his face along with the noise and traffic. From here, the rest is up to you The more you take him out for rides with you, the more he will look forward to it and the more fun both of you will have.
Strap on the carrier
Strap the appropriate size carrier on the luggage rack, back seat, or in a pannier on your bike.
Place your pup
Place your pup in the carrier with the bike parked and turned off.
Start the engine
Start the engine and allow your pup to get used to the noise. If he seems nervous, try giving him a treat or two along with some soothing words of encouragement.
Go for a short trip
Once your pup seems to be used to the noise and being on the back of your bike, go ahead and take him for a few short rides around your neighborhood. As long as he doesn't try to jump out of the carrier, you are ready for the next step.
The long haul
It might take a few weeks, but in time your pup will be more than ready to head out on the highway. Time for you to sit back and enjoy the ride with your faithful furry companion on the back of your bike.
Park it
Park your bike and turn it off. Install the tank mat and show everything to your dog.
Sit on the mat
Pick your pup up and help him to sit on the tank in the riding position. Hop on the bike and using words of encouragement, let him get used to being there with you sitting behind him.
Wobble around
Wobble the bike gently from side to side. This lets your pup get used to the movement and learn to adjust his balance to meet the movement of the bike.
Start your engine
Once he seems comfortable, start the bike and give him time to get used to the vibrations and sound of the engine.
Start off slow
Put the bike in gear and very slowly roll forward. If he seems ready to jump off, stop and go back a step or two.
Increasing speed
Slowly work your speed up as your pup becomes more comfortable until you can cruise through town and then finally out on the open highway. Just watch out for flying drool as your pup lets you know just how much fun he is having.
By PB Getz
Published: 10/23/2017, edited: 01/08/2021
---