How to Train Your Dog to Roll a Ball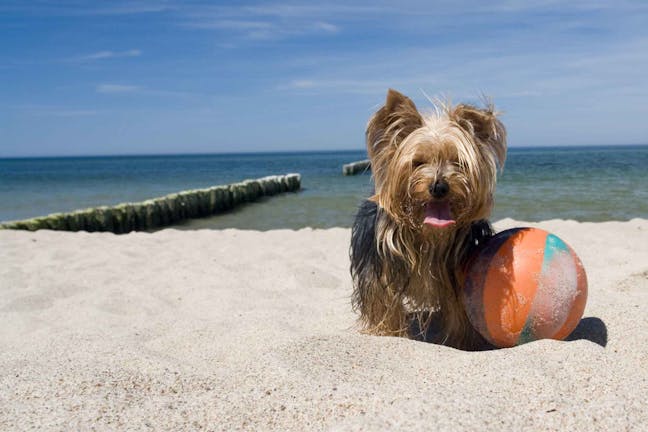 Introduction
Train your dog to roll a ball and you have a playmate for life. Your dog will also have a playmate while you are away. He can roll a ball around, entertaining himself for hours if he has the attention span. Teaching your dog to roll a ball is also a fun trick to show other people. Turn your dog into an entertaining pet by training him to do easy but fun tricks. Anyone visiting can play with your intelligent dog, who can roll a ball back to them. Stand back and imagine all the comments of praise and glory your dog will get when he is the cutest dog on the block who also knows the best social tricks. If you have more than one dog, you can train them to play soccer with one another. Or, take your dog to the park and play soccer with a net. The fun never ends once you train your dog to roll a ball. 
Top
Defining Tasks
Training to roll a ball isn't hard but it will take some repetition and patience. You can train your dog to roll a small ball like a tennis ball or a larger soccer ball, or an even larger yoga ball taller than your dog. To do this trick, you will be teaching him to target. If your dog already knows how to target, this will be easy. If not, that's okay, he'll pick it up as you go. This is a fun playtime trick, so enjoy the time together and use these short training sessions to bond as well. 
You can train a dog any age this trick, but dogs between four months and two years may be easiest to train. If your dog loves to play with balls, you may need to work harder to keep his attention. You may also need a ball different than the one he usually plays with so he can stay focused. Different styles of floor or ground surface will affect your training sessions, so be open to moving if necessary. 
Top
Getting Started
You will need a ball or several balls in different styles and sizes. A dog bowl is required for at least one method. Be sure to have fun with your dog. Keep your training short and simple. If your dog begins to show boredom, move on to something else or give him a break. 
Top
Treat in bowl
Using her food bowl, set a treat inside and place a ball on top of the treat. This ball should not roll too much inside the bowl. If it does, use a larger ball or smaller bowl.
Thinking
Your dog will be curious and will want to get to the treat. She will try to figure out how to get the treat from under the ball.
Assist
If she needs assistance, you can nudge the ball to the side so your dog can see the treat but then put the ball back in place.
Master
Once your pup has pushed the ball out of place, let her have the treat.
Practice
Continue to practice this. Once she does it the first time, it won't be difficult to get to her reward.
Floor
Move the ball and treat out of the dog bowl and onto the floor. Carpet might be best if you have it, because the ball will stay in place better than on a hard floor. Grass will work too.
Repeat
Hide the treat under the ball and wait for your dog to nudge the ball with her nose to get to the treat.
Name it
As soon as your dog rolls the ball without the treat under it for the first time, give the action a name such as 'play soccer' or 'roll ball.'
Keep practicing
Keep practicing rolling the ball with your dog. Once she has a real hang of it, the two of you can create a game and roll the ball back and forth or even into a soccer net. Keep up those rewards as well so she knows she's doing a great job.
Introduce ball
Introduce the ball you are going to use with your dog.
Reward
When he touches the ball to his nose during your introduction, click and treat.
Redirect
If your dog paws the ball or touches it with any part other than his nose, try again. Make sure you are not rewarding this touch behavior because you want him to roll the ball eventually with his nose. Reward only when he touches the ball to his nose.
Command
Once your dog is used to touching the ball with his nose, start using a command such as 'roll the ball.' Repeat the steps above using the command, showing him the ball, and letting him touch it with his nose. Be sure to click and treat each time he touches the ball to his nose.
Let go of the ball
Instead of just holding the ball in the air and letting him touch it, put the ball on a hard surface floor and use the command to roll the ball.
Action
Your dog should touch his nose to the ball, rolling it. This is more an action of the hard floor than it is of your dog pushing the ball along. But you are going to click and treat and reward each time your dog touches the ball to his nose and moves the ball in any way.
Keep at it
Keep practicing with different size balls and different floor surfaces. Each time you set the ball on the ground, use the command to roll the ball and expect your dog will touch it and eventually push it with his nose.
Target touch
Teach your dog to target touch anything by tapping on an object, waiting for him to touch it, and rewarding with a treat when he does touch the object with his nose.
Repeat
Practice target touch with several objects around the house and outside.
Touch command
Once your dog has target touching down, begin to use the 'touch' command and repeat the steps above.
Push
Using objects he can push with his nose, like a ball or an open door, have him begin to put some force behind his touch. Teach this by using the steps above, but creating an opportunity for the object to move like leaving a door partially open so when he touches and pushes, the door moves. Or place a ball on a hard surface so it is sure to roll when your dog pushes.
Yoga ball
Using a large yoga ball, at least at the height of your dog's shoulders, hold it between your legs and repeat the steps above, starting with the 'touch' command and moving to the 'push' command.
Let the ball go
Let the ball go and use the command 'push.' At this point in training, your dog should be able to push the ball around with the command to push.
Challenge
You can add challenges by changing the size of the ball or add obstacles like corners or hills.
By Stephanie Plummer
Published: 11/03/2017, edited: 01/08/2021
---