How to Train Your Australian Cattle Dog to Run Agility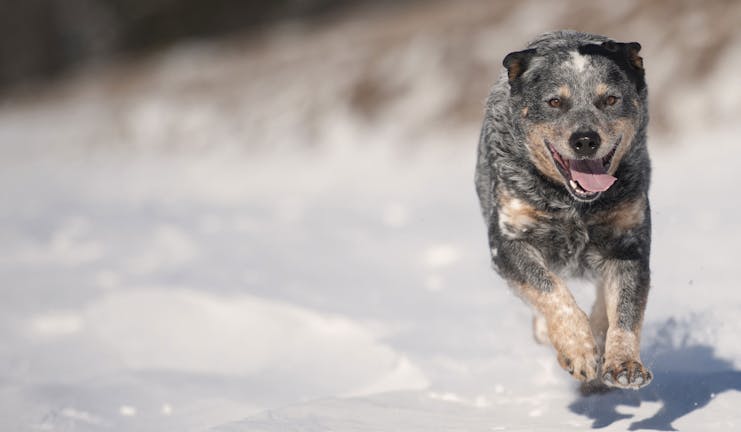 Introduction
The Australian Cattle Dog, also referred to as a Blue or Red heeler depending on their coat color, is an intelligent, energetic, highly trainable working dog developed for herding cattle. They are also ideal for activities like agility. Because they are highly motivated to work and have lots of energy, Australian Cattle Dogs get excited about learning agility obstacles and their athletic ability makes them real naturals. Like most herding dogs, they are extremely intelligent, able to problem solve, and learn complex behaviors. This can make learning agility obstacles easier for Australian Cattle Dogs than some other breeds. However, because they are also very independent and can be stubborn at times, you will need to have established a good relationship and obedience with your dog prior to starting agility training. Being successful at running agility courses takes a lot of work on the part of the handler and the dog to practice and develop conditioning, ability, and skills. Fortunately, your Australian Cattle Dog is a worker! He is more than capable of putting in the effort, you just need to match his enthusiasm and running agility courses will be lots of fun for both of you.
Top
Defining Tasks
An agility course contains all sorts of obstacles, including, jumps, weave poles, tunnels, and contact obstacles. Jumps can be series of hurdles, taller upright jumps, hoops, and long jumps and come in all kinds of sizes and shapes. Jumps are adjusted to the height of the individual dog performing them. Ramps like "A" frames, seesaws and elevated dog walks are used, as are pause tables that a dog needs to jump on and may be required to sit or stay on. Several of these obstacles have designated areas where your dog needs to make contact with his paws to successfully complete the obstacle--these are called contact obstacles. 
Because agility obstacles can be strenuous, especially jumps, make sure your dog is physically able to perform them prior to initiating training. A veterinarian can identify whether your Australian Cattle Dog has any orthopedic conditions that would prevent him from performing agility obstacles. Young dogs are often introduced to agility obstacles, however, they may not be physically or mentally mature enough to perform all obstacles and sequence performing obstacles until they develop further.
Top
Getting Started
Before running agility courses,  you should have established a good working relationship with your Australian Cattle Dog, and your dog should be reliably trained to respond to verbal commands and preform obedience commands on and off leash. You will need to set up agility obstacles in a contained area, like a fenced yard or a large indoor area. Many agility obstacles can be homemade, but make sure they are sturdy and safe and that your dog will not become injured using them. Agility obstacles are also available commercially. Local kennel clubs and dog sport organizations can provide information on obstacles, sizing, and spacing and give tips and specifications for creating and setting up obstacles. To reinforce successfully completing obstacles and encourage your dog, treats in the form of food or a toy to play with can be used.
Top
Make obstacles easy
Set obstacles at their easiest level; jumps at lowest setting, tunnels short and straight, poles far apart for dog to easily navigate.
Get set
Put your dog on a lead and carry a favorite toy or treats in a pouch at your waist. Let your dog investigate obstacles. Get your dog excited by talking in an excited voice.
Guide
Lead your dog to the first obstacle and guide him over or through the obstacle with the lead line. Reward your dog with toy or treats after each obstacle.
Increase difficulty
Continue practicing each obstacle. As your dog becomes adept at each obstacle, make it harder; raise jumps, bend and lengthen tunnels, move poles closer together.
Put it together
Once your dog is comfortable with the obstacles and negotiating them, start practicing individual obstacles off-leash, then start sequencing them together.
The Contact Obstacles Method
Teach 'sit-stay'
Practice 'sit-stay'. Provide a verbal command and reward your dog for performing.
Teach 'touch'
To teach your dog 'touch', mark a designated area on a board with yellow paint. When your dog touches the spot with his paw, say "touch". Use a clicker to capture and reward.
Introduce contact obstacle
Introduce a contact obstacle like a pause table or A-frame with a contact spot marked. Teach your dog to jump on the pause table or climb the A-frame.
Command contact
Provide the verbal command for 'sit-stay' or 'touch' at the designated spot on the contact obstacle. Add clicker to mark.
Reinforce
Reinforce correct behavior of sitting or touching the contact spot. Gradually, remove the verbal command as your Australian Cattle Dog starts to automatically perform contact.
The Retrieval and Lures Method
Set up
Use a favorite toy or high value treats. Set obstacles at their lowest or easiest settings. You will practice each obstacle individually. Master each one before going to the next.
Toss or lure
Start with your dog off leash. Approach the first obstacle, for example, a simple tunnel or jump. Toss the toy over the jump or through the tunnel and call your dog from the other side of the obstacle. For some obstacles where tossing is not an option, such as weave poles, hold the toy or treat in front of your dog and weave it through the poles so your dog follows the object with his nose,. Provide the object once the obstacle is complete.
Lure contact spots
Place the treat on marked contact spots on contact obstacles so your dog pauses at the spot to get his reward.
Shape contact
Gradually shape behavior of touching or sitting at contact spots. Remove treats and replace with encouragement and praise.
Put it together
Once all obstacles are well understood, start increasing height and spacing. Perform obstacles in sequence, start performing two obstacles, then three in a row, then more, until the entire course is completed.
By Laurie Haggart
Published: 12/26/2017, edited: 01/08/2021
---