How to Train Your Older Dog to Sleep in a Crate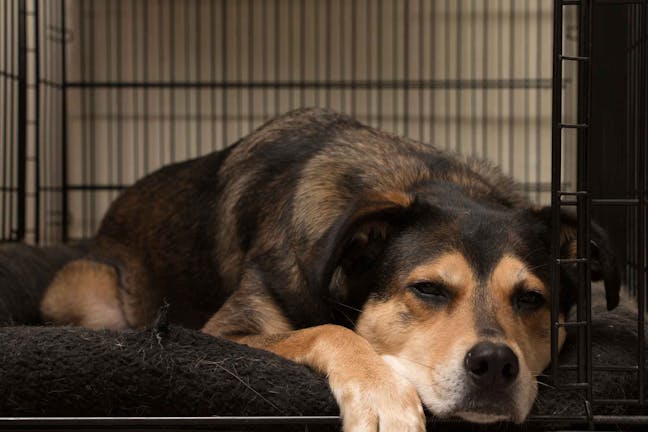 Introduction
Your older dog could be a rescue dog, or you could have had the same dog in your family for many years, but as he's becoming older you need to keep him sleeping in a safe place. Some older dogs start behaviors such as marking or even having accidents in the house as they age. Rescue dogs may need some help with self-control as they get used to their new world and new home. A crate provides a comfortable and safe place for your older dog to go when it's time for sleep. This can help ease any anxieties or confusion your older dog may be feeling. Think of your dog's crate as a bedroom of sorts for your pup. A place to go when he's not only tired but also nervous or anxious. 
Top
Defining Tasks
Training an older dog new tricks takes time and repetition. Your older pup will get used to a new idea with some tasty rewards and encouragement to sleep in a closed off, comfortable place. Take this training slowly and try to avoid locking your older dog in a crate for long periods of time right off the bat. If you have time to build up his tolerance for the crate, he will begin to see it as a safe place rather than punishment. Before you buy a crate, make sure you know the size you will need for your dog. Your dog should be able to stand up inside the crate and turn around. It doesn't need to be too big, and a crate too small will be too constricting for your dog. Make sure you also have soft bedding for your dog, so sleeping is cozy and comfortable.
Top
Getting Started
To start this training, you will need an appropriate size crate, bedding not only large enough for your dog and the crate but also comfortable enough for your dog to want to stay for long periods of time once he is used to the crate. You can entice your dog to get into the crate, encourage him to stay, and reward him for doing well with tasty treats. 
Top
The Increase Increments Method
Introduce crate
If your older dog has never been in a crate or you're not sure because you have adopted an older dog, the first thing you need to do is introduce a crate in your home to your dog. Try to put the crate in a place where it will remain and where you want your dog to be sleeping. Leave the door open and put a couple of high-value treats inside, encouraging him to visit.
Once inside
Once your dog travels inside the crate to grab those tasty treats, talk to him with the door open. Encourage him to lay down on some soft bedding you have inside, pet him through the door, and even offer him another tasty treat.
Stay inside
Go about your day encouraging your dog throughout the day to get inside the crate. During these first few days while you're introducing the crate, keep the door open. This might mean you need to be around to supervise your dog. If you catch him inside his crate without you encouraging him or asking him to go in, give him a treat to acknowledge that he's done something good.
Time to sleep
Whether you want your dog to sleep in the crate at night or to be in the crate during the day while you are away from the house, when it is time for your dog to sleep, encourage him with treats to go into the crate and close the door. Only do this after your dog has gotten used to the crate for the last few days.
Treat
After you close the door, give him another treat. With lots of love and verbal praise, tell him it's time to go to sleep and step out of his view.
Not too long
Don't leave your dog in the crate for long periods of time, especially at first. You want him to think of his crate as a safe place, almost as his personal bedroom. Not as punishment.
Longer times
Increase the time your older dog is left in the crate over a period of time. As soon as you are able, open the door and let him out. Be sure to take him outside to go potty at the end of every session in the crate.
Rewards
Make sure you give your dog a nice tasty reward as soon as you open the door to the crate to let him out.
Over time
As your dog gets used to sleeping in his crate, especially if he is a rescue dog, he will begin to see his crate as his personal private a space. You may see him go into his crate and sleep on his own without you having to tell him to go in. He may even get to the point where you can have the door off of the crate or left open because that's where he wants to sleep.
Get a crate
Before you introduce your dog to the crate, be sure you have the correct size crate for your dog. If he's an older dog, he'll need enough room to stand up and turn around. You do not need to leave space for a potty area or an eating area. Just make sure he is comfortable and safe.
Introduce crate
Put the crate in a place you want your dog to sleep. Be sure to think about where you want your dog to sleep at night. For instance, if your dog would be more comfortable in your bedroom, you may want to place the crate in your bedroom with the expectation that he sleeps in your room with you but inside his crate.
Fill and explore
Fill your crate with soft comfortable bedding. If your dog is attached to a toy or stuffed animal, be sure to put that in there as well. Let your dog explore the crate before you even put him inside of it. As a new fixture in this room he may want to walk around it and if it look at it and he may even walk inside. While your dog is exploring, do not close the door on him if he goes inside.
Playtime
Before you put your dog in the crate, wear him out with some play time. Go for a run or walk or play fetch outside in the yard and wear him out. You want him to be nice and tired ready for a nap when you come back to the crate.
Nap time
After you have tired your dog out by playing, walk him to the crate and put a high-value treat inside. Encourage your dog to lay down on the soft bedding you have provided in the crate and eat his high-value treat.
Verbal praise
Sit in front of the crate, blocking the door but without closing it. Talk to your dog and offer him some verbal praise. You can tell him he's a good boy, you can tell him he's very tired after your play time together and he needs to go to sleep. You could encourage him to lay down by offering him another treat or patting the bedding. If he knows commands such as 'down' you can also use this to get him to lay down.
Sit outside
If your dog is eager to get up and walk out of the crate, continue to just sit outside the crate blocking his way but not closing the door. If he's not settling down and going to sleep you can rub him behind his ears pr hug him gently, but try to remain quiet to encourage sleep.
Sleep time
Your dog goes to sleep you can get up and leave the crate. If you are unable to keep your eye on him you can quietly close the door or just pull it to without locking it so you don't wake him. If he notices you're leaving you can offer him another treat and quietly say "go to sleep".
Practice
While your dog is getting used to being in the crate, wear him out before you put him inside. Over time, he will eventually realize that this is a great place to sleep and he will just go into his crate to sleep.
Reward
Be sure to reward your dog when it's time for him to get up. If he's awake, open the door and let him out. Offer him a treat when he leaves to let him know what a good boy he is for sleeping in his crate.
Crate introduction
You will want to introduce the crate to your dog slowly. But let him get inside for short periods of time. When you first introduce the crate, set it up with your dog. Put the bedding inside, put a toy inside, and maybe put an edible treat toy inside the crate. Talk it up with your dog to get him excited about it.
Dog inside
Encourage your dog to go inside the crate by using a high-value treat. Place the treat in the back of a crate so your dog has to walk in to get it.
Short stint
Keep your dog's time in the crate limited for the first several tries. You can close the door and sit outside the door, or you can leave the crate door open and still sit outside the doorway, blocking your dog from coming out.
Out
After the time you allotted for the dog to be in the crate is up, open the door or move out of the way and let your dog out. As soon as he steps foot out of the crate, give him another treat.
Repeat
Repeat these steps a few times a day until your dog can be in the crate for an hour without whining or being upset. Once your dog can be in the crate for an hour, make that your new threshold time and repeat the steps above until your dog can be in for two hours. Continue to repeat bringing your dog out after the short stay in the crate until he is going to sleep and staying asleep until it's time to wake up.
Night time
You will know your dog is comfortable in the crate when his time is up and he's not awake and eager to get out. Once this happens, he should be able to stay in the crate all night long while you both sleep.
By Stephanie Plummer
Published: 12/07/2017, edited: 01/08/2021
---