How to Train Your Dog to Sleep on His Bed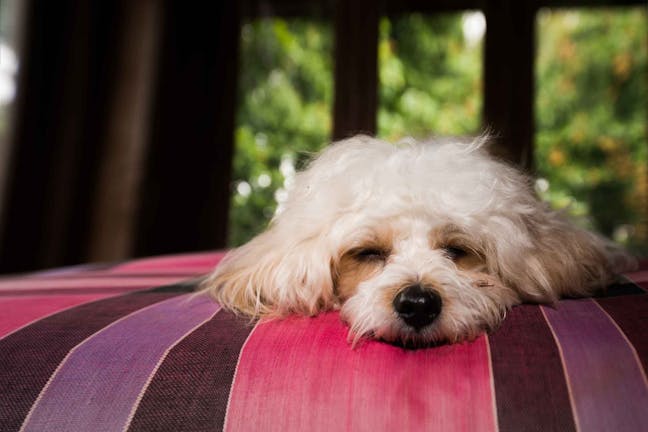 Introduction
Having your dog pace all night looking for a place to sleep isn't very fun. You could lose sleep trying to get your dog to lie down and relax if he doesn't know exactly where he should go each night. Most family dogs will attach themselves to at least one member of the family. Your dog may want to sleep with your or with this chosen family member. But that doesn't mean the dog has to be in your bed. Just in your bedroom. Or even in the hallway just outside your bedroom. 
Wherever you place his bed is where he should stay each night. You can teach him where his bed is and to go to bed when it is time to settle down for the night. Once your dog understands where his bed is and that he is supposed to stay in at all night, you both should be getting a full night's sleep.
Top
Defining Tasks
Training your dog to go to bed--in his bed--is a matter of repetition and comfort. There is a fine balance between finding the correct bed for your dog's needs and putting it in the correct spot to ease any fears or separation anxieties he may have. It may take a few weeks to train your dog to sleep in his own bed, but if it does, it's probably because you need to find a different spot for the bed. Many dog owners don't want their dog in bed with them but don't mind a dog bed in their bedroom. If your dog's bed is already in your bedroom, consider placing it closer to your bed so your dog can look up and see you at night and hear you breathing. He's going to feel safe knowing you or at least another family member is nearby.
Top
Getting Started
Make sure before you get started training your dog to sleep in his bed you know how your dog sleeps. If you have a small dog who sleeps in a little round ball, he may be more comfortable in a small bed with raised sides he can snuggle into. If you have a larger dog who spreads out once he's in a deep sleep or lies on his back with his feet straight up in the air, you may need a larger bed. If your dog is older, memory foam mattresses provide great support for achy bones. Be sure you have the proper bed for your dog's size, breed, and needs. You will also want some extra treats on hand, possibly even in the sleeping space, to reward your dog for a job well done. Have some patience with this and be open to change. Your dog may not be happy sleeping in the dining room if you're upstairs on the opposite side of the house.
Top
Show bed
Choose a bed your dog will want to sleep in. If your dog is a puppy, he may want a small bed with raised sides for comfort. If he is a larger dog who sleeps stretched out, he may like a large bed without raised sides. To keep your dog in his bed, it will need to be comfortable for him.
Pick a spot
Choose the perfect place for your dog's bed. This should be a place he will want to sleep. If he is very close to you, he may want to sleep in your room or he may prefer the living room to keep an eye on the house while he sleeps. Some dogs may prefer, or you may prefer, sleeping in a child's room. Make sure the spot you pick for his bed is a place you can keep his bed permanently.
Command
Use a command you will use each night with your dog to signify bedtime. Use the command and encourage him to get onto his bed. Once he does, give him a treat.
Practice
Continue to practice the 'go to bed' command each time you want your dog to lie on his bed. Giving the command during the day will help him remember the command at night as well.
Bedtime
When it is time for bed, use the command. If your dog does not automatically get into his bed, walk him to it. Be sure to give him a treat. It will take several nights for him to be able to go on his own, but over time he will put himself to bed.
Redirection
If your dog leaves his bed during the night, redirect him by taking him back. You can offer him a treat for going back to bed but only do so once. If he wakes again, he does not get a treat. If you continue to treat him, he'll continue to wake you for that midnight snack. If he goes potty in the middle of the night, a treat is a good idea once he's back in bed. Once your dog is about a year old, he should make it through the night without going potty.
Introduce bed
Show your dog his bed and where he is expected to sleep. Be sure this is a place and a bed where he will be comfortable and most likely to stay.
Pat bed
With your dog, pat the bed and encourage your dog to get on it. Click and give him a treat and lots of verbal praise and excitement over the bed. He will feel your enthusiasm and begin to feel the same about his bed.
Command
Talk up his bed with a command. "This is where you will go to bed.'" Say the key phrase often so your dog associates the phrase 'go to bed,' or whichever phrase you choose, with the bed.
Nap time
During the day, encourage your dog to sleep on his bed by using the command and taking him to his bed. You may need to wake him from a nap and walk with him to his bed. If he's sleepy, he may stay longer. Be sure to click and reward him with a treat and use the command even for daytime naps.
Bedtime
Use the command again and walk your dog to his bed. Give him a treat and tell him good night.
Redirect
If your dog leaves the bed, you can use the command and walk him back to his bed. Be sure to use the same command every time. If your dog does not stay, you may need to reconsider the placement of the bed. For instance, does he want his bed in your bedroom at night?
Command
Pick a command you will use at night for bedtime. You could say 'go to bed' or 'it's bedtime.'
Place bed
Pick the perfect place for your dog's bed. Think about where your dog usually sleeps or would like to sleep. Would you both be more comfortable in your bedroom, or do you want him away from your room at night?
Walk to the bed
Take your dog to his bed by walking him to it. Avoid carrying him to bed as he will grow expecting that treatment each time he needs to sleep in his bed.
Treat
Once your dog steps onto his bed, give him a treat.
Sleep
Anytime your dog is sleepy, walk with him to his bed and give him a treat once he's on the bed. Use your command to 'go to bed'.
Bedtime
Repeat the steps above at bedtime. It may take a couple of weeks using his bed each night to get him to stay in his bed all night. If he leaves the bed at night and you'd like him to stay, simply redirect him by walking him back and giving him the command to go to bed. Keep practicing, he'll get it with time and practice.
By Stephanie Plummer
Published: 11/07/2017, edited: 01/08/2021
---