How to Train Your Dog to Stay in an Unfenced Yard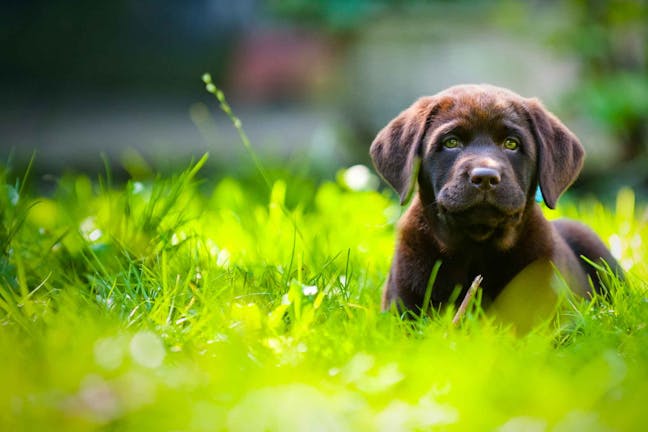 Introduction
Keeping your dog safe while in your unfenced yard is imperative to owning a dog on a large property or having a dog in a home without fencing. Your neighbors may not want your dog on their property and many homes in rural areas have a lot of yard space but no fences to mark these boundaries. There are dangers in having a dog in an unfenced yard as well. Numerous dogs are hit by cars every day because they are allowed to roam freely near roads or driveways. Keep your dog safe and protected by keeping him on your property. 
Respecting your neighbors' property as well as their pets or livestock is simple with training your dog to stay in your yard, even if it does not have a fence. Teaching your dog his boundaries will keep him home, or at least in your yard and out of harm's way, as well as out of trouble.
Top
Defining Tasks
Training your dog to stay in an unfenced yard is basic boundary training. You will be showing your dog his boundaries, where he can go, how far away he can be from your or your home, and where he is not allowed to go. Boundary training takes time and repetition. To teach your dog his boundaries, you will need time and patience. Be sure to practice this training every day. You will start by showing him the far boundaries of your unfenced yard and then work up to challenging him not to cross that invisible line as he gets used to your expectations. This might be a difficult task at first, but remember to repeat this training each day, several times a day, in short sessions to get your dog to understand and remember the rules around the border. 
Top
Getting Started
Be sure to use some high-value tasty treats for rewards and to entice your dog when necessary. You will need a leash for early training. Be sure to have the proper collar and/or harness as well, depending on your dog's size. At least one method uses marker flags. These can be found at your neighborhood hardware store. Temporary flags can mark the border line so your dog can see the visual line and begin to make a connection to your expectations with the border. Have patience and dedicate time for this training. It may take several weeks to be able to leave your dog unattended in your unfenced yard. 
Top
Walk the border
Walk with your dog on a leash along the perimeter of your yard several times a day for a few days. While walking the perimeter, point toward the ground on your way around so your dog can visually see his boundary. You can also mark this area with flags, but it's not necessary.
Boundary
After a few days, stop pointing to the perimeter and begin a sweeping motion with your arm so your dog can see the perimeter of his boundary line. Do this walk with your dog at least four times a day for a few days. Your dog should begin to stop at the boundary line and not cross.
Commands
Once you have spent about a week showing your dog his boundary line, begin to go to the line with your dog and start commands. Beginning with sit, have your dog sit in various places at the border line on your property.
Stay
After practicing sitting on the line, start using the stay command while at the border of your property. To challenge your pup, you can cross the line yourself while having the dog stay on his side.
Leave it
Back on your property, take your dog on the same daily walks and use 'leave it' as you get to the line. If your dog is not familiar with the leave it command, it may take another week or so using this command for your dog to connect and understand he is to leave anything on the other side of the line alone.
Treat challenge
Once your dog understands the 'leave it' command as it relates to the the property line, begin tossing treats onto the opposite side of the property line and use the leave it command. Your dog should refrain from going after the treats. Once he is successful, you can offer him a different treat. On the other hand, on your way back around your property line walk, you can cross the line using the 'stay' command and get the treats for your dog from the other side.
The Help from Friends Method
Commands
Train your dog basic commands such as 'stay,' 'come,' and leave it.'
Walk
Once he knows those commands, begin to take him for a leash walk along your property line. If your dog tries to cross over the line, gently tug the leash or stop walking so he is stopped in her tracks.
Treat
Once he responds and comes back to you, offer him a treat.
Recruit a friend
Ask a friend to run quickly across your yard crossing the property line. If your dog doesn't chase, offer him a treat. If he does try to follow, stop or shorten the leash to keep him on the correct side. You can also use the 'leave it' command.
Toys
Continue to use a friend to help you by tossing a ball or toy over the boundary line. Use the 'leave it' command to keep your dog on the line, not crossing over. Give him a treat once you realize he is not interested in crossing the line.
Play
Once your dog is used to this imaginary line, try having your dog outside off leash. Play with him and toss toys on the other side of the line every so often as you play.
Reward
Be sure to reward your dog as he learns where his boundaries are.
The Boundary Training Method
Clicker
Using a clicker, teach your dog to recognize flags and then place them along the boundary line.
Flag line
Buy utility marking flags from your local hardware store and place them along the invisible boundary line where you would like your dog to stay. Consider placing these inside your property line if possible so if your dog crosses, he has room for safety while staying off someone else's property.
Indoor flags
Using two flags indoors, teach your dog to recognize a flag by exploring and clicking when your dog acknowledges the flags. Show your dog a flag, let her sniff and touch her nose to it. Click and treat when she touches the flag.
Separate flags
Put two flags apart from one another a few feet apart. Walk your dog to the flags and let her touch them with her nose. Each time she touches the flags, click and treat.
Further
Keep moving the flags further apart and continue to practice getting your dog to recognize and touch her nose to the flags. As you move them further, you may need to walk with her to each flag for her to notice it.
Name it
You can give the flags or the border a name such as 'border' so she recognizes the flags' name and will connect that with her boundaries later. Practice inside with the flags in different areas for about a week before moving outside.
Border line
Outside, place your flags about ten feet apart along the border you'd like your dog to respect. Walk the property line with your dog using the name you've given the flags. Be sure to click and treat each time she touches her nose to the flags. She should recognize and touch each flag as you pass. If she is distracted, you may need to use a leash for the first few weeks.
Off-leash
Continue to practice taking your dog off-leash once she's used to recognizing the flags and touching them. As she does better, spread the flags out more and walk with her off-leash. Click and treat each time she touches the flags.
Practice
Continue to practice with your dog taking flags away as she trains. Over time, you will be able to take the border flags away and your dog should know her boundaries.
By Stephanie Plummer
Published: 10/26/2017, edited: 01/08/2021
---