How to Train Your Older Dog to Stay in the Yard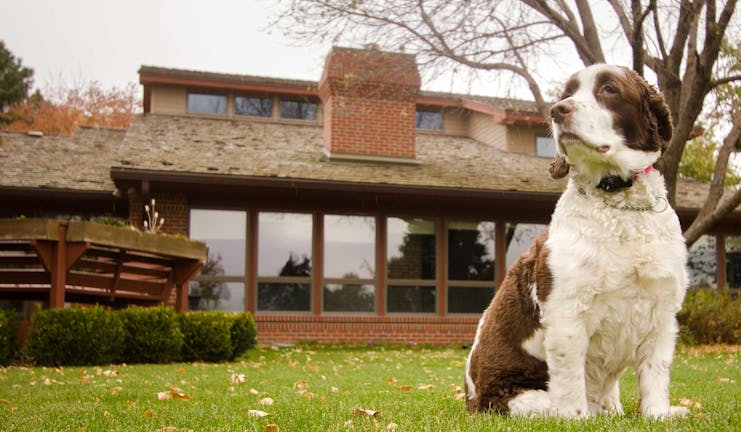 Introduction
Just because you have an older dog, doesn't mean he can't still learn new skills. You may find that some older dogs learn more quickly than younger ones because they tend to be calmer, but others may simply take you a little longer to teach. No matter how you look at it, training your older dog to stay in the yard is a very important and useful skill for your pooch to master. The only other alternative would be to fence in your yard at considerable expense and even then, your dog might climb under or over it.
No matter which form of training you decide to use, the first thing you need is a dog who follows the basic commands. The other thing you need is a yard to work in with distinctively marked boundaries. Keep the boundaries you wish to establish around 3 feet from your property's actual boundary. 
Top
Defining Tasks
The job at hand is to teach your older dog that just because he now lives in a home where the yard has no fence, doesn't mean he can go strolling around the neighborhood like he owns the place. In other words, we are going to teach your dog how to respect his boundaries and stay in his yard where he belongs.
The goal is to teach him that unless he is given permission by you or a member of your family to step outside of his yard, he should NEVER attempt to do so. By learning this skill, your dog should be able to resist the temptation that takes him out into the road where he could encounter a nasty accident. This is a vital skill that every dog needs to be taught. 
Top
Getting Started
While most older dogs have long since learned to obey the basics, before you start training yours to stay in his yard, he must have mastered them. You will be using 'come', 'sit', 'stay', and 'stop' throughout the training sessions. Along with this, you will need a few training supplies, including:
Collar and standard leash

A long leash

Treats

Marker flags

Along with these, you need to have plenty of time to work with your dog on a daily basis. This will help the training move along more quickly. Let your dog learn at his own pace, this will make the whole process much easier for both of you. 
Top
The Basic Training Method
Basic training 101
Take your dog outside on his leash and run him through a series of basic commands. Doing this fully establish who is in command and that your dog is ready to go to work learning his new skill.
All by myself
Repeat this training with your dog off his leash. Do this over several days to ensure your dog is ready to listen to your commands outside no matter what else is going on.
Back on his leash
After taking a nice break, pop your dog back on his leash and head out into the yard.
We walk the line
With your dog still on his leash, start walking your dog around the boundaries. Every time he attempts to cross the boundary, give a gentle tug on his leash. Continue doing this for several laps per session over the course of several weeks.
Use the long-leash
Hook your pup on the long leash and give him plenty of slack. Allow him to wander all over the yard. If he looks like he is thinking about crossing the boundary, use the leash to give him a reminder tug. Work with him like this for a couple of weeks and then try him off-leash. If he seems to want to cross, use the 'come' command to bring him back and go back to the long leash for a little while. In time, he will get it and as long as someone is in the yard, you should never have to worry about his trying to "escape."
Establish the boundaries
Using small marker flags, establish your dog's boundaries. These should be close to, but not right on, the edges of your property or a selected area you have chosen.
Going for that first walk
Hitch your pooch up to his leash and take him for a nice walk around his "new" boundaries. Take your time and watch his behavior. Each time he starts to wander towards the outside of the boundary, use a gentle tug on his leash to haul him back in.
That is your side
After practicing this for a few weeks, place your dog on the inside of the boundary. Next, step on the other side of the boundary while telling your dog to 'stay'. Each time he behaves and stays put, praise him and give him a treat. Repeat this for several days until he is ready to comply with your commands.
Make it tougher
So, it looks like your hound has figured out where his boundaries are, let's see just how successful his training has been. This time toss one of his favorite toys or treats outside the boundary. If he stays put, praise and treats are a must. Rinse and repeat until you are sure he knows where is boundaries are, then there is one final test.
The final exam
Go ahead and let your dog go out in the yard by himself. Hang back where you can see him, but he can't see you. If he wanders around within his boundaries, mission successful. However, you should never let your dog out unattended.
The Extension Leash Method
The first walk
Once you have marked the boundaries around your yard, bring your dog out on a standard-length walking-leash. Take him for a walk around the yard so that he can start to get a feel for where his new boundaries lie. When he wanders (and he will) use the leash to pull him back to you using the 'come' command. As you do this, turn and walk away from your dog. When he follows you, stop and give him a treat along with some praise. Repeat until he stops wandering.
The run through
Put your dog on the extension leash. Have another member of the family go running through the yard. Use the leash to stop your pup chasing them and to bring him back to you using the "Come" command. Keep working on this until your pup stops trying to chase them, give him plenty of praise and a treat.
Next up – distractions
Bring on the toys. With your dog on his extension leash, toss one or two of his favorite toys outside the boundary. If he tries to go after the toy, use the leash to bring him back in. If he stays put, be sure to praise him and give him a treat.
Work it baby, work it
Keep going over this training with your dog until you feel confident in his ability to remain within his boundaries
The proof is in the tasting
Well, in this case, the proof of the hard work the two of you have been putting in. Take your dog out it the yard and play with him every chance you get. Doing so will help to fully reinforce the training and provide you with a dog you can trust to stay in his yard.
By PB Getz
Published: 01/12/2018, edited: 01/08/2021
---