How to Train Your Dog to Stay on Your Property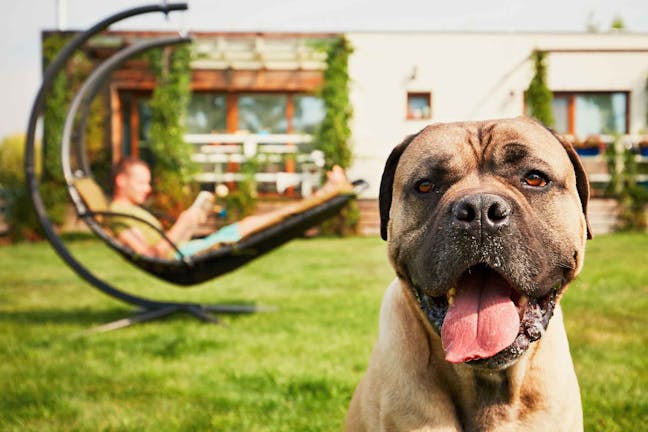 Introduction
When you live in an area that doesn't allow fences long your property lines, training your pup to stay on your property becomes very important. If you can't train him to stay in your yard without a fence, the only time he will be able to go outside, relieve himself, or play is when there is a responsible person available to do so or he is on a leash.
If this doesn't sound like fun, it's not for either one of you. Your dog likes to be off his leash and allowed to run around free. The best way to make this possible is to train him to stay within the boundaries of your yard whenever he is allowed to go outside off leash. You can also use this type of training to teach your dog to stay out of specific areas where he might get hurt or away from things that might hurt him. 
Top
Defining Tasks
Boundary training is one of the best ways to teach your pup to stay within the boundaries of your property whenever he is not on a leash. Playing games with you and your family without the use of a leash is a lot more fun, especially when you don't have to worry about tripping over a leash. This command might be a little harder than some to teach your pup, but with a little patience and time, your pup will master it and be able to run around the yard without the need for a leash or a fence.
Chances are pretty good that your pup already has a reasonably good idea of where his boundaries are. Dogs are, by nature, territorial and will keep other dogs and people out, but when it comes to understanding that those boundaries exist for him as well, he doesn't quite get it. Dogs are typically very curious and like to explore, this makes it hard for them to understand the concept of boundaries. 
Top
Getting Started
Before you get started training your dog to respect his boundaries, you need a few supplies. Depending on the method of training you chose, you may need several small marker flags on wires or stakes. You can pick them up at your local hardware store. You will need a bag of your pup's favorite treats. You may also want to grab a clicker as a way to let your pup know he has earned a treat. You also need a quiet place to practice and time to work with your pup on a regular basis until he learns his boundaries. Be warned: this could take several months for him to master. 
Top
The basics first
Make sure your pup fully understands and follows the basics: 'sit', 'stay', 'come', and walking on a leash.
Short leash walk
Take your pup on his normal short leash around the yard, going close to, but not up to, your boundaries. If he pulls on the leash, don't yank back, instead turn and start to walk away, saying "come". When he responds, be sure to praise him and give him a treat.
Repeat this
Repeat this until he no longer pulls on the leash, then put him on a long leash, giving him enough slack to go over the boundary.
Add a distraction
Have a member of your family run through the yard and over the boundary. Let him get close to the boundary without crossing it. If he does so willingly, shower him with praise and give him lots of treats. If he doesn't, keep practicing.
Add a few more distractions
Add a few more people to the test but don't make it seem like a game. Each time he runs towards the boundary be sure to use the 'come' command if he gets too close to the boundary and reward him when he gets it right.
Play with him
Continue working with him like this until he will play in the yard off-leash without making an attempt to escape and he should stay in your yard when no one is watching. Be sure to try this while you are watching from inside first to make sure he knows he can't get away with sneaking off.
Get the flags
Run out to your local hardware store and pick up a few of those cheap marker flags that can be used indoors or out.
Start indoors
Show your pup one of the flags. When he touches it with his nose, give him a treat and praise him.
Move the flag
Move the flag a couple of feet away so your pup has to walk over to touch it. When he does, be sure to reward him and give him a treat. This teaches your dog that he gets a reward for touching the flag.
Going outside
Create a boundary around your yard using flags set at 8 to 10 feet apart. Using an extending leash, continue the same training method you were using inside.
Increasing freedom
Keep doing this, adding time off his leash in intervals. Keep an eye on distractions that might cause your dog to step outside his boundary. Be sure to praise him and give him treats for staying inside his boundaries. If he does step out, don't get mad at him, reward him and praise him for coming back. Keep it all positive and your pup will want to stay inside his boundaries.
The Claim Your Territory Method
Stake your claim
Dogs understand what it means to claim territory, they use their own body language and natural energy to let others know they mean business and that this is their space. Start out by claiming your space; do things like stand in a doorway you don't want him to go through.
Head outside
Once your dog understands who the "Alpha" is in his pack, he will be more amenable to training. Time to put him on a leash and head outside.
Reclaim your space
Take your pup for a walk around the boundary of your yard. Don't yell at him when goes to step across the boundary. Instead gently pull on his leash and say "No!" Remember to remain calm throughout the training process. If you are calm, your pup will be calm too.
Start out slow
Start out walking him around your boundaries gently distracting him in the above manner until you feel he understands what you expect of him.
Pick up the pace
Speed up the walk, making it more tempting for your pup to get excited and try to go over the boundary. If he does, remind him again and give him a treat when he complies.
Off the leash
Take the leash off your pup and work with him for few more days, keeping a close eye on him. By now you should be able to let your dog play in the yard without worrying that he will try and run off. He understands the concept of whose space he is in and where his boundaries are.
By PB Getz
Published: 10/25/2017, edited: 01/08/2021
---