How to Train Your Dog to Stay Out of the Garbage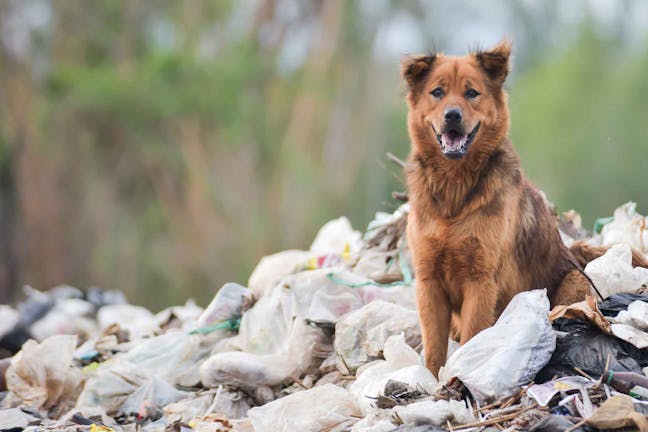 Introduction
Maybe you are one of those dog owners who has come home before to find a trash can lid still over your dog's head and your dog looking at you, wondering what happened to him while you were gone. If the garbage can lid has ever attacked your dog, or rather your dog would like you to believe he was attacked by a garbage can lid while you were gone, you may need to know how to teach your dog to stay out of the garbage. Things left in your garbage, including aging food, can certainly make your dog ill. Dogs who raid the garbage can while you are away can not only become sick by what they find, but it can also create quite the mess within your home. Your dog may just dump the can out right where it is, take what he wants, and then leave it alone. Other dogs tend to drag the contents of the garbage from one end of the house to another.
Top
Defining Tasks
An easy and simple way to keep your dog out of the garbage can is to keep your garbage can inaccessible to your dog. This is not always possible, so you may have to train your dog to stay away from the garbage altogether. Some tricks may include ensuring your dog is never bored and is entertained or resting when you are away from him. You can train your dog to stay away from the garbage if you can catch him in the act often enough. However, it might even be easier to ensure you have dog-friendly garbage cans and aren't leaving tasty temptations lying around and then telling your dog to leave them alone.
Top
Getting Started
To teach your dog to stay out of the garbage, you are going to need some delicious treats that he can eat. You also need time with your dog to catch him in the act. Activities for your dog to do other than rake through the garbage while you are busy or away from him will be imperative to training this as well. You can either tire him out before you leave the house or leave him with something to do to entertain himself while you are away. If your dog is used to getting in the garbage this may take some time and some patience, so be sure to be in training mode and on alert any time you were home with your dog.
Top
The Make it Difficult Method
Garbage storage
Keep your garbage can in a place where your dog cannot access it such as in a pantry with a closed door, inside a closet, in the garage, or underneath a counter. If you have something pungent in your garbage, your dog may still be able to smell it but will not likely be able to get to it.
Dog-proof can
Purchase a trash can your dog will not have access to. A tall and sturdy trash can may be one your dog will not be able to knock over.
Safety locks
A locking lid on top of your kitchen trash will help keep your dog out. Think of doggie proofing your trash can as something very similar to baby proofing your home.
Don't entice
Keep a separate garbage can for your food scraps. This will keep your dog disinterested in a trash can if it only contains things like paper.
Redirect
Catch your dog in the act of sniffing the trash can and redirect him or something he can play with.
Command
Teach your dog to 'leave it' by command using treats and toys so that you can use 'leave it' for the garbage can as well. Over time, your dog will understand he is not supposed to go near the garbage can.
Hide
Hide a treat in your hand and allow your dog to sniff it.
Interest
When your dog shows interest in the treat, tell him to leave it.
From opposite hand
When your dog does not successfully get to the treat that is closed tightly inside your hand, offer him a treat from your opposite hand.
Move positions
Move your hidden treat to the floor and cover it with your hand.
Command
When your dog sniffs to explore the hidden treat use the command 'leave it.'
Attention
When your dog shifts his attention from your hand with the treat hidden underneath to you, offer him verbal praise and a treat from the opposite hand.
Practice
Continue the steps above until your dog fully understands the command 'leave it.' Practice these steps with other items around your house such as your garbage can.
Reward
When your dog takes his attention away from anything, including your garbage can, after you have used the leave it command, be sure to reward him with a special treat
The Full and Entertained Method
Small meals
Feed your dog small meals throughout the day so when you leave your dog unattended, he has no desire to raid the garbage can because his tummy is full.
Exercise your dog
Keep your dog exercised before you leave for long periods of time so he is tired and resting while you are gone, instead of bored and getting into trouble in the house.
Toys
Offer your dog a good selection of toys with a variety of treats inside like puzzle balls or Kong toys so he has food in the form of treats and entertainment in the form of toys while you are gone.
Praise
When you arrive home after your dog has successfully left the garbage alone, give him lots of love and verbal praise. You could maybe take him out for a walk or to a park to play or even to the backyard to play fetch. When you come home and your dog has misbehaved, don't reward him with play time with you outside.
When in doubt
If you're not convinced your dog can leave the garbage can alone while you are gone, you could always crate your dog or remove the garbage can from its normal place. Placing the garbage can in the garage while you are gone or on top of the kitchen counter while you are away can keep your dog in good behavior while he is training to stay away from them all together.
By Stephanie Plummer
Published: 10/18/2017, edited: 01/08/2021
---