How to Train Your Older Dog to Stay Out of the Garbage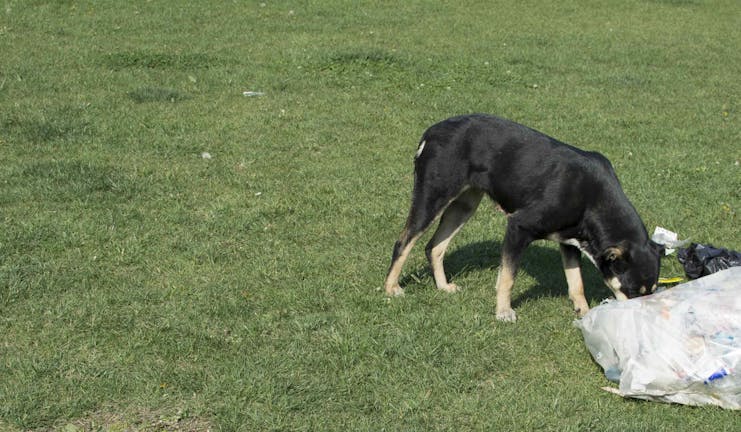 Introduction
Even old dogs can pick up bad habits. If circumstances in our homes change, sometimes the things that you thought your dog had mastered are suddenly up in the air or unfamiliar. Maybe he starts using the bathroom indoors after a shift in the family's schedule. Or maybe a move to a new neighborhood has thrown him off of his ability to walk properly on a leash. Whatever the case may be, an old dog may still need to learn some new tricks as he ages to ensure that his behavior stays on point, especially when it comes to his food habits.

One issue that many dog owners may run into with their older dogs is the dreaded garbage can raid. Sometimes, a dog can be confused if the trash can is placed in another area, or is replaced by a new can. The temptation can be overpowering and next thing you know, your dog is sitting in a pile of garbage that you now have to spend several minutes cleaning up.
Top
Defining Tasks
Keeping your older dog out of a trash can doesn't have to be a stressful ordeal. There are any number of ways to ensure that he minds his manners and doesn't investigate a new trash can that you've placed there for the sole purpose of holding trash. It certainly isn't a buffet for your aging pal, no matter how cute he might look with the lid on his head.

Working on obedience and being proactive are the key methods to keeping your dog from rummaging through the garbage, though not every method will work for every dog. You'll need to determine what works best for you, your family, and your dog. However, it shouldn't take long for him to understand what you expect from him around the trash.
Top
Getting Started
Before starting, check that your trash can has a lid of some sort. Most of the time, a lid alone can prevent a dog from investigating, but there are other ways if that doesn't work. Gather some treats for obedience training around such a temptation, and determine whether or not your can placement is absolutely necessary. Moving it elsewhere may help the process along.

Besides that, be patient, especially with an older dog. They may take a little longer to pick up things or replace old habits with new ones. Make this training fun for them and provide them with encouragement throughout the process.
Top
Bring your dog around the trash can
Watch how your older dog behaves near it. A dog with a habit for getting into the can will almost always go and give it a sniff.
Interrupt sniffing
The moment your dog takes a second to investigate the trash can, interrupt the behavior with a verbal cue. 'Leave it' works the best, as he will soon attribute this to ignoring what you'd rather not have him investigating.
Refocus
Get your dog's attention back on you after tell him to 'leave it'. Use a treat to encourage him to look over at you.
Reward
Once your dog refocuses back on you and is ignoring the trash can, you can reward him with a yummy treat.
Practice
Try to work on this method with the trash can being close and being far away. Try it too with a trash can that has the lid open or a trash can where food has just been thrown away. Ramp up the difficulty over time and continue to reward your dog for actively ignoring the garbage.
Assess the layout of your kitchen
Dogs are less likely to get into things they can't see. Look at the layout of your kitchen to figure out where you can put your trash can so that your dog can't get into it.
Prevent access
Consider investing in a baby gate or close doors to prevent your dog from getting into the area with the can.
Use a deterrent
Some pet stores sell items that will use air, water, or a noise that is activated by your dog when he approaches something he's not supposed to. These help to deter your dog from approaching the object, but should be inspected beforehand to ensure that they are safe to use in your home.
Get a taller can
Smaller dogs may have a hard time getting into the trash can if it is taller than they are. Consider purchasing a trash can that is out of reach of your curious dog.
Use safety locks
In the same way you can purchase safety locks to keep babies out of places, these can also be used to keep your dog out of the trash. There are any number of safety lock options on the market.
Create a feeding schedule
Be sure that your dog is fed at a regular time every day. A dog without a schedule, especially an older dog, can be confused as to when food is coming and may resort to looking for food in the trash
Provide mental stimulation
Older dogs can get bored too, which can cause misbehavior. Provide your older dog with plenty of interesting toys or treats to keep him busy throughout the day.
Provide exercise
Boredom can also be alleviated by plenty of exercise. Older dogs may not be able to run and jump as much as they used to, but every dog can benefit from a walk. It may be just enough to keep them from getting into the trash.
Use a crate
If you're not around to keep an eye on him, consider using a crate to house your dog while you're out. This will keep him from getting into your trash.
Give your dog a job
On the same vein as exercise and mental stimulation, giving your dog a job to do instead of investigate the trash can will keep him busy. Work on obedience or other tasks that he can do around the house to help you.
By TJ Trevino
Published: 01/11/2018, edited: 01/08/2021
---