How to Train Your Dog to Stay Out of the Litter Box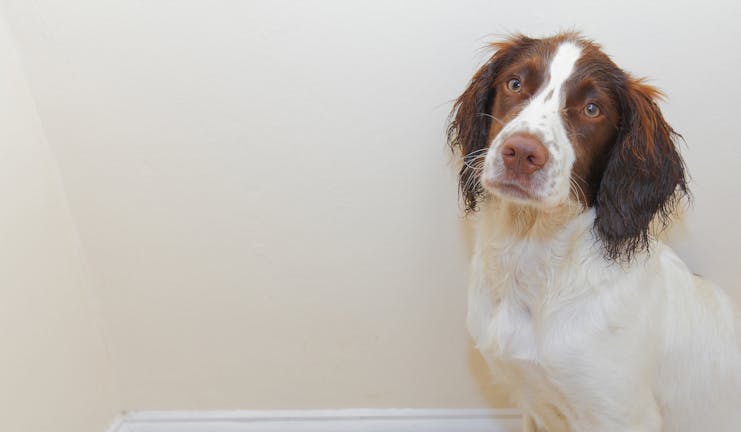 Introduction
Does your dog seem to like his "special" little treats out of the litter box? While this might be the most disgusting habit your dog has, it is one you can train him out of. Eating out of the litter box is unsanitary, gives your pup poop breath, and may transmit parasites to your dog.  On top of all this, your cats are not likely to be very happy to have your pup raiding their private place. They may even sneak off and find a new place in your home to eliminate, making a big mess for you to clean up.
Oddly enough, there is plenty of nutrition in your cat's waste. Nutrition that, believe it or not, is good for your dog. The only real problem is that this nutrition is trapped inside your cat's poop, making it a poor choice for a puppy snack. 
Top
Defining Tasks
Eating poop is officially known as "coprophagia" and the reason your dog likes to eat cat poop is that, to him, it tastes good. They come by this habit naturally as mother dogs will eat their puppy's feces in the den to help keep it clean. Most dogs will grow out of this habit on their own after about 9 months of age. It is up to you to put a stop to it if your dog doesn't grow out this nasty habit on his own.
You could try to block your pup out of the room with the litter box in it, but depending on where the litter box is located, this can be more effort than it is worth. However, you may want to use this method when you aren't around to watch your pup. 
Top
Getting Started
The problem is that your dog is very definitely attracted to this stinky snack, and is not likely to want to give it up. During the early stages of training, you will need to keep your litter box as clean as possible. Your pup will need to have mastered commands such as 'come', 'sit', 'stay', 'down', and 'leave it' before training him to stay out of the litter box.

To get started, be sure to have treats and toys on hand for training purposes. One method uses deterrents, including a food additive for your cat and a spray bottle filled with water. You'll also need plenty of time and patience for trying to teach your pup not to keep eating his favorite snack. 
Top
The Leash and Leave It Method
Prepare for training
Start by placing your kitty's litter box in the middle of the training room. Then hook your pup up to his leash and take him in the room.
Be patient
Your pup will only be able to keep himself under control for so long before he gives into temptation. When he does, you need to be ready to jump into action.
Jump on in
Jump into a position between the litter box and your pup while firmly, giving him the 'leave it' command. When he stops and backs away, then you can give him a treat and praise him. This will help your pup to see he gets a treat for leaving the litter box alone.
Day after day
Practice this several times a day over the course of several days until you can trust him not to go near the litter box when he is on the leash.
Take him off the leash
Take the leash off and move to the side of the room. If your pup tries to go for the litter, give him the 'leave it' command. Then give him a treat. It might take a little time, but eventually, your pup will learn to stay out of the litter box.
One the leash again
Time to put your pup on his leash, only this time instead of going out for a walk, take him towards the room where you keep the litter box. Two things you need to have: firm control of your pup and plenty of treats.
To the door
Take your pup all the way to the doorway and stop. If he stops with you, give him a treat. Repeat this step until your pup learns to associate staying out of the room with getting a treat.
Over the line
Go ahead and enter the room while your pup is eating his treat. If he stays put, reward with more treats. If he follows you, take him back out and try again. Keep rewarding him for staying out of the room. If he follows you in more than three times, you may need to go back to the previous step.
Add to the challenge
Start increasing the amount of time you spend in the room. If he continues to stay on the outside, be sure to reward him. Keep practicing until he stays out for as long as you decide to stay in.
The blind test
Now that your pup will stay out with you watching him, it's time for the ultimate test. Hide where your pup can't see you watching him and you can see the door to the room with the litter box in it. If your pup comes along and walks right by, mission accomplished. If he heads in, perform an intervention and go back to work on training him a little more.
The Multiple Deterrent Method
Your supplies
For this, you need a spray bottle and a bottle of stool eating deterrent to be mixed in your cat's food. This stuff makes kitty poop taste terrible to dogs, but is completely safe for your cat and your pup.
Start with the food
Start out by feeding your cat his new "modified" food. He won't notice the difference, but your dog is sure to.
Monitor the litter box
Keep a close eye on the litter box when you can, each time you see your pup headed for his latest "kitty rocha" snack, hit him with a spray of water and tell him "No!"
Keep feeding your cat
Keep giving your cat the modified food so that his poop continues to taste awful.
Keep squirting your pup
Keep watching your pup and squirting him with water. Both of these will help him to associate going near the litter box with something unpleasant. It might take a little while, but in time he will figure it out or simply grow out of it.
By PB Getz
Published: 01/19/2018, edited: 01/08/2021
---