How to Train Your Stubborn Dog to Stop Barking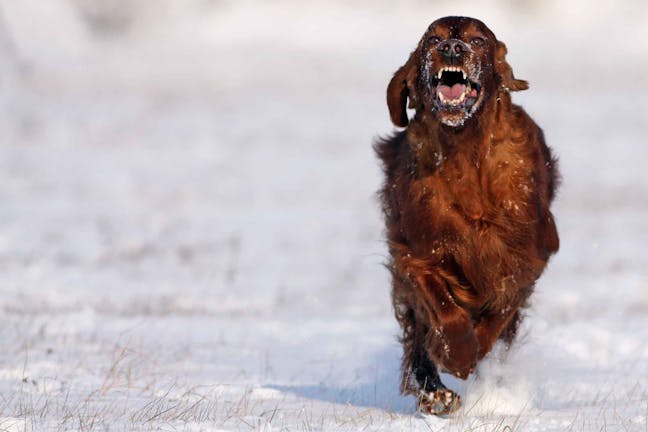 Introduction
It's relentless, bordering on deafening. As soon as you open the door, he's barking. As soon as it approaches meal time he's barking because he wants his food. If he wants any attention then he starts barking. If he needs to go out to the toilet, he'll bark at you until you take him out. There's no shutting him up either, he's stubborn. He'll keep barking until he gets what he wants and it's driving everyone in the house up the wall. You all love him, but the barking has to stop.
If you can train your dog to stop barking you can enjoy relaxing and peaceful evenings. You won't have to turn the volume up to hear the TV. It will also mean you can take him to public places without being embarrassed by his constant ramblings.
Top
Defining Tasks
Training your dog not to bark won't be a walk in the park, especially if he's stubborn. You'll need to address the underlying cause of his barking. If it's attention-seeking behavior, you'll need to stop giving in when he barks. You can also train him to bark and then be quiet on command. This will allow you to quickly silence him when the barking does start. If he's a stubborn little puppy he should still be receptive and may respond to training in just a week. If he's older and been barking for many years you may need up to three weeks to finally put a pin in it.
Succeed with this training and your house will return to a quiet environment where you can take phone calls. You'll also be woken up by your alarm in the morning instead of his barking.
Top
Getting Started
Before you can get to work you'll need to gather a few bits. Treats or some tasty food broken into small pieces will play an important part. For one of the methods, you'll also need to invest in a deterrence collar. You may also need a water bottle (more on that later).
For one of the methods, you'll need to set aside 10 minutes each day for training. For the other methods, you'll need to be around him as much as possible to react to his barking as and when.
The only other things you'll need are ear plugs and patience. Once you've got all of that you can get to work!
Top
Exercise
Many dogs bark because they are simply full of energy and need a way to release. So, take him for a longer walk each day, or an extra one. If you can't do that, throw a tennis ball or toy when you're walking. The short sprints will see him sleeping in the evenings rather than causing noisy trouble.
Water bottle
Carry a water bottle with you that has a spray nozzle. Whenever he barks, give him a spray of water near his face. Don't spray it in his eyes, you don't want to cause him pain, you just want him to know there are negative consequences.
Consider a collar
You can get specially designed deterrence collars for barking. Simply fit him in the collar and it will automatically spray citronella near his face when he barks. This unpleasant spray will quickly make him think twice before barking next time.
Don't give in
When he does bark, it's important you don't give him the thing he wants. If he's barking because you're making his food and he wants it, wait until he stops. You can look at him and wait calmly, then give it to him only when he falls silent.
Never punish him
It's important you never shout at him or terrify him. You may then find the barking becomes aggressive and could lead to biting. You want to work with him, not antagonize him. You can try any and all of these methods in conjunction with each other. Just be patient, it will take at least a few days for him catch on.
No attention
It's vital that when he barks you don't give him any attention. If you start playing with him, for example, you're only telling him barking is the right way to get what he wants. You're turning over a new leaf, starting from now!
Turn around
When he barks, turn around and face the other way. Don't look at him and don't talk to him. When he's stopped barking, you can turn around and give him attention again. It may be frustrating but you need to be patient to start with, he'll soon get the message.
Time out
If he doesn't stop barking, you can upgrade to this next step. Calmly take him out of the room and leave him for 30 seconds to calm down. This time out period will quickly instill into him what is and isn't acceptable.
Lengthen the sentence
If he starts barking when you let him back in, take him back out again. But this time add an extra 30 seconds to his sentence. Do this each time and he'll soon realize barking is the worst way to get what he wants.
Reward
It's also important you reward him when he stops barking. so, when he falls silent give him some attention and play with him. You can even give him the occasional treat. This combination of positive and negative reinforcement will swiftly drill the barking habit out of him.
The Speak & Silence Method
Close monitoring
Over the next couple of days, look for situations that trigger him to bark. These are likely to be when you're about to go for a walk, when he needs the toilet, and when he knows food is on it's way. You're going to teach him to bark so you can then teach him to be quiet.
'Speak'
Put him in one of the bark inducing situations and give him a 'speak' command. You can use any word or phrase you like. Just give the command just before or as he starts to bark. You can then give him a treat when he follows through and starts to bark. Practice this for a few minutes each day.
'Silence'
Once he's got the hang of the speaking command, you can teach him to be quiet. Wait patiently for him to fall silent and then say "silence" as soon as he stops barking. Give the command in a clear but upbeat voice. Then give him a treat and lots of praise.
Bring the command forward
Over the next few days practice this for several minutes each day. He will soon associate the command with being quiet and now you can start to give it while he's still barking. Use it whenever he starts to bark.
Lose the treats
Once he's got the hang of it, you can stop using the 'bark' command and only use the 'silent' command when it's needed. At this point, he knows what to do so you can gradually cut out the treats.
By James Barra
Published: 11/29/2017, edited: 01/08/2021
---