How to Train Your Dog to Stop Barking for Attention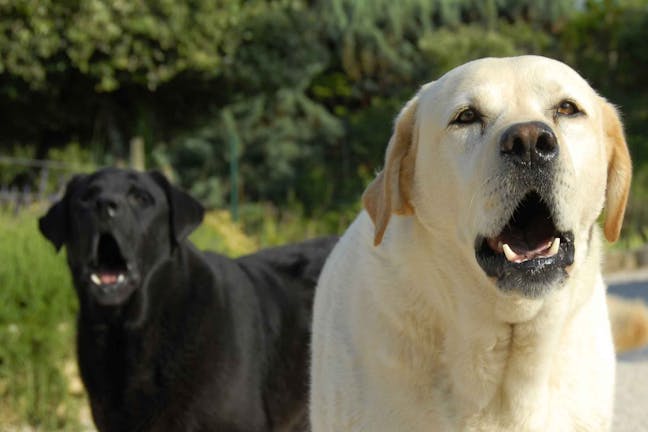 Introduction
You've sat down with the friend you haven't seen in months, coffee in hand and gossip being exchanged. Your needs canine pal isn't so pleased that Susan's getting all the attention, though. He keeps barking, putting a damper on this relaxing catch-up. You've tried sending him out of the room but then he just barks from outside. You spend most of the day with him, don't you deserve a little break every once in a while?
It's exactly the same when you settle down for this week's episode of your favorite show. You can't even hear the dialogue over the sound of constant barking. If you could get a handle on this attention seeking behavior, you could enjoy a few moments to yourself without having clinger level 100 barking in your ear.
Top
Defining Tasks
Training your dog not to bark for attention is, thankfully, not too complicated. The biggest hurdle is showing him that attention-seeking barking won't give him what he wants. You need to break that cycle of behavior, which will take resilience. You'll also need to use obedience commands so you can instruct him to stop barking with ease. If he's a puppy and this attention seeking behavior is relatively new, then training it out of him may take just a week or so. If this behavior has been years in the making, then you may need up to three weeks before you finally get peace and quiet.
Succeed with this new regime and you'll never have to worry about having friends and family over again. You'll be able to enjoy just their company for a change. You may also find you can instruct your dog to stop barking in a range of other situations too.
Top
Getting Started
Before work begins, you'll need a few bits. His favorite food or treats will play an essential role in training, so stock up! You'll also need time each day to commit to training during times that trigger his attention-seeking barking.
A quiet room, free from distractions, will also be needed for obedience training. For one of the methods, invest in a citronella or water spraying remote-controlled collar. They can be bought from a variety of stores.
 Apart from that, just bring patience and a positive mental attitude and you're good to get to work!
Top
Induce the barking
Put him in a situation when he's likely to bark for attention, so watch TV or ignore him. Once he starts barking, take no notice of him and carry on with what you were doing.
'Quiet'
Wait for him to stop barking, then when he does, issue the 'quiet' command and give him a treat. Say the command in a serious tone of voice, you want him to know you mean business. You can use any word or phrase you want, so feel free to get creative. You may have to wait 10 minutes for him to fall silent, so be patient.
Treat
Once you give the command, give him a treat too. You can then give him some attention and some verbal praise. Over time, he will start to associate the 'stop' or 'quiet' command with falling silent and tasty rewards. Practice this each time he barks for the first few days.
Give the command earlier
Now instead of waiting for him to finish barking, start using the command while he is barking. Issue it only once, you need to show him you expect results straight away. By this point he'll know the command is a cue to be quiet and that food awaits him if he does. Then reward him with a treat and praise as before.
Consistency
Now start issuing the command whenever he barks for attention. Be quick to issue it and he'll fall silent straight away. Keep doing this for as long as it takes to cut out the barking altogether. You can also use this command to get him to stop barking in other situations, from barking at other dogs to people approaching the door.
Up the exercise
A tired dog won't want half the attention a dog full of energy will. That means take him on an extra or longer walk. Alternatively, play fetch with him when you're walking. The short sprints will tire him out. If he's napping all evening he won't be pestering you for attention.
Tug of war
Get his favorite toy and play tug of war with him for 10 minutes each day. Not only will this help knacker him out, it will give him some solid bonding time and attention from his owner.
Set play times
Establish a routine where you play with him at the same time each day. You may want to split it up into once in the morning and once in the evening. If he knows he's got play time coming up after dinner he won't be so desperate for attention the rest of the time.
Be firm
If he does start barking for attention, remove him from your environment. Take him out the room, or leave the room yourself. Don't talk to him, don't shout at him, just distance yourself from him. If he doesn't ever get the attention he wants, he'll learn there's no point barking in the first place.
Consider a deterrent
If these steps don't yield swift results, you can use a remote controlled collar as well. You can get collars that release an unpleasant burst of citronella or water. Just hit the button when he starts barking and this will be an added deterrent to keep him silent. Use all of these steps in conjunction with each other for the best results.
Turn around
When he starts barking, turn away from him and completely ignore him. He's barking because he wants your attention, so even looking at him may give him the satisfaction he wants. So make sure you give him nothing.
Wait for him to stop
As soon as he stops, you can turn around and give him attention, but you MUST wait for him to stop. If you give in after 15 minutes, he'll know next time that he has to bark for that long to get your attention, so be resilient.
Reward
When he has fallen silent, turn around and give him a treat and some attention. Slowly, he will learn the quickest way to get attention is to be quiet.
Increase the time before reward
After a couple of days, start to increase the time he has to be quiet for before you turn around and give him attention. After a week, you'll find he'll sit there silently for up to 10 seconds before you turn around and give him a treat.
Be consistent
If you give in just once or twice half way through training, you'll be seriously delaying results. You must stamp out giving him any and all attention. This is a case of being cruel to be kind, so stay strong!
By James Barra
Published: 11/02/2017, edited: 01/08/2021
---