How to Train Your Dog to Stop Barking in the Yard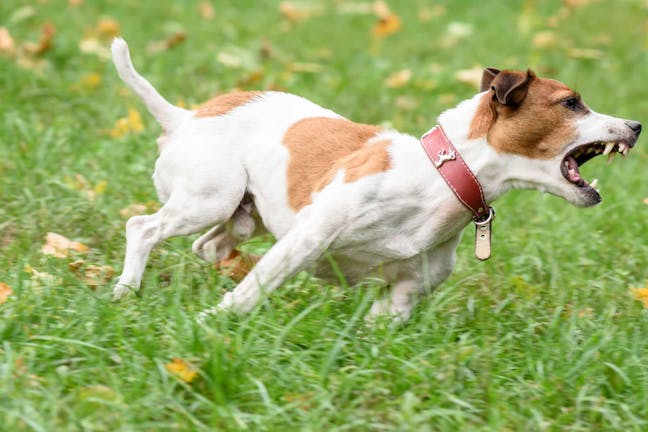 Introduction
You dread certain times of day, such as 10 am when the mailman calls. Regular as clockwork, you can guarantee that the dog will erupt into a volley of ear-splitting barking as the man in blue walks up the path. There are other times too, such as when the school bus stops at the end of the street, when you brace yourself for barking. 
Not only does the barking disturb your karma, but the neighbors are getting angsty about it. They have a young baby, and it seems each time they've just got the little one off to sleep, your barking dog rudely awakes her.  They have a point really, because you don't like the barking either, but what can you do about it?
You've been told that breed is a barker and nothing will stop him once the habit starts. You're inclined to agree as no matter how loud you shout at the dog, he ignores you and carries on woofing. 
If this scenario sounds familiar, then don't worry because you can do something to stop it. Yes, it does take time, and no, it isn't easy, but you will get there in the end when you know what to do. 
Top
Defining Tasks
Barking is best tackled in a multi-modal way. By this we mean it's helpful to reduce the triggers for barking, while also putting "Quiet" on command, and giving the dog plenty to occupy mind and body so he doesn't have the energy to spare for barking.
However, what's even better is if the dog never gets into bad habits in the first place. This means not leaving the dog outside in the yard as a means of exercising himself, as he'll only get up to mischief and you guessed it...bark! 
Top
Getting Started
To break the habit of barking in the yard, you'll need a change of habits, in addition to some basic training equipment:
Walking shoes, collar, and leash: These are for all those lovely long walks the dog is now going to get.
Balls and frisbees:  Great toys for increasing the dog's activity and hopefully tiring him out.
Solid fencing: If the dog barks at the street, then look at providing a solid fence so he doesn't see people walking by.
Training treats: You may need super-tasty treats in order to break the concentration of a determined barker.
Time and patience: Lots and lots of patience. 
Top
The Treat the Root Cause Method
Understand the idea
Dogs bark for all sorts of reasons. The yard is a particular flashpoint because it's where the dog's territory meets the outside world. Typical triggers include people walking on the sidewalk or noises made by neighbors. Digging deeper still, many dogs bark because they are bored or have too much energy. A combination of reducing flashpoints and keeping the dog's mind busy can make a big difference.
Work out the flashpoints
Study your dog's barking habits for a day or two. Make a note of the occasions on which he barked, and looked for a specific cause such as the mailman walking up the drive, school kids walking past, or the neighbor's cat free-ranging and teasing him.
Eliminate the flashpoints
Blocking the dog's view of the street is highly effective at reducing his instinct to defend his territory. When he doesn't see people walking past, he's less likely to become over-aroused and indulge in a barking festival. Of course, it might not be possible to block the view entirely, in which case consider keeping the dog indoors when the mailman is due or the school turns out.
Tire the dog out
A dog that's expected to exercise himself in the yard, is likely to be bored...or at least find ways of amusing himself (such as barking or digging) that aren't acceptable to us. Only let the dog out for brief periods of time to toilet, and if necessary, keep him on the leash so you have him under control. Start a new regime of vigorous exercise where you take the dog for long walks (appropriate to his fitness level and size) to burn off energy with games of tug or fetch. A tired dog is a lot less likely to expend energy by barking in the yard.
Mental stimulation
Taking the idea of boredom barking further, it's helpful to provide plenty of mental stimulation to keep his mind busy. This can be basic obedience training, perhaps two, five to ten-minute sessions a day. This makes the dog concentrate, which in return relaxes his mind. You can try using puzzle feeders, so he has to work out how to get his chow, and teach him new tricks such as 'high five'. His newfound sense of purpose will reduce the need his need to bark.
The 'Quiet' Command Method
Understand the idea
Putting a behavior on cue, such as teaching 'bark' and quiet', gives you the ability to control that behavior. By rewarding the dog's silence, he learns there is an advantage to him responding to your request. In turn, you can quiet a noisy dog on command.
Teach the dog 'bark'
First, teach the dog the 'bark' command. This is easy, since when he starts to bark say "bark". Then offer him a treat as a reward. This may sound bonkers, but the clever bit comes in the next step.
Take advantage of the treat
While the dog is eating the reward for barking, he'll be silent. As he's chomping on the treat say "quiet" and give him another treat. Some people reinforce this by holding the dog's muzzle so that he's physically unable to bark and then saying "quiet". What you're aiming to do is teach the dog that "quiet" means the absence of barking and gets a reward.
Practice 'bark' and 'quiet'
It's essential to practice several times a day. Try knocking on a door behind your back, to trigger barking, in order to use the "Bark" command. If the dog prefers barking to the treat, then up the ante by producing a super-tasty treat that the dog just can't resist. Also, try scattering the treats on the ground, as he'll be quiet as he sniffs them out to eat.
Know when to draw the line
A dog that is really riled will have difficulty hearing your command and will carry on barking. Rather than wear out the command by repeating it with no response, adopt another tactic. If necessary, bring the dog indoors, thus removing him from temptation.
The What NOT to Do Method
Don't leave the dog in the yard
Barking is self-rewarding, therefore it's important to reduce the opportunity for the dog to indulge in his noisy habit. This means not leaving the dog unattended in the yard, especially for hours on end, when boredom may make him seek reasons to exercise his bark.
Don't shout at the dog to be quiet
Games are more fun when played with a friend. When you shout at the dog, to the canine ear it sounds like you're joining in. The dog will be thrilled by your participation and enjoy showing exactly how barking should be done. In short, shouting rewards the dog, rather than punishes him, so just don't do it.
Don't use shock collars
It might be tempting to use a remote punishment, such as a shock collar, to reduce his barking. However, please resist this urge. Unless the timing of the shock is impeccable, the dog may well not understand why he is in pain and this will make him generally cowed and anxious. Indeed, the use of shock collars is morally questionable, and there is little justification for resorting to one.
Don't overuse 'quiet'
Allow the dog some time to bark, in order to get it out of his system. If the dog fails to respond to 'quiet', don't' repeatedly holler the command at him, as he'll tune out and become oblivious to the command. Instead, trying distracting him by scattering treats on the ground for him to sniff out, and interrupt the barking.
Don't expect a quick fix
Teaching a dog not to bark in the yard takes considerable time and effort. It means a change in routine so the dog gets plenty of exercise, along with a consistent response when the dog does bark. Because barking is self-rewarding, it's going to take a lot of patience and repetition before the dog eventually learns to keep his opinion to himself.
By Pippa Elliott
Published: 11/07/2017, edited: 01/08/2021
---