How to Train Your Dog to Stop Chewing Shoes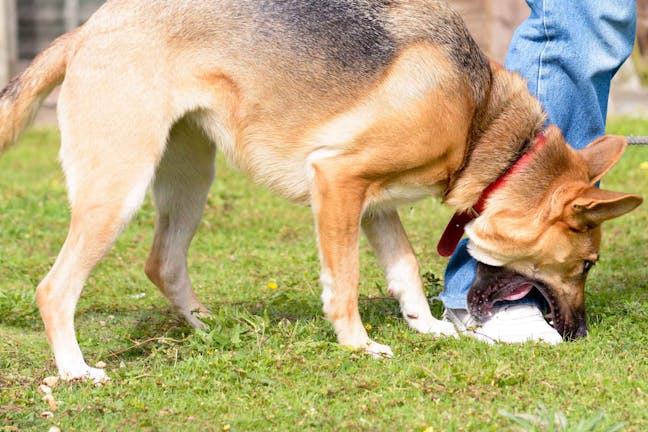 Introduction
Tired of getting up in the morning to find your pup has turned yet another shoe into a new chew toy? Well, you're not alone. Thousands of dog families around the world face this same problem every day. Your shoes have a lot to offer your pup--they are a great thing for him to chew on and best of all, they smell just like you!. What you might not realize, is that your dog probably feels pretty guilty after destroying your shoe, after all, he really didn't mean to, he just wanted to chew on it a little. Of course, one of the easiest ways to do this is to make sure everyone puts their shoes away. The only problem with this is getting everyone in the house to cooperate. 
Top
Defining Tasks
The idea here is pretty simple, you want your dog to stop chewing on everyone's shoes. If you keep yelling at him, all you will do is make him more agitated than ever and most likely make the problem worse. Try instead to identify the reason your pup is chewing in the first place. There are three common reasons why most dogs chew, they are teething, they are bored, or they are anxious about something. Once you know why he is chewing, you can determine the right way to train him not to. Bear in mind, the only time you should discipline your dog for chewing on your shoes is if you actually catch him in the act. Beyond this, you simply have to let him know that chewing on shoes is not an acceptable way for him to behave. 
Top
Getting Started
It doesn't take much to get started training your pup not to chew on shoes. However, you will need the cooperation of everyone in the house. They need to work with you to keep their shoes put away where the dog cannot reach them during the training period. You are also going to need a decent supply of your pup's favorite treats and plenty of time and patience. Chewing is a natural behavior in young pups as they teethe. But, chewing on your shoes is never an acceptable behavior. The hardest part of this training is catching your pup in the act. 
Top
The Set for Success Method
Start with an evaluation
Start out by learning everything you can about your dog's chewing habits. Does he chew at night when everyone is asleep, or does he chew during the day when no one is at home? Or is he still a puppy and teething? The more you learn about why he is chewing on your shoes, the easier it will be to train him not to.
Buy plenty of chew toys
By now your dog should already have a few chew toys. But, even if he does, go out and buy him a selection of new toys and chews. Since your pup is already attracted to the leather of your shoes, you can buy a few animal product chews. Be sure to rotate the toys every once in a while to help keep your pup from getting bored with them.
Manage the situation
Managing the situation is an important part of the training. This means having everyone put their shoes out of your pup's reach, especially during the training period. Chances are good that if there are no shoes for him to chew on, he will find his toys more appealing.
Teach him to 'leave it'
Put a shoe in the middle of your living room floor and sit next to it. When your dog comes over to investigate the shoe, cover it with your hands and say, "Leave it!" in a firm voice. If he backs or turns away from the shoe, tell him he's a good boy and give him a treat.
Finalize the concept
Now try putting the shoe down and walking away from it. Your pup may see this as you "giving" him the go-ahead to pick up the shoe. The moment he moves towards it, turn around and give him the 'leave it' command. As soon as he complies, give him lots of praise, a treat, and maybe a nice "bone" to chew on. The more you can redirect his attention to his chew toys and away from your shoes, the less likely you are to have this problem.
The Remove and Replace Method
Clean up the house
Start by going around the house and putting away everyone's shoes in places your pup can't reach. This can include closets, high shelves, baskets with lids, just places your pup cannot get into.
Remind your guests
Tell guests to do the same and provide them with space to do so in a convenient closet. This will protect their shoes and keep your pup out of trouble.
Place toys
Place a selection of your pup's favorite chew toys out on the floor to distract him and keep him busy. When he picks one to chew on instead of a shoe, praise him and give him a treat.
Replacement theory
If you happen to leave a shoe out and your pup starts chewing on it, don't scold him. Instead gently take the shoe away and replace it with a chew toy.
Rinse and repeat
You will need to keep doing this every time you catch your dog chewing on an illegal shoe. It can take several weeks before your pup finally gets the idea his chew toys are for him to chew on, not your shoes.
Start by preventing access
Use a crate, gates, and when supervised, a tether to help prevent your pup from being able to sneak off and chew on a shoe or two in private. At the same time, be sure he has plenty of his own chew toys to gnaw on. Keep your shoes put away out of his reach.
Not so tasty
There are special sprays you can get that won't harm your shoes, but they will definitely discourage your pup from wanting to chew anything you have sprayed it on. Use all-natural sprays like bitter apple, avoid any with ingredients you can't pronounce.
Provide lots of alternatives
Be sure that there is always plenty of chew toys laying around for your pup. Rotate them regularly to reduce boredom. You can buy sprays to apply to his toys that will make them appear to be much tastier than your stinky old shoes.
Give treats
Give your dog treats any time you catch him chewing on his toys instead of your shoes. The more you do this, the faster he will learn to stick to his chew toys and bones.
Drop it!
Any time you catch your pup chewing on a shoe, give the command "Drop it!" and offer him a treat in exchange. Then follow this up with plenty of repeat training to help reinforce the behavior and prevent him from chewing on your shoes in the future.
By PB Getz
Published: 11/02/2017, edited: 01/08/2021
---