How to Train Your Dog to Stop Counter Surfing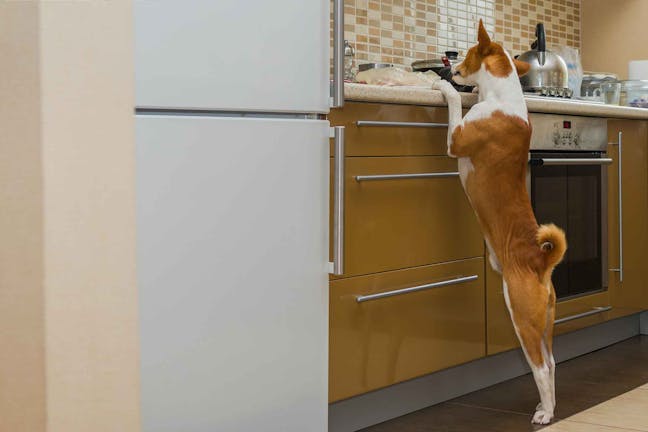 Introduction
The whole family is gathered for a big family dinner--all the relatives, even the judgy ones you don't like! Dinner's almost ready, the roast is on the kitchen counter, along with several mouth-watering side dishes. You step into the dining room for a moment to check all is ready, and call everyone to the table, You return to the kitchen and... disaster!  Your black lab, Duchess, has the roast down into the middle of the floor and half of it gobbled up, side dishes are all over the place, having been knocked down when Duchess pulled off her most recent heist. 
Looks like this is the holiday dinner you order pizza for, as your aunt looks disapprovingly down her nose at you. While this one incident may be looked back on years later as a famous family story (after all, the kids were pretty happy with the pizza), if your dog is counter surfing to steal your food this is a problem that has to be corrected and fast.  
Top
Defining Tasks
From a very young age, dogs should be taught what food is theirs and what food is yours. This includes teaching your dog where it is and isn't appropriate to get their food from, and defining your territory. Preventing counter surfing from providing a payoff in the first place is the most effective way to eliminate the behavior. Counter surfing occurs when your dog detects food on the counter, then jumps up to grab the food and makes his getaway, reward in hand--or actually in mouth, as it turns out!  
Although prevention is ideal, we don't live in a perfect world, and chances are sooner or later there is going to food on the counter, and an unattended dog is going to try to reach it, which can create a reward for the behavior. The problem is, not only does counter surfing provide your dog with a reward, worse, it is a variable reward, as sometimes there is food to be had, and sometimes not. This means your dog will keep trying the behavior in order to get a payoff, whether there is food always available on the counter or not. These kinds of behavior are hard to break. Food is a primary motivator for most dogs, and punishment provided after your dog has got their primary reward is usually ineffective, as your dog will not understand why he is being punished for getting a positive reward. 
To correct counter surfing once it has occurred, you will need to remove the payoff during training, that is, make sure your dog does not get rewarded and reinforced for counter surfing until you have established an alternate behavior to prevent counter surfing from occurring. You want to teach your dog that he will be rewarded for leaving food on the counter, or removing your dog from the situation and rewarding him for an alternate behavior, establishing that the counter is human territory, not his!  Your ultimate goal: all four paws on the floor, and no investigating the counter.
Top
Getting Started
Prevent a payoff by keeping counters clean, including food spills that could be licked up. Consider putting your dog in a crate during food prep or banning your four-legged friend from the kitchen, until he learns not to look for food on the counter. It helps if you do not provide your dog with people food, either in his dish after your meal or during meals. This helps your dog distinguish between his food and your food. Remember, food is a primary motivator for most dogs, and unless you teach your dog to understand which food is yours and which is his,  your dog is going to see all food as his goal. Although punishment is ineffective, if your dog receives his reward first, it is possible to set up negative reinforcement by setting a "trap" that springs prior to your dog receiving a payoff, a loud noise maker or double-sided sticky tape can help provide this.  Also, teaching your dog a 'leave it' command with treats and an alternative action, such as 'go to your place' with a mat, can provide alternate behaviors that prevent counter surfing.
Top
The Create an Alternative Method
Place mat near counter
Place your dog's bed or a mat near the counter.
Reinforce mat
When you are preparing food and your dog comes to investigate, toss a dog treat onto his bed. When your dog goes to get his treat, click to reinforce, say "good".
Practice and reinforce
Repeat whenever your are working in the kitchen. Make sure there are no opportunities to get food from the counter when you are not present. Your dog will begin to go to his mat or bed when you are working in the kitchen, before you provide a treat. When he does, click and toss a treat.
Add command
Add a verbal command, "Go to your mat". Require your dog to stay on his bed for a few minutes. Periodically reinforce with click and treat, lengthen the time between clicks and treats.
Increase distance
Move the bed further away from the counter, continue to reinforce your dog for going to the mat or bed when you are working with food at the counter. Periodically click and treat your dog.
Decrease reinforcement
Gradually remove the clicker, but continue to periodically reinforce your dog for going to his mat when food is present on the counter.
The Environmental Correction Method
Set a trap
Put double sided sticky tape on the edge of the counter. Leave some food out on the counter and wait in hiding with a loud noise maker. Observe carefully and be ready, timing is critical. You will need to spring your trap the minute your dog goes for the food and before he has a chance to get it. If your dog gets the food reward, the correction will not be as effective.
Allow trap to be triggered
When your dog comes in the kitchen and jumps up to the counter to investigate the food, his paws will stick to the tape, he will be able to pull free but this is a disconcerting feeling for your dog.
Associate unpleasant noise
Immediately set off the noise maker, a can full of rocks, or an air horn or whatever loud noise you have chosen.
Verbally correct
Jump out and scold your dog, do not give your dog time to grab the food.
Repeat
Repeat a few times, until your dog learns to avoid the counter as the source of unpleasant sensations.
Present a treat
Teach your dog the 'leave it' command by presenting him with a treat in your closed hand.
Say "leave it"
When your dog tries to reach the treat, say "Leave it".
Establish 'leave it'
When your dog stops trying to reach the treat, say "good", and provide the treat. Repeat until established.
Apply 'leave it' to counter
Supervise your dog around the counter. When your dog looks at or approaches the counter, with or without food present, say "leave it".
Reinforce 'leave it'
When your dog hesitates in his approach, call him away from the counter and reward him in another part of the house.
Practice
Repeat for several days, replace treats with praise. Eventually, just command the dog to 'leave it' when he approaches the counter. Praise him for walking away from the counter.
By Laurie Haggart
Published: 10/26/2017, edited: 01/08/2021
---