How to Train Your Dog to Stop Escaping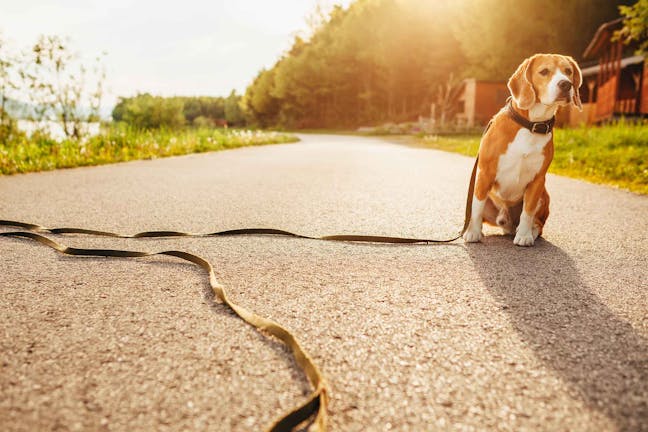 Introduction
You're hard at work when you get a call. The neighbors have found your dog roaming the streets... again. He has a creative way of escaping the confines of your home. When you're out gardening in the summer, he's lying next to you one minute and then he's vanished the next. He's frequently returned by neighbors and friends who have seen him wandering around town on his own. 
This is a serious problem, if you can't train him to cut this deserting habit he may get himself into serious trouble. He could be involved in a traffic accident, possibly losing his life and also endangering other people. He could also get lost, or even worse, taken by someone else. You don't want to lose him so you need to get a handle on this situation. 
Top
Defining Tasks
Training your dog to stop escaping isn't always straightforward. You need to address the underlying reason behind his escaping and tackle that. You'll need to undergo training with him to show him where his territory ends and motivate him to stay within it. You will also need to follow some of the measures below to prevent him escaping in the first place. Changing up his routine and another of other factors may help you put an end to this behavior. Whether he is a puppy or an older, wiser dog, training could take anywhere from a week to several weeks. It will depend on your consistency and how deep his mischievous streak runs.
Get this training right and you'll never need to worry about losing him again. You can stop looking over your shoulder and frantically rushing around the house when he doesn't respond to his name within a couple of seconds.
Top
Getting Started
You'll need several things to be successful with this training. Break his favorite food into small chunks and stock up on some treats. You'll use these as an incentive during training.
For some of the methods, it could be worth investing in a loud pitched deterrence horn and a remote-controlled collar that emits water or a citronella spray. A long leash and a collar with a tracker will also be needed for one of the methods.
Once you've gathered all of the above, you're ready to start!
Top
The Broaden His Horizons Method
Get stepping
Some dogs try to escape out of sheer boredom. If this is the problem, you need to introduce your dog to new and stimulating experiences. This should keep him content and occupied, keeping escaping firmly off the agenda. Give him an extra walk, or walk him for longer, this will help dispel energy and keep him happy.
Play games with him
Tug of war, fetch, football--all will keep him excited and content. If he's tearing around with you he won't think of the house as a prison. This will also strengthen your bond and make him less likely to want to leave you.
Teach him a few commands
Teach him to 'sit', 'roll over', 'wait' and anything else you deem handy. This will channel his energy into something productive and away from escaping. The treats and time spent with you will also make him more eager to stay put.
Take him to training classes
This interaction with other dogs and this new world will be captivating and stimulating. He'll be happy during class and tired afterwards. A content and sleepy dog isn't looking to escape.
Change up his toys
If he's looking for new thrills, give them to him at home so he doesn't have to try and escape to get them. That means giving him new toys every now and then to keep him entertained.
Keep him inside when you're out
He may be able to escape with ease when he's in the yard, but the confines of the house should keep him locked in. Make sure when you go to work or out with friends that the doors and windows are properly secured.
Keep him busy when you're away
If he's restless when you're not there he may look to escape, so have a friend or a service walk him. Alternatively, leave him at a doggie day care center. This will keep him happy and give him interaction with other dogs, so he won't be interested in escaping.
Consider neutering or spaying
If they're highly sexually stimulated, dogs may try anything to get out of the house to find a mate. Spaying or neutering will prevent them having future puppies and will remove that motivation if it's driving escape attempts. Only pursue this if you already know you don't want them to have puppies and were considering it anyway.
Consider a deterrent collar
You can get remote controlled collars that give an unpleasant spray of water or citronella. If you see him trying to escape, hit the button and he'll quickly re-think what he was doing and send him back to his bed with his tail between his legs.
Invest in a tracker
Until you've got his escaping under control, get a collar with a tracker in that you can easily monitor. That way you'll be able to see where he is from your computer or phone. If he does escape, you'll be able to find him and bring him home quickly before anything serious goes wrong.
The React Appropriately Method
Be firm
When he does escape, be sure to react in the correct way when you find him. Secure him to a leash and take him home, but stay silent the whole time. Many owners shout and scream, but this will just scare your dog, who then might want to escape even more. So keep a cool head.
Be vigilant
It's important you're always on the look out to start with. If you can't keep a watchful eye on him, keep him inside. If he is in the yard, watch him closely and be ready to react if you think an escape is imminent.
Use a horn
Bought from online stores, they emit a high pitched sound that will scare your dog if you sound it near him. If you see him sniffing around outside and looking for ways to escape, then get over to him quickly and blow the horn. He'll learn to associate that sound with trying to escape. Then bring him back inside and distract him by playing a game or just giving him some attention.
Positive reinforcement
When he does comes away from the boundaries, give him a treat and some verbal praise. It's important there is a motivation for coming away from the fence, gate or bushes. If he always gets a tasty treat, there'll be an incentive NOT to escape.
Secure him to an extra long leash
To start with, secure him to a really long leash in the yard. Make sure he can get close to the edge of the yard, but not out of it. That way he can't physically escape but you can still treat him and reward him when he comes away from the edges of the yard.
By James Barra
Published: 11/02/2017, edited: 01/08/2021
---