How to Train Your Dog to Stop Mouthing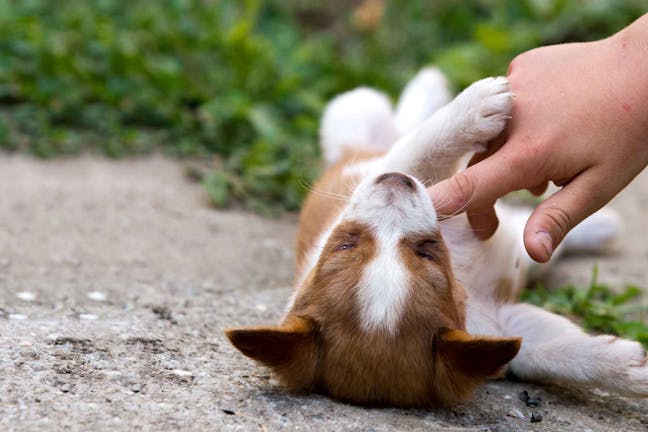 Introduction
If allowed to mouth you or other objects as early as from puppyhood, dogs will continue this behavior while into adulthood. Mouthing for a dog is a very gentle placement of your dog's mouth and teeth on your skin or an object. Dogs tend to mouth when they're excited or when they are greeting their owners or even guests. Having a dog mouth people can be scary if he is mouthing people who are not used to the behavior. It can also be quite messy, especially if you are dressed for work, for instance. Dogs explore the world with their mouths. As puppies, the mouthing behavior can become a little more intimidating because they will mouth or nibble a little harder as their teeth are coming in. Allowing your dog to continue to mouth your hands or your arms can be troublesome as they grow into larger dogs. If you can control it, stop this behavior early.
Top
Defining Tasks
Training your dog to stop mouthing becomes a matter of giving him alternative methods of entertainment and discovering his world around him. Keeping your dog distracted and occupied during certain occasions of mouthing, such as when he greets you after a day away from you or when he's excited to go somewhere, can help to stop the behavior. You can provide him a method of entertainment for his mouth, so he has no choice but to give up the habit of using his mouth to show his excitement. If you haven't already, you could also begin to teach your dog commands to give him something to do in the form of an action rather than mouthing you during these occasions of greeting or playtime. Standing firm with your dog and stopping the behavior as it happens or ignoring him, so you are no longer feeding the behavior, will be crucial during this training. Starting early as a puppy helps, but you can train an older do to stop as well.
Top
Getting Started
Be sure you have toys to offer your dog when he is mouthing. A favorite ball to put in his mouth might be helpful in getting him to stop. You will also need treats to offer him as rewards for a job well done while he is learning to stop mouthing. Substituting behaviors with toys and treats is acceptable during this training. Teach your dog basic commands before you start this training so you can use those commands to give him an alternate activity to do instead of mouthing.
Top
With toys
When your dog begins to mouth, offer him a toy instead of your arm or hand. Substituting with a toy will give him something he's allowed to chew on or mouth instead of your skin.
With treats
When your dog is near you and mouthing, offer him treats to keep his mouth occupied.
With games
In times when your dog is used to mouthing, offer him a toy. Engage with him and play a game together. With a rope, the two of you can play tug-of-war. This will keep his mouth busy and discourage him from mounting you.
With commands
Teach your dog commands such as 'sit' or 'leave it.' Anytime your dog begins to mouth you or something he shouldn't have his mouth on, use a command to either leave the object alone or to have your dog sit in place. This will give him pause and reason to stop whatever he's doing.
With redirection
Redirect your dog when he starts to mouth by stopping in your tracks and offering him something else to do such as chew on a toy. This works well for dogs who mouth at ankles while you walk across the room. Stop and offer him something different, so he's not mouthing your ankles or your feet as she passed by.
With activity
Tire your dog out with activities you can do together such as fetch or tug-of-war. Playtime sessions where your dog is running outside will also wear him out enough that he may not show interest in mouthing when he is near you.
Greeting
If your dog is used to mouthing you while greeting, have a tennis ball or other chew toy on hand when you greet your dog. Offer him this toy as a greeting to keep him from mouthing you. You can keep a bucket of toys near your front door so guests can offer your dog a toy as well as a greeting instead of having the dog mouth their hands and arms as soon as they walk in the door.
Stop playing
If your dog mouths you while you're playing together, stop what you are doing, pause, and provide a distraction such as a different toy to chew on before playing again.
Commands
When your dog meets someone new or is excited to do an activity such as go for a car ride or walk, he may begin to mouth just to express his excitement. Teach him commands, which will give him an activity to do while you are preparing him to get ready for the activity. Having your dog sit before someone greets him will keep his mouth off of the person while saying hello. Expect this behavior from your dog by using this command every time your dog meets someone new or is excited for an activity.
Target training
Train your dog to shake hands or to target train with his nose so that he can still express his excitement or say hello when he greets new people without having his mouth on anyone. Shaking hands can be a pretty simple greeting while keeping your dog's mouth away from your hand. Target training with your dog's nose will teach your dog to touch your hand when he wants something or when you say hello, but will keep his mouth off of you.
Distraction
Anytime you know you have a guest coming, before the doorbell rings, give your dog a toy to hold in his mouth. You can do this before you announce an exciting activity that may cause your dog to mouth as well. So, before you tell your dog you're going on a walk, for instance, give him a toy to put in his mouth before you grab the leash and prepare to go for a walk. Distract your dog from the idea of mouthing by giving him something else to chew on or to mouth before the exciting activity happens.
The Manage Mouthing Method
Toys
Be sure your dog has appropriate toys on hand wherever he is. Do not encourage your dog to mouth his toys during playtime. Encourage rougher play, so he understands the difference between his toys and your body.
Defined rules
Have clear rules during playtime with your dog, so he understands what his boundaries are. For instance, if you start a game with him and he mouths you, end the game. Don't allow your dog to mouth you or the toy during playtime. Keep your boundaries clear and consistent.
No attention
If your dog begins to mouth you, withdraw your attention from him. This could mean you stop what you're doing so he's left wondering why you're no longer playing with him. You can also end your play time together. Command he go lay down on his bed or put him in the crate. This sudden stop of play time will teach him that he's done something wrong.
Redirect
When your dog starts to mouth, give him something else to put in his mouth, such as a tennis ball. If your dog is mouthing, it's because he's excited, nervous, or needs to chew. Give him a special toy that he can always go use ease the tension or need that he has to mouth.
Treats
If your dog is mouthing you or your guests, offer him a treat instead of your body for him to mouth. Giving him a treat at this moment simply replaces whatever he's mouthing with a piece of food to keep his attention elsewhere.
By Stephanie Plummer
Published: 11/15/2017, edited: 01/08/2021
---