How to Train Your Dog to Stop Pawing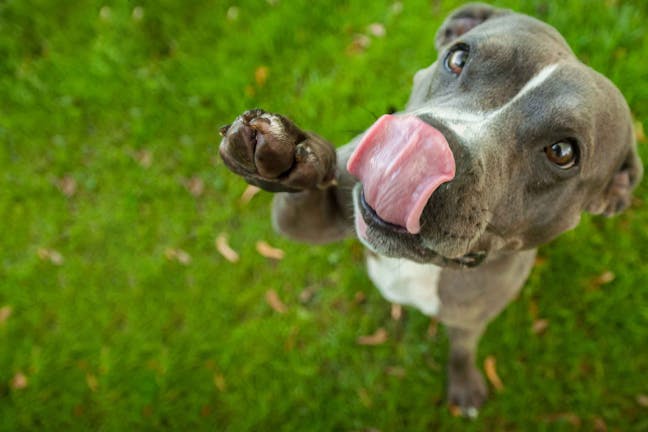 Introduction
Max is a beautiful Golden Retriever, who is adored by his family and loves attention. When Max was young, he wanted to be petted all the time, have his ball thrown all the time, and just generally wanted attention--all the time! If family members did not pay attention to him, Max learned that he could put his paw on their leg, or paw at their hand, to get their attention. Because the kids in Max's family thought this was a cute and human-like gesture, they responded in the worst way possible: by giving attention to Max. Even though mom and dad tried to discourage Max from putting his paws on people, the kids, and guests responded positively to Max's pawing, so Max learned that if he just kept pawing to get attention, sometimes it would work. 
One day, a friend came over for coffee and brought her 3-year-old daughter. The little girl was sitting in the family room playing with some toys and mom was enjoying a coffee in the kitchen, when friendly Max went over and put his paw up on the child in an effort to get some petting, inadvertently scratching the girl's face. Max's owners felt terrible, the child was hurt and scared, and the friend... well, she hasn't been back for coffee since.
Top
Defining Tasks
People use their hands to show affection, so it is easy to interpret a dog using their paws as cute and affectionate. But it is not! Dogs do not use their paws to show affection, it is actually a dominant behavior, and is an indication that your dog is not respecting your position in his pack. Dogs that use their paws to demand attention are not respecting your space. Besides not wanting to encourage your dog for being disrespectful, pawing should be discouraged as it can be dangerous. Young children or seniors with fragile skin or who have faces close to the ground can be easily injured by pawing behavior. The problem is, however, that if your dog has been rewarded in the past by getting attention for pawing, this will be a more difficult behavior to break. You will need to teach your dog that pawing does not get a pay off, ever, and that there are other more respectful behaviors your dog can engage in that will get rewarded.
Top
Getting Started
One of the most important things to do to ensure success teaching your dog to stop pawing is to ensure everyone in the family, and friends and guests to your home, are on board.  If anyone rewards pawing behavior with attention in the home, they are setting up a variable reinforcement. That is, sometimes pawing is rewarded. This makes the behavior very difficult to extinguish, as the dog has learned that the behavior is worth doing, even if they do not get immediately rewarded, because sometimes it will work! This will require discipline and patience on everyone's part, to be consistent and not reward pawing. Using a clicker and treats to create alternative behaviors can be useful to redirect pawing behavior, and may be used in conjunction with efforts to extinguish unwanted behavior.
Top
Provide random attention
Give your dog lots or attention randomly throughout the day when he is not pawing at you.
Exercise
Provide lots of exercise so your dog is not bored or have excess energy, to reduce pawing behavior.
Ignore
When your dog paws at you, do not respond, completely ignore your dog. Make sure everyone, including guests, is aware of this policy. Do not talk, touch, or even look at your dog when pawing.
Do not punish
Do not punish or reprimand pawing behavior, as this is a form of attention.
Reward not pawing
When your dog eventually gives up and leaves, wait a few minutes then call your dog back over for a treat and attention.
The Alternate Behavior Method
Teach alternate behavior
Teach your dog a trick or behavior like 'sit', 'lie down', 'sit pretty', or 'roll over'.
Ask for other behavior
When your dog approaches and looks like they are going to paw, anticipate your dog and provide an alternate command for the trick or behavior, such as 'sit' or 'roll over'.
Reward with attention
Reward alternate behavior with a treat and praise.
Ignore pawing
If your dog paws at you, ignore him or walk away.
Reinforce other behavior
When your dog stops pawing you, give your dog an alternate command for a trick or behavior and reward the good behavior.
Establish alternate attention getter
Repeat until your dog learns that performing an alternate behavior gets praise and affection, pawing does not.
Set up
Sit your dog down in front of you, have treats available.
Command 'shake'
Put your closed hand out with a treat in it and give the command for 'shake'.
Wait for pawing and reward
Your dog may nose at the closed hand. Keep the hand closed and repeat the 'shake' command. When your dog paws at your hand, open your hand, take the dog's paw, shake, and then provide the treat.
Shape 'shake' behavior
Repeat, but hold the treat in the other hand, extend your hand, say "shake". When your dog puts his paw in your hand, shake and treat.
Reward shake, ignore pawing
When your dog paws, or puts his paw on you when you don't say "shake", ignore and don't treat. Your dog will learn that he only gets rewarded for pawing when he is commanded to shake.
By Laurie Haggart
Published: 11/02/2017, edited: 01/08/2021
---