How to Train Your Dog to Stop Separation Anxiety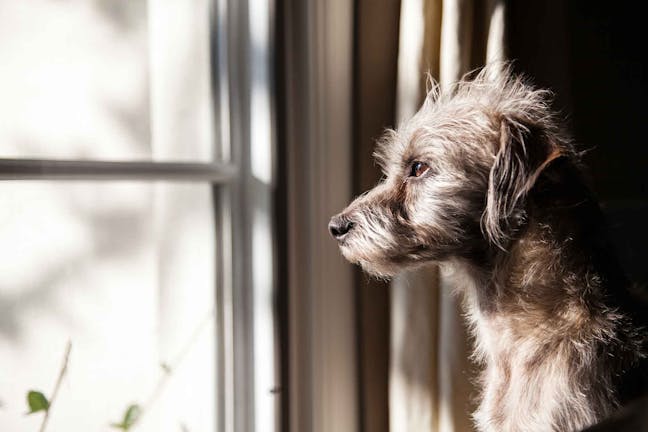 Introduction
Having a dog who suffers from separation anxiety can be a scary and an incredibly frustrating thing. Many dog owners who have dogs with separation anxiety often talk about coming home to their homes in ruin because of their dogs. When a dog who suffers from separation anxiety is left to cope alone for hours at a time he tends to tear apart things like couches, doors, curtains, trash cans, and anything else he can find. Everything in your home is fair game, including your children's toys or their beloved stuffed animals when you have a dog with separation anxiety. This sort of anxiety is not the easiest thing to figure out or to diagnose, but if your dog is extremely upset every time you leave the house to the point where he is tearing things apart that he should not have access to,  he is probably dealing with separation anxiety.
Top
Defining Tasks
Teaching your dog to deal with separation anxiety often becomes a matter of teaching your dog how to cope or how to entertain himself while you are away. Dogs want comfort and security, especially when they are left alone. Your dog lives to please you, and when you are not home, he's uncertain of his role in the world. When left with this uncertainty your dog could tear apart everything you own. One of the tricks to easing this anxiety is to give him comfort. You can do this with toys, food, small confined areas such as a crate, or even products and different behaviors before you leave to help ease your dog's anxiety.
Top
Getting Started
Helping a dog with separation anxiety sometimes comes down to trial and error. To start, be sure you have high-value treats and any items you would like to offer your dog to help him cope through these difficult transitions. Your dog may need a crate to sleep in while you are away from the house. He may also need a new bed or additional toys. A Kong or puzzle toys with hidden treats can help keep your dog entertained while you are away. If you think your dog is dealing with separation anxiety, you may need to talk to your veterinarian about medications to help. There are also products you can purchase such as pheromone sprays, essential oils to help calm your dog, or a thunder vest to help ease anxieties. The method you choose will determine which products you need to stock up on or buy to move forward.
Top
Doggie daycare
Enroll your dog into doggie daycare. If you cannot do daycare each day of the workweek, maybe try to do a couple of days each week. Hype it up as a fun day and a big deal. On the days your dog does not go, do not mention it, but rather spend a bit of extra time with him before you leave to tire him out.
Medications
Talk to your veterinarian about prescribing anti-anxiety medications for your dog.
Dog trainer
Send your dog through puppy classes to boost his confidence and build him up while you are gone. You can do these classes with your dog to increase the bond you two have together.
Dog sitter
Have someone come into your home at random times throughout the day while you are gone to check on your dog. This person can be a neighbor or someone you hire. Make sure the visits are random and not at the same time each day. This will give your dog an understanding he may be caught misbehaving at any time, not just when you arrive home at the end of the day.
Products
Purchase essential oil diffusers and use oils such as lavender to help your dog relax. You can also buy a thunder vest to help your dog ease anxieties while you are away. Plug-ins with pheromones are also available in pet stores to ease anxious feelings.
Introduce crate
If possible, while your dog is a puppy or at least new to your home, introduce him to a crate. This will be a safe haven for your dog when he's dealing with fear or anxiety. Set up the crate with a bed or soft blanket and some toys or stuffed animals he can chew on and sleep with.
Treat
Offer a treat to encourage your dog to get into a crate.
'Inside' command
Begin to use the same command to get your dog into the crate each time you use it. Something like "puppy in" works to let him know it's time to go into the crate.
Practice
While you are in the house with your dog, practice getting him into the crate by command and having him in the crate while he can see you. You can put him in his crate at night for sleeping and during the day when you do activities that may be scary, such as vacuuming. This will teach him the crate is a safe place to be.
Talk then ignore
Have conversations with your dog when he's in the crate while you are home. But as he gets used to the crate, leave him alone and ignore him. Even if he whines, ignore him.
Leave
When he is used to the crate, begin to leave the house. Some owners may need to do this before the dog has had much time in the crate with his owner home. If possible, make these first few trips out of the house short.
Excitement
As soon as you get home, be excited to see your dog and let him out of the crate. Be sure to let him outside first thing to go potty. Give him lots of love and attention when you come home to him.
Future
Over time, you may be able to keep your dog out of the crate or leave the door open. He will begin to see his crate as a safe place to go when he's feeling anxious.
Wear out your dog
Before you leave your house, take your dog on a walk or a run to wear him out. The goal here will be to make him sleep while you are away instead of pacing your house and getting into trouble.
Feed
Make sure your dog has a full belly before you leave and has an opportunity to go outside to go potty before you leave him alone.
Toys
Fill a Kong, or even a few puzzle toys, with treats to keep your dog entertained while you are away.
Confine
Keep your dog in one room so the risk of him tearing up the entire house is limited.
Vary routine
Your dog knows your routine. Try to do as much as you can without him seeing you. If you are used to grabbing your keys or bag and walking out the door, put these things in the car or just outside the door and come back inside for a few minutes before leaving for real. Vary your routine so the build up of anxiety isn't so great for your pup.
Treat routine
Give your dog a positive routine to get used to. Use the same words such as "Be right back" and give your dog a treat or a Kong filled with treats before leaving.
Return
Upon return, give your dog lots of enthusiastic love and excitement. He's been waiting for you all day. Make him feel special each time you return, even if it's from a short trip, by giving him love and attention when you return.
By Stephanie Plummer
Published: 11/08/2017, edited: 01/08/2021
---