How to Train Your Dog to Stop Stealing Food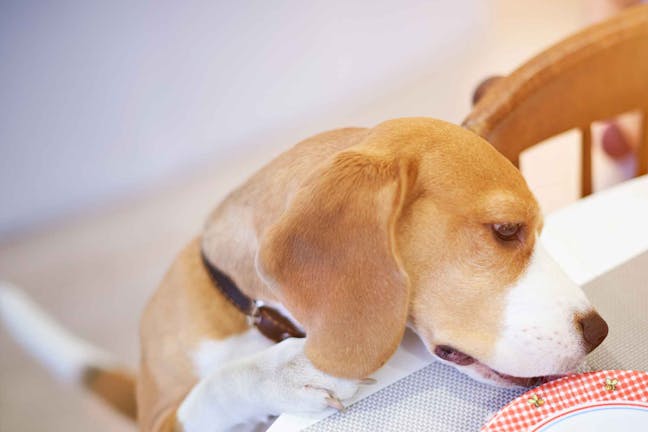 Introduction
Does your dog sneak into the kitchen and steal food off the counters? Do you catch him sneaking off in the corner where he can munch on his stolen goodies? Some dogs have a habit of stealing food from counters, coffee tables, even the dining room table. Your dog has learned that every time he "steals" food, he gets a reward in the form of the food he steals.
Worse yet, every time he gets away with it, this simply reinforces the behavior, making it even harder for you to train him not to do it. While it might seem impossible to break this habit, the good news is that with a little hard work and effort, you will succeed in your efforts and your pup will have to learn to live with his food and any treats you give him. 
Top
Defining Tasks
The concept here is to teach your dog that it is unacceptable for him to steal food from anywhere in your house, including the counters, the tables, the coffee table, even your kids' hands. You must realize that it is only natural for your pup to scavenge. The earliest dogs fed themselves by scavenging for everything. Since this behavior is self-rewarding, it can make breaking the habit challenging.
Of course, you could make the problem easy by never leaving so much as a crumb of food anywhere your dog can get to it. Remember, if your dog has been successful in stealing food in a particular spot, he will keep going back to the same spot in search of more. One thing to keep in mind is that punishing your dog for what is, in essence, a natural behavior is not going to make him stop. 
Top
Getting Started
Long before you start trying to train your pup to stop stealing food, you need to practice good food management. This means never leaving food unattended anywhere your pup can reach it. If he is bold enough to steal food out of your hands or right in front of your face, you can stop this behavior in its tracks by teaching him the 'leave it' command.
You will need a few supplies to help your dog to learn this behavior successfully, including:
Treats:  To reward him for behaving.

Time: Spend several minutes, several times a day working with your pup.

Patience: It takes lots of this to teach your dog to behave against his nature.

Peace and quiet: Your dog will learn more quickly if you work with him when there aren't any distractions.

Top
The Create a Situation Method
Choose a place to train
Start by deciding where you are going to train your pup. If his main habit is to steal from the kitchen counters, then use the kitchen as your main training area. If it's the coffee table, then use that instead.
Prime the training session
Place food in the training area where your dog can easily get to it and attempt to "steal" it.
Use the 'leave it' command
As soon as you catch your dog going for the food, give him the 'leave it' command, using a firm tone of voice. Do not raise your voice or yell at him, this will only make him anxious and more likely to make a grab for the food instead of leaving it.
Treats for good behavior
When your pup stops and leaves the food, be sure to give him plenty of praise and one of his favorite treats.
Rinse and repeat
Keep doing this every time you catch your pup trying to steal food. It will take a while, but in the end, he will finally understand that stealing food is not acceptable.
The Go to Your Spot Method
Name that spot
Choose a spot in your home for your pup to go to when he is told to do so. It can be a spot on the floor or his bed, anywhere. Just be sure to choose a single spot and use it every time to avoid confusion.
On the leash
Put your pup on his leash, tell him to go to his spot, and lead him over to it. Tell him to 'stay' and remove the leash. Give him a treat if he stays.
Food on the counter
Put some type of tasty food on the counter and step away from it. If your dog starts to steal it, tell him to go to his spot. If he does, be sure to praise him and give him a treat.
If he doesn't listen
If your pup continues towards the food, take him by the collar, give the 'go to your spot' command and walk him back to his spot. Do not give him a treat.
Keep up the hard work
Keep repeating this training until he no longer steals food out from under you. You should be aware that your dog will not always be able to resist certain tasty foods. Your best bet will always be to keep the counters and tables clear of food when you are not right there to keep an eye on it.
Cover the teaser
Place a small item of food on your kitchen counter and cover it with your hands. Give your pup a treat and praise him. If he attempts to grab the treat, ignore him. Don't say anything, just be patient and wait until your pup decides to 'leave it' on his own. Repeat this until he walks away the moment you put the treat on the counter and cover it.
Uncover the teaser
Next, place the teaser on the counter, but do not cover it with your hands. However, be ready to cover it if your dog attempts to steal it. If he remains calm and ignores the teaser on the counter, be sure to praise him and give him a treat.
Add distance
Now start backing away from the counter and, at the same time, start extending the period of time your dog has to ignore the teaser before he gets the praise and treats.
Turn your back
Start practicing this while turning your back, working your way up to the point at which you can leave the room for brief periods. Start with very short periods and treat him well when he doesn't go for the teaser. In fact, give him extra treats.
Move to real-life situations
Now that he knows how to behave with the training teaser, it's time to start working on real-life situations. Be sure to reward him fully and give him lots of praise so that he realizes there are more benefits to behaving and better rewards than he gets from stealing foods.
By PB Getz
Published: 11/06/2017, edited: 01/08/2021
---