How to Train Your Dog to Stop Submissive Peeing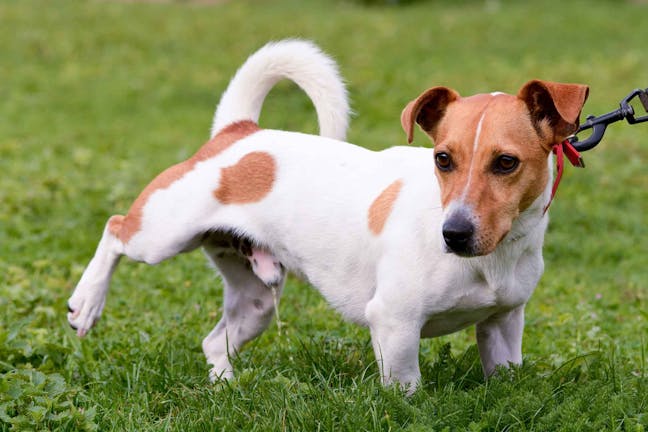 Introduction
You adore your dog, she's the center of your world, and yet she has this upsetting habit. It's not a major problem, but it irks you none-the-less because you recognize it means she is submissive, and therefore potentially anxious. The last thing in the world that you want is for the fur-friend you love and adore to feel anxious or fearful around you. 
So what is this problem? Submissive peeing!
It's what happens when you come home. The dog runs to greet you, rolls over, and pees on the floor. In itself, it's not a major problem but it's the implication that your dog is submitting to you in such a way. Plus there's the hygiene aspect, which is less than ideal. And then there's what happens when she meets strangers and lets go a veritable fire-hydrant of pee.
It doesn't have to be like this. By understanding the psychology of what makes the dog pee, you can tackle the issue at its root cause, so that both you and the dog are happy.
Top
Defining Tasks
Submissive dogs urinate as a means of appeasing a person or dog that they perceive as a potential threat. Key to preventing this problem is to bolster the dog's confidence so that he no longer feels the need to give an appeasement signal such as urination. 
This is done by using a combination of tactics, such as using reward-based training to bolster confidence, avoiding confrontational circumstances, and by keeping things low key. 
Dogs of all ages can show submissive urination, especially puppies. However, many pups do grow out of the problem by the time they are a year old and their bladder control improves. If at any stage you suspect the dog is incontinent, rather than showing submissive urination, then check in with a vet. 
Top
Getting Started
You need no special equipment, other than treats, in order to retrain the dog. What matters most is your body language, how you act around the dog, and taking time and patience to build the dog's confidence.
Helpful items include: 
Treats and a training bag to keep the treats in
Cleaning equipment to deal with those 'spills' in a no-drama way
Top
The Increase Confidence Method
Understand the idea
Building the dog's confidence gets right to the heart of the problem. When he no longer feels a need to appease because he no longer feels threatened, then the problem will stop.
Use reward-based training methods
Reward-based training uses the principle that he is encouraged to learn by giving a reward when he does something well. In this context, the dog is rewarded when he acts confidently.
Give the dog an alternative action to perform
The dog wants to appease you and show he is no threat. Work on training the dog to 'sit'. When you come home, quietly ignore the dog and when he approaches, use the 'sit' cue. By giving the dog an alternative action to perform, this distracts him and channels his need to obey into something less wet than peeing.
Distract the dog
When flashpoints are likely, such as greeting strangers or when you arrive home, distract the dog. This could be throwing a favorite toy for him to fetch, or by using that 'sit' command he learned earlier to offer you a more appropriate behavior.
Give the dog a goal
At the core of submissive urination is a dog that wants to please you. Work at training the dog to do an activity, such as going to a mat to lie down or fetching an object. This way the dog has a displacement activity he can perform rather than peeing.
The Keep Things Low-Key Method
Understand the idea
Submissive dogs become anxious or fearful when challenged. Anxiety increases the risk of submissive urination. By keeping greetings low-key and understanding the body language cues that signal dominance, you can help reduce the dog's anxiety and cut back on submissive urination.
Ignore the dog on coming home
A flashpoint for submissive urination is when you come home and the dog greets you. This is best avoided by ignoring the dog and waiting for him to grow calm. It's fine to acknowledge the dog in a low key way, such as saying "Hi, Rover, I see you,", so that the dog understands you have seen him but aren't choosing to greet him right now.
Greet the dog calmly and quietly
Once the dog is calmer, then greet him. But keep things quiet and understated, with a gentle stroke along the body or under the chin. Speak to him softly. Avoid overly enthusiastic greetings and if the dog rolls over, then walk away.
Avoid confrontational behavior
Actions such as approaching the dog head on or staring into his eyes are seen by challenges by a dog and make a submissive dog anxious. Instead, approach the dog in an arc so you come round to his side, and either watch him from the corner of your eye or focus on a distant part o his body such as the tail.
Speak to your vet
If your dog lacks confidence and this submissiveness is disabling, then consider speaking to your vet. They may be able to suggest a medication to reduce the dog's anxiety while he undergoes training to build his confidence.
The What NOT to Do Method
Never punish the dog
A submissive dog that urinates is doing so out of anxiety and as an appeasement activity. If you scold the dog this will make him more anxious and more the behavior more likely to occur. Not only does this make the problem worse, but it risks the dog becoming increasingly distressed and unhappy.
Don't use dominance training methods
Out-dated dog training methods use the principle of dominating the dog, to show who's boss. However, dominating a submissive dog only increases anxiety, which could even result in the dog becoming aggressive because he is fearful....and the dog may still urinate.
Don't push the dog outside his comfort zone
Owning a submissive dog can be frustrating, as he doesn't cope well with visitors or changes in his routine. It can, therefore, be tempting to force the dog into situations he's not comfortable with (such as making him greet strangers) in order to 'get him over it'. However, this is liable to backfire and only make the problem worse.
Don't loom over the dog
Leaning over the dog to greet him or stroking the head are both gestures that reinforce your dominance and can be perceived as a threat to the dog. Instead, try kneeling or sitting down and letting the dog come to you, and stroking him under the chin.
Don't overlook medical reasons
If you are really struggling with the dog's problem, then get him checked by a vet. It might be he has a medical problem which needs treatment, that is exacerbating the submissive urination.
By Pippa Elliott
Published: 11/13/2017, edited: 01/08/2021
---