How to Train Your Dog to Swim in a Bathtub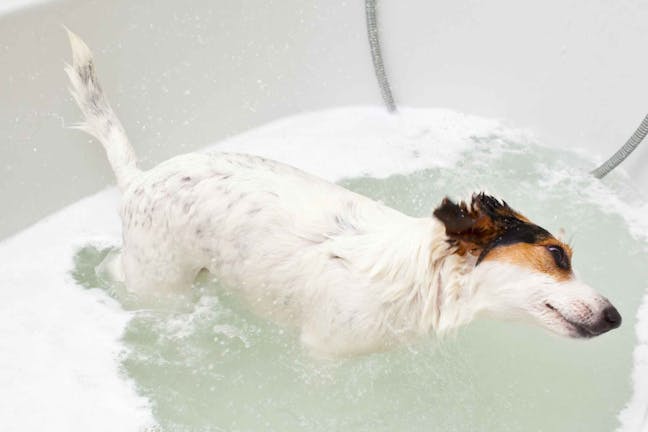 Introduction
You've got an unusual dog who actually doesn't mind getting a wash in the bathtub. But while he stands and lets you give him a deep cleanse, he's not so keen on actually swimming. You've tried your best to get him into doggie paddle but he's somewhat reluctant. Even when you encourage him to chase the rubber duck, he's not interested. It's a shame really, especially if you've got nice ponds, lakes, or even a beach nearby. Swimming is fantastic exercise for dogs and getting him to swim in a bathtub is a great starting point.
Training him to swim in the bathtub will be great for him, even if he doesn't know it yet. It's the perfect launch pad for mastering the basics before he dives into your pool headfirst this summer. Swimming also works the muscles and joints in a healthy way, which may stave off conditions like arthritis later on in life.
Top
Defining Tasks
Thankfully, training him to swim in the bathtub is definitely achievable. The main thing you need to do is find something to motivate him. Something delicious and smelly usually does the trick with dogs. If not, a favorite toy may get him swimming lengths. The other part of training is gradually building up his confidence. He'll look to you as the owner to support him throughout training. If he's a puppy, he should be brave and full of energy. This means you could have him swimming in just a few days. If he's old and always been wary around water, you may need a couple of weeks before you see results.
In the event your dog isn't already a fan of baths, training him to swim in the bathtub will make washing him a straightforward and relaxing experience. There'll be no more leaping out of the water because he's terrified and floods your whole bathroom.
Top
Getting Started
Before swimming lessons begin you'll need to check you have a few things. A nice big bathtub is the first essential. The bigger the better, but any size will do, especially if your dog is small. You'll need some mouth-watering treats or his favorite food to incentivize him.
Toys (that can get wet) will also be required. You'll also need your bathing suit. Dogs learn from their owners so don't think you can avoid getting wet! Apart from that, you just need patience and 20 minutes to commit to training every other day.
With all of those things accounted for, it's time to put down the bath mat and grab your soon-to-be-diving dog!
Top
Start upbeat
It's important you are animated, happy, and playful whenever he's near the bathtub. If he sees you're relaxed and happy, he'll follow suit. So get him in the water and then sit right by him keeping the mood light.
Treat
Hold out his favorite treat in your hand. Place it right in front of his nose and then slowly dip your hand under the water so he has to go underwater to get the treat. Really encourage and him to get the treat.
Reward
As soon as his head goes underwater, let him take the treat out of your hand. Then shower him with verbal praise. It's important you reward him for just putting his head under. This will help him feel comfortable, making swimming much more likely.
Length
The next bath session, repeat the same process as before, giving him a treat for the initial head dunk. But then go to one end of the tub and hold a treat in your hand again. Encourage him to swim to you to get to the treat. When he does, give him a treat. Practice this every other day for a few minutes. You can slowly walk around the bath, making him swim further each time.
Always support
If he looks scared or out of breath, then slow down and play gently with him again. It's important you build his confidence up gradually. Continue practicing by leading him around with your hand. When he finally looks comfortable, you can slowly phase the treats out.
Dive in
Dogs mirror their owners' behavior. If their owner is happy, they get happy. If their owner is relaxed, they'll relax. That's why you need to lead by example. So put your bathing suit on and get in the bathtub.
Toy
Take his favorite toy and play around with it in the bath. Talk in an animated, playful voice and encourage him to play around with you. Stay close to him and hold him at times if he needs support.
Tug of war
To get him confident swimming, play tug of war. As he holds onto the toy with his mouth he'll naturally kick his legs like he's swimming. You can even pull him gently through the water. Always make sure he wins eventually, though. If he loses he'll quickly give up.
Back off
After a couple of baths with you in the water, stand next to the tub and encourage him from there. He should feel confident enough now that you don't need to be in there with him. Use the toy to lead him around the tub. You can gently push him to encourage him to start with. Continue practicing until he looks at ease in the water.
Reward
Give him plenty of treats and praise when you're in the water. If he thinks the bathtub will get him tasty food, you'll have no problem persuading him in. If he thinks doing a couple of laps in the tub will mean he gets to play with his favorite toy, he'll soon be surfing those waves.
Set up
Take a handful of dog food or treats and head up to the bath. Make sure they're heavy enough that they'll sink to the bottom of the tub. You're going to use these to get him swimming in the water. Then place him in the bathtub and you're ready to go.
Throw
Throw a treat in front of him. He'll probably get to this without having to move to much, and possibly before it even hits the bottom. That's fine, you're gradually building up his confidence.
Make it harder
This time, drop a piece farther away so he has to swim a little bit and stick his head under the water to get to it. If he seems unsure, point to it and encourage him to take the plunge. Food is the best motivator when it comes to dogs--he'll soon muster up the courage.
Practice
Every time you place him in the bathtub, play this game. Each time you play, throw the food farther away from him. You can drop one at one end, then drop the other at the far end, so he really has to swim up and down the tub to get to it. Aim for at least a couple of baths a week. Regular practice is key.
Lose the treats
When he's confident in the water and can swim with no problem, you can start to cut out the treats. You don't want him getting overweight. Instead, use toys to get him swimming around, or jump in yourself!
By James Barra
Published: 11/17/2017, edited: 01/08/2021
---