How to Train Your Dog to Swim Underwater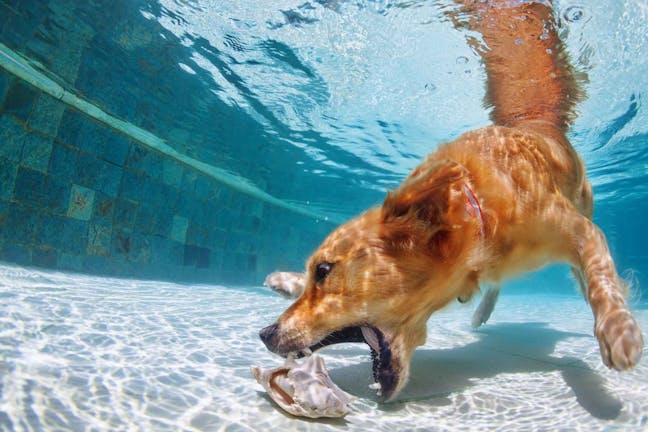 Introduction
If you live near a beach or by a lake then nothing puts a smile on your face more than watching your dog go for a dip. If the weather's great, nothing beats splashing around and swimming with each other. What's even better is if you can get your canine pal to swim underwater with you. Apart from it being a hugely entertaining spectacle, it's fantastic exercise for him! While you might need goggles to see beneath you, he'll be just fine the with the doggie lenses he was born with.
Training him to swim underwater is a great bonding experience. It also means you're half the way there to training him to hunt fish, lobster, and crabs on the sea floor. If you're looking for the perfect GoPro shot, it's you and him swimming in unison underwater!
Top
Defining Tasks
The good news is training your dog to swim underwater is actually surprisingly straightforward. First, you'll need to get him comfortable in and around the water. That can be achieved with mouth-watering treats and enticing toys. Then you need to motivate him to take the plunge using more tasty treats. Once he's got the hang of it you just need to reinforce the behavior. If he's a puppy he should be brimming with energy and eager to please you. This means training could take just several days. If he's older and a little bit more cautious than he was in his youth then you may need a couple of weeks before you see consistent results. 
Get this training right and you'll have a brilliant new way to exercise him. You'll also have great fun riding the waves and exploring the sea bed together.
Top
Getting Started
Before you dive in you'll need a few things. You'll need a pool, pond, or a sea to practice in. Some brightly colored toys and a frisbee will also be required. Then you'll need plenty of treats or his favorite food, kept in a waterproof bag. You will need your bathing suit too, don't think you can avoid getting wet!
You'll also need to set aside 20 minutes for training at least 3 times a week. The more frequently you train the quicker he'll pick it up.
Then just bring patience and a proactive attitude and you're ready to hit the deep end!
Top
Make the toy exciting
You're going to use a water toy that sinks to get him under the surface. Before you do that though, you need to get him excited by the toy. So play tug of war with it, leave it in his bed, and play a bit of fetch outside.
Head to the water
Now start playing fetch but throw the toy into the water, in the shallow end to start with. You can do this at a pool, pond, or in the sea. Really encourage him to go and retrieve the toy and give him a nice big treat when he comes out. Do only this for the first session.
Dive in
Now it's time for you to get in the water. Holding the toy in your hand, get in at the shallow end. Then encourage him to come and join you. You can use food, wave the toy around, and talk in an animated voice.
Slowly lower the toy
Drag the toy just under the surface of the water while encouraging him to get it. Make sure you keep it so he can still see it. As he tries to grab it, slowly move it out of his reach for a few seconds. Then let him have the toy and give him a treat and praise. If he never gets it he'll soon give up trying.
Go deeper
Over the next few sessions, repeat this exercise but hold the toy deeper and deeper so he has to swim right under to get it. Encourage him along the whole time and stay close. This will make him feel at ease. Make sure you give him plenty of treats and he'll be eager to carry on playing. After a few sessions he'll be comfortable enough swimming underwater on his own and you'll be able to cut out the treats.
The Irresistible Treat Method
Start shallow
Before you head underwater he needs to be comfortable on the surface. That means take him to a pond, pool, or sea at least a couple of times each week. Play around at the water's edge and get in yourself. Dogs mirror their owners behavior so if he sees you're relaxed and happy he'll be more likely to join you.
Tasty treat
Use his absolute favorite treat to tempt him in. Hold it up for him to see and call his name in a high pitched voice. Dogs learn quickly when they think they're playing one big game. Keep encouraging until he dives in and then give him a treat and praise.
Stay close
Throughout training, stay as close to him as possible. You need to make him totally comfortable and confident in the water if he's going to dive right down. Talk to him as well and stay upbeat.
Dive
After a couple of warm up sessions it's time to head under. Put on goggles, hold a handful of his favorite treats, and lead him under the water with you. Do this by holding them right under his nose when you're at the surface, then guide him under with the hand. Only swim underwater for a couple of seconds to start with, then give him his tasty reward.
Increase the time spent under
Over the next few sessions you need to gradually increase how long you lead him under the water for. Keep going until you can swim 20 feet under water while he follows you. Once he can do this he'll be confident swimming underwater without the promise of food.
Start on land
Throw a brightly colored frisbee for him on land regularly. Encourage him to bring it back to you and give him a treat each time he does. The brighter the color the easier it will be for him to see underwater.
Start shallow
Now get in a pool, pond, or the sea at a shallow point. Get him excited for the frisbee and then show him you're putting it under water and hold it on the floor/bed with your foot. Then point and talk in an animated voice to get him to jump in for it.
Reward
Once he dives in, let him take it from your foot and return to the surface. Give him a big tasty treat and shower him with verbal praise. The bigger and better the reward, the more likely he'll be to dive in again.
Increase the depth
Now gradually increase the depth you hold it under your foot. To get him even more excited you could have a friend throw it to you from land, then you could quickly put it under your foot as he races towards you and after the frisbee. Each time he dives in, be sure to reward him when he comes back out.
Mix it up
To encourage him to swim further underwater, you need to swim along side him. Hold the frisbee under the water in-between your toes and swim while encouraging him to get it. It will take just a couple of fun sessions like this for him to feel totally at ease swimming under the water.
By James Barra
Published: 11/09/2017, edited: 01/08/2021
---