How to Train a Beagle Puppy to Walk on a Leash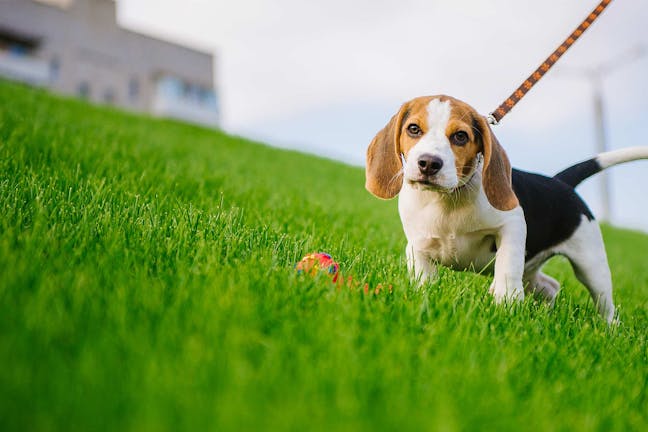 Introduction
The Beagle is a wonderful breed, full of fun, energy, and sniffs. They are also extremely fond of food. The wise pet parent takes advantage of the Beagle's bottomless pit of a stomach, in order to use tiny treats as motivators for reward-based training. 
If you once owned a Beagle that towed you along like a water-skier on dry land, then you'll want to avoid the indignity a second time. With your new pup, take the time to start training early so that he learns to listen. This also has the added bonuses of helping him bond to you and providing vital mental stimulation, which stops him getting bored. 
Top
Defining Tasks
Leash walking is a vital skill that is all too easy hi-jacked when the dog pulls. This makes for uncomfortable walks, not to mention a certain degree of embarrassment when he behaves badly in front of friends and neighbors. 
Ideally, every dog should learn how to walk on a loose leash or to heel (or both!). Part of the problem is that many dogs learn at a young age that pulling is self-rewarding. In their mind when they pull, they get to the park faster. Part of teaching a dog to leash walk is to get them listening to you and to learn that pulling slows things up. 
Top
Getting Started
You'll need to start training in a distraction-free room so the Beagle can focus on you. Also, remember he is just a puppy with a puppy's short attention span, so keep training sessions short. Ideally, train several times a day for just a few minutes each time, which will help the pup enjoy learning and keep his mind fresh. 
In addition, you'll need: 
Bite-sized tasty treats to use as a motivator
A treat bag or pouch to keep the rewards handy at all time
A comfortable flat-buckle collar
A soft, light leash
Top
The Practice Inside Method
Understand the idea
Your Beagle puppy may be too young to hit the streets, but that doesn't mean he's too young to learn. Get a head start on leash training by working with your newbie indoors. This will teach the puppy the valuable skills, such as walking by your side, and help him realize good things happen when he listens to you.
Get him used to the collar and leash
Fit the pup with a soft collar ( a regular flat buckle collar is best) and lead. Supervise him at all times, you don't want him get tangled while you're out of the room, but let him wear them in the house. This helps him get over the novelty so that he listens when it's time to work.
Teach him about rewards
Next is to teach the pup that when you make a certain sound (such as the click-clack of the clicker, or you say "good"), he gets a reward. To do this, in a quiet place, simply say "Good" and when the pup looks at you, give a reward. Repeat this. He'll soon learn that "Good" means an easy payday and will be sure to pay 110% attention when he hears this word.
Now hold the leash
Your next step is to hold the end of the leash while pup explores. Keep the lead slack. Then, say your reward cue word, such as "Good" and take a step away from the pup. He should then follow you in order to get the treat. Give the reward and lots of praise. Repeat this and the pup starts to follow your lead, in a jerky stop-start follow-my-leader way.
String it together
Once the puppy gets the hang of taking steps to follow you and get a reward, start making the motion more fluid. As you walk slowly, encourage the pup along with "Good" and reward him as you go. Hey presto, the pup is lead walking!
The Dos and Don'ts Method
Don't: Use a harness
Although tempting to put a soft harness on the Beagle, these can actually teach a pup to pull. They spread the dog's weight nicely and actually give him a better purchase on the ground to pull you along. If you are sold on a harness, then use one with a front leash attachment, which will turn the dog to face you if he pulls.
Do: Practice in different places
Your Beagle may be a leash walking maestro in the front room, but what about outside? Beyond the home there are lots of distractions that compete for his attention. Be prepared to practice in different locations, so that he learns he has to listen to you first and foremost, no matter what else he sees going on.
Don't: Drag or pull the puppy
Never use the lead to drag or pull the puppy. It just isn't nice and there are better ways of showing him what you want him to do.
Do: Practice, practice, practice
Prepare to be patient. Do most of your training when you're not in a hurry to get anywhere, since you need to be prepared to stop and start a lot.
Don't: Use harsh training aids
There is no need to use unethical training devices such as choke chains, prong collars, or electric collars. Instead, communicate more clearly what you want the pup to do, using a system of rewards for good behavior. Then he will actively try to please you, rather than act purely out of fear.
The Loose Leash Walking Method
Understand the idea
You don't just want the Beagle to tolerate the leash and use it to tow you along. Ideally, for relaxed walks you want the pup to stroll on a loose leash by your heel. This method shows you what to do when the pup surges ahead, so that he gets the idea of walking to heel in a way you both enjoy.
Stop when he surges
Puppies pull because they're in a hurry to get where they are going. However, you need to re-educate him so that he understands things happen more slowly when he pulls, and a loose leash is the way ahead. To do this, be prepared to stop when he pulls (so plan for the walk to take a while)
Call the puppy back
In addition, call the puppy back to you, hence taking his attention away from the park or the litter bin, whatever it was that he wanted to get to. Give him a reward for coming back to heel.
Start walking again
With the dog once more by your side, start walking slowly. Keep the pup's attention by using your cue word, which means the dog is due a treat. Give him a reward when he takes a few steps to heel.
Keep his attention
Every few steps, give a reward when he stays on a loose leash. As his behavior improves, take a few more steps each time before he gets the reward. If he surges ahead, then stop and repeat the process. Yes, this is time-consuming, but stick with it for tug-free walks in future.
By Pippa Elliott
Published: 01/30/2018, edited: 01/08/2021
---