How to Train Your Dog to Use a Porch Potty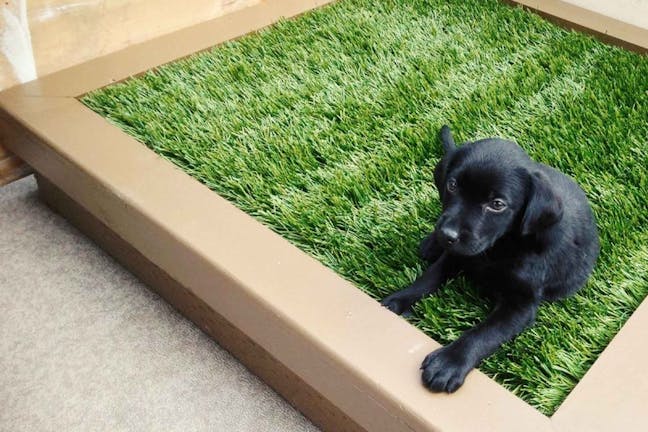 Introduction
It's late in the evening, it's freezing cold, and it's raining outside. You love your dog, but the last thing you want to do is walk out that door into the horrendous weather so he can go to the toilet. It makes getting up early throughout those winter months a truly chilling experience. Something needs to give, there has to be another way around this problem. Thankfully, there is. A porch potty will allow you to quickly let him out in the morning and the evening to go about his business. Cutting out the cold and cutting the time it takes for the toilet chore in half. 
Training him to use a porch potty will make you question how you ever survived without one. The training will also be good for him. He won't need to hold on for ages whilst you muster up the strength to brave the elements.
Top
Defining Tasks
Fortunately, training your dog to use a porch potty is pretty straightforward. You've done the hardest part, which is training him not to go to the toilet inside. Now you just need to build on that training to motivate him to go somewhere specific instead. You'll need to incentivize him to go on the porch potty using a variety of means. You'll also need to look at his routine and put him at ease around his new toilet. 
If he's a puppy without toilet habits that are too ingrained, you may need just a week or so to get him using the porch potty regularly. If he's older and stubborn about where and when he goes about his business then you may need up to three weeks to fully integrate it into his routine. Succeed with this training though and you'll have a quick and easy way to let him go to the toilet if you're in a rush, or you've got guests over. 
Top
Getting Started
Before you get to work changing up his routine you'll need a few things. A porch potty will obviously be the first essential component. You'll also need a decent stockpile of his favorite food or treats to motivate him.
The other main thing you need is time. You need to be around to take him to his porch potty every morning and evening until he's comfortable with it. So patience and a proactive attitude will also be required.
Once you've got the above, it's time to get to work!
Top
Setting up
Set up your porch potty in an easily accessible spot. If you can, find a location where he'll get some degree of privacy. The more enclosed and comfortable he feels, the quicker he'll take to his new toilet.
Consistency
When you think he's going to need the toilet within the next 20 minutes, secure him to a leash and take him out to his porch potty. If you're always there when he needs the toilet then he'll have no choice but to go. If you let him go to the toilet on walks all the time he won't get used to his new toilet.
Encouragement
When you take him out to go, try and give him some space. Don't stare at him, he need some room to go about his business. If you do want to encourage him, point at the toilet and talk softly.
Reward
As soon as he does use his new loo, give him a treat and some praise. It's important he associates the porch potty with tasty rewards. The better the reward, the more likely he'll be to go there again.
Lose the treats
After a week or two, when he's got the hang of his new toilet, you can slowly cut out the treats. You don't want him piling on the pounds and he doesn't need the incentive anymore.
The Familiarization Method
Introduce him
Set up the porch potty and then let him get used to it for a few days first. When you set off for a walk, go past the potty and give him a chance to sniff around it and get acquainted. You never know, he might start using it straight away!
Long leash
When it approaches toilet time, secure him to a long leash in the yard, but make sure the potty is within his reach. He'll soon realize the porch potty is the best option around. Then you can go and point to it to give him some encouragement.
Yesterday's toilet
If he's struggling to go, take some of yesterday's feces and wipe it on the porch potty. The smell of yesterday's toilet will put him at ease and increase his chances of going at the new spot.
Reward
Whenever he does use the porch potty, give him a good reward. His favorite food, a couple of minutes playing with his favorite toy, or even just some attention from his owner. The happier he feels afterwards the more chance he'll go there again.
Never pressure him
Don't encourage him too much. If he feels pressured he may get stage fright and won't be able to go at all. While of course you're eager for him to start using it, the calmer he feels the quicker you'll see results.
Away from food
It's important you set up your porch potty correctly if you want the best chance of swift results. One of the main criteria is that it needs to be away from where he eats food or drinks water. There should be no bowls in sight.
Away from their bed
You also need to make sure it isn't close to anywhere he sleeps or dozes during the day. Like humans, dogs don't like going to the toilet where they relax. So choose a place with that in mind.
Close to a drain or hose
You want to be able to clean and empty your porch potty easily. So positioning it close to a drain or hose is always a sensible idea. He'll be less inclined to go on it routinely if it's always getting moved around. So pick the right spot on day one.
Make it home
Leave the odd treat and toy near it. This will help draw his attention to it, while also making him feel comfortable around it. Walking him around the new toilet will also help. The sooner it feels part of his territory the sooner he'll start using it.
Get animated
If you point at the potty and talk in animated voice he'll naturally take an interest in it. If he sees you're confident around it, he too will feel more comfortable around it. Follow all of these steps and you'll have the best chances of quick success.
By James Barra
Published: 11/17/2017, edited: 01/08/2021
---