How to Train Your Dog to Use Stairs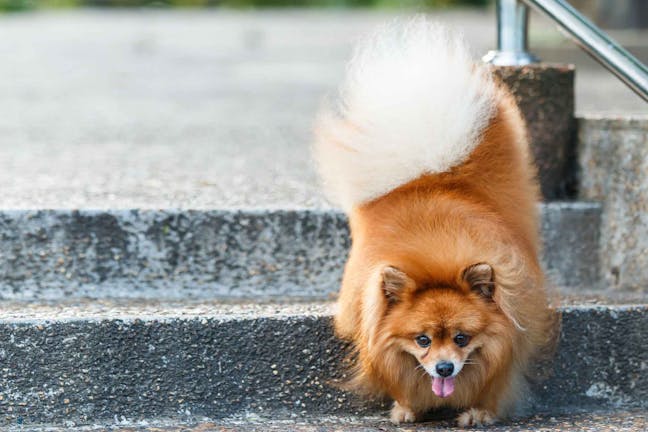 Introduction
It's chilly at night and you want to be able to cuddle up to your canine friend for extra warmth. He happens to be rather on the large side though, and as strong as you might be, you're not an Olympian power lifter. That means somehow he needs to navigate up and down the stairs himself. He has attempted to a couple of times, but stumbles and quickly thinks better of the idea. It also makes giving him the odd bath somewhat challenging. If you could place him in the upstairs bath he'd stay. Instead, you try and hose him down outside, but holding onto him there is a challenge in itself.
Training him to use the stairs would alleviate these problems and give you a dog to cuddle every evening. It will also give him greater space to roam and call his own when you're out the house.
Top
Defining Tasks
The good news is - training your dog to maneuver the stairs isn't as difficult as you might think. He simply needs walking very slowly up and down them to help him develop a technique. Throw in some treats and support from his owner and he'll soon be bounding up and down them at a worrying speed. If he's a puppy, he should be confident and energetic and could be climbing stairs in just a few days. If he's older and always avoided steps then he may need up to 10 days before he gets the hang of it.
Get this training right and you'll be able to call him up to join you where ever you are. You'll also find it will come in handy when you're out in public and there are steps to navigate.
Top
Getting Started
The most important component of training will be a good set of stairs to practice on. Your stairs at home should do the trick just fine. Just find 10 minutes each day to train where there won't be kids rushing up and down getting ready for school, or a partner bolting down them because they're late for work.
You'll also need a stockpile of your dog's favorite food or treats to motivate and reward him. Apart from that you just need patience and a can-do frame of mind. 
Once you've collated all of that, it's time to get to work!
Top
The Slow and Steady Method
Start on step 1
Take him to the bottom of the stairs and ensure you have a generous supply of treats with you. Make sure you won't be disturbed and that his attention is on you.
Place a treat on step 1
Put the treat on the step in front of him so he can see you do it. Then give him some verbal encouragement and point to it. This should all help him take the first step.
Onto step 2
Now place another treat on the next step and do exactly the same thing. Then once he's up to step 2, place another treat on step 1 one to guide him back down. If he's focusing on food he won't be so concerned with the dizzy heights he's climbing.
Slowly work your way up
Use this same technique to gradually get him all the way up and down the stairs. Make sure you stay close behind him when he goes up to put him at ease and catch him if he stumbles.
Final support
Once he can get all the way up and down comfortably, stop paving the way with treats, he knows what to do now. Stand at the top and call him up to make sure he'll still come up when there's no treats to motivate him. You can hold a toy out for him the first couple of times.
The Lead By Example Method
Sit on step 3
Call your dog over to the bottom of the stairs and have his favorite toy in your hand, with some treats in your pocket. Make sure nobody will come bowling down the stairs in the next 10 minutes.
Dangle the toy in front of him
As you do this, encourage him to climb up the stairs in a playful voice. Really try and get him to come up the couple of steps to get to it. If you make it seem like a big game he'll be much more inclined to get stepping.
Hit the steps with your hand
Patting the two steps with your hand will help signal to him that you want him to step on them, just like many owners hit the sofa with their hand to let their dog know he can jump up.
Reward heavily
As soon as he does brave those first couple of steps, which may take a few minutes, give him a treat and lots of praise. Let him play with the toy and enjoy his reward. Then stay on that step for a couple of minutes. This will help him feel more comfortable if he spends some time with nothing going wrong on the steps.
Gradually work up and down
Using the steps above, slowly lead him up the stairs, taking them a couple at a time. Then stay on the step for a little while and get going again. Once he's at the top, lead him down in the same fashion. Just make sure you position yourself so you can catch him if trips. Practice this for a few days until he seems confident on the stairs, then lose the treats and toy, your work is done.
The Leash and Treats Method
Place him on a leash
A leash will give him some confidence that he's got you close by, plus it will help you steer him up and down. Also set out a treat on every step of the stair case. Food is always the best motivator!
Aim for step 1
Stand on the first step, then point to the treat and slowly encourage him up by gently pulling on the leash. Be sure to take it slow, you don't want to scare him, this needs to happen at his own pace.
Keep going
Once he's retrieved the first treat, step onto the second step and gently pull him up again while pointing to the next treat. When he does reach the second step, spend a little time there and play with him. It's important he realizes he's safe on the steps and that he can even have fun if he braves them. Then work your way all the way to the top of the steps.
Set up for going down
Secure him upstairs, then lay out treats on all the steps again. Also have a friend or family member sit at the bottom of the steps in case he falls on the way down. Seeing a familiar face will also put him at ease and encourage him to go back down.
Follow gravity
Now follow the exact same technique for going down. Make sure you take it steady and have the friend encourage him from the bottom too. Once he successfully gets down, shower him with verbal praise. Practice going up and down like this until he seems confident, at which point you'll no longer be needed.
By James Barra
Published: 11/02/2017, edited: 01/08/2021
---