How to Train Your Older Dog to Use Stairs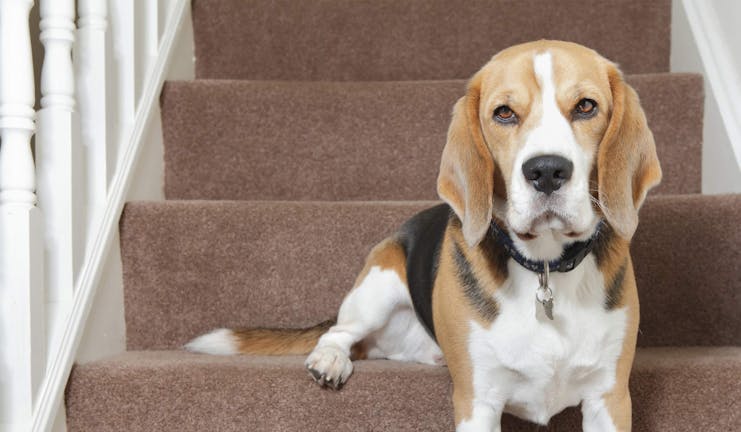 Introduction
He's been a staple part of the family for longer than you can remember. Everyone has a soft spot for your older dog, including your partner and even your mother-in-law. However, occasionally you're cozied down on the sofa, half-way through an episode of Judge Judy, when you hear a moan from the bottom of the stairs. There you find your dog--he wants to go upstairs. As he's gotten older, he's developed a habit of snuggling at the bottom of your bed upstairs. He's definitely getting needy in his old age.
Training him to use the stairs will save you from breaking your back carrying him up each evening. He's not as light as he was as a puppy and you're not as strong as you were in your youth. So, let's not say you can't teach an old dog new tricks!
Top
Defining Tasks
Training any dog to use stairs can be challenging. They may look like a minor obstacle to us, but they can look steep and daunting to dogs. Also, because he's older, he won't have the reckless bravery he did as a puppy. This all means you may have your work cut out. However, don't be deterred, it is still achievable. You will have to find the right incentive to lure him up and down the stairs. You'll also have to practice regularly to gradually build up his confidence.
If he's still a fast learner, you could see results in just a few days. If he's often tired and uninterested, then you may need a couple of weeks to see consistent results. Succeed and he'll have much more space to roam around while you're out at work. 
Top
Getting Started
Before you start training you'll need to gather a few bits. A generous supply of treats or his favorite food broken into small chunks will be needed. Of course, you will also require a set of stairs to practice on each day. 
For one of the methods, you'll also need to pick up some scent markers online and get your hands on a new toy. Then you'll need to set aside 10 minutes each day for training. Try and find a time where noisy kids won't be charging past getting ready for school.
Once you have the above, you just need patience and then you're ready to go!
Top
Bottom step
Bring him over to the foot of the stairs. Then sit on the first step and hold out a treat. You're going to slowly tempt him up the steps and show him how to get back down. The trick is not to rush.
Encouragement
Call his name in a high pitched voice to encourage him to join you on the first step. You can hold the treat right up to his face and pat your legs as well. It may take a little while, but keep tempting him until he comes up onto the step with you.
Reward
As soon as he clambers up or puts his paws on the step, hand over the treat. You can also shower him in verbal praise. The greater the reward, the more eager he will be to do it again. Once you've given him the reward, go back to the bottom.
Next step
Once you're both at the bottom, you can lure him up to the second step. Follow the same technique, sit on the second step and hold out a treat to tempt him. Keep encouraging him and hold out a hand to support him if needs be. Give him the treat when he joins you, then slowly head down again.
Confidence building
Only do the first two or three steps in the first day. Then the next day you can go a couple of steps higher. Then the day after that, go for two more. Keep going until he is comfortable walking all the way up and down. Once he is, you can slowly phase out the treats.
Setting up
Head to the stairs with your mature dog by your side. Now, with him watching, create a trail of treats up the stairs. Place one on the edge of each step, where it is visible. Then head to the top of the stairs.
Encouragement
You probably won't need to say anything, the sight of the treats will quickly give him the confidence to start climbing. However, if he doesn't, start giving him encouragement and motivation. Call his name and point to the treats. Be patient, it may take a while for him to make his way up to you.
Downward trail
Once he's successfully made it to the top and eaten all the treats, you need to show him how to get back down. So, create another trail, with a treat on every step again.
Support
Rather than heading to the bottom of the steps, just stand a couple of steps below him and encourage him. He's more likely to fall on the way down so you need to be there to support him and catch him if he slips. Having you close by will also help him relax and take the plunge.
Practice makes perfect
Practice this technique every day until he's got the hang of it. Depending on the bravery and difficulty of your stairs, you may find it takes just a few days for him to look relaxed on the steps. When he is confident, you can slowly cut out the treats.
Toy excitement
Spend a few minutes each day playing with a specific toy. Play tug of war, fetch and really get him worked up. You want this toy to send him into overdrive as soon as he sees it. You're going to use this to motivate him.
Scent markers
Now place a scent marker at the top and bottom of the steps. Get them online and they can be so discreet you barely notice they are there. But what they will do is help your dog to know when he's approaching the bottom and top steps. This is particularly useful as older dogs' eyesight tends to diminish.
Tug of war
Now take your game of tug of war to the bottom step. But this time, use the toy to slowly pull him up a couple of steps. He should be so excited by playing with the toy that he doesn't even realize he's climbed a couple of steps. Then sit on the step and play with him for a minute.
Back down
Once he's relaxed and comfortable, use the toy to slowly lure him back down the steps. Make sure you are there with a hand in case he stumbles or falls. Any slips could knock his confidence and push back the end result.
Repeat
This time, use the toy to lure him up a couple more steps. Then spend a minute or so there, putting him at ease, then head back down again. Continue doing this each day, getting slightly higher each time. Once he's comfortable leaping up and down the steps in search of the toy, training is complete!
By James Barra
Published: 01/10/2018, edited: 01/08/2021
---