How to Train Your Big Dog to Walk on a Leash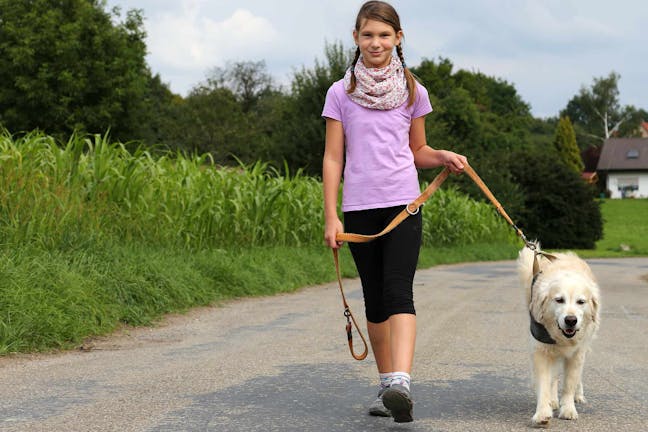 Introduction
Training your big dog to walk on a leash with you instead of pulling you will be imperative if you ever plan to take your large breed out for walks. You need to make sure you have complete control over your dog so he does not pull you along, become distracted chasing a rabbit or squirrel, or drag you down the sidewalk, and so that he knows who is master. Your big dog may overpower you way more than you can overpower him, and he may be bigger than you are. Having control over him has nothing to do with how much power you can exert over him. It has more to do with how much respect you can teach him to give you. Training a big guy to walk on a leash beside you will be imperative for most of your additional training to come with large breeds.
Top
Defining Tasks
Because this training, for large breed dogs especially, is more about your dog knowing his place with you instead of pulling you along a walk, you will need to find ways to encourage him to walk with you without pulling. This may require a special harness, a thicker leash and lots of treats to keep him in your control and wanting to stay with you to continue to earn delicious foods. For your early training sessions, you will need to find places without distractions so you can focus on your dog and your dog could focus on earning treats. As he gets more comfortable on the leash and you are more comfortable controlling him, take him places with minimal distractions so you can see how he reacts when something else draws his attention away from you. You may find for large breed dogs, a harness that clips on the chest rather than on the back gives you more control.
Top
Getting Started
Of course, for this training, you are going to need some incredibly high-value treats. Cheese sticks, hot dog pieces and dried liver treats are all great items for large breed dogs to learn how to walk with you on-leash. Keep in mind just because your dog is a large breed he doesn't need a larger treat. Even the largest of dogs will work hard for the tiniest morsel of food. Check your harness and leash to ensure your dog has proper equipment before you head out for a walk.
Top
The Clicker Loose Leash Method
Leash and harness
Let your dog sniff his leash and harness to get used to it. Attach the leash to the harness and show it to him. Introducing these pieces as his will get him used to them and get him excited for walks with you in the future. As he sniffs and acknowledges the leash and harness, click and treat.
Wear harness
With the leash attached to the harness, place it on your dog. For large breeds, many owners find harnesses with chest attachments rather than back attachments for the leash give the owner more control. Once the harness is on, click and treat.
Slack
Stand beside your dog with the leash loose. Give lots of slack so he doesn't feel a pull on the leash.
Calm
If your dog is excited, simply stand next to him. He will eventually mirror your behavior and calm down. Once he does, click and treat.
Command
Give a walking command such as 'let's go,' and walk forward. If your big guy doesn't immediately walk too, use his name with excitement and enthusiasm. Take a few steps and then click and treat so he knows he can earn treats by walking with you.
Walking
Keep your walks short and in places without distractions. These first few walks can be done indoors or in your yard just to get your dog used to the leash and commands. Reward with a click and treat as you both walk in an effort to keep him near you.
Redirect
If your dog pulls you or the leash, or is distracted, stop walking and let him feel the stop of the leash as he continues. Again, he will stop and eventually mirror your actions. Once you have his attention, click and treat. The click may get his attention enough to return to your side.
Practice
Keep walking with your dog using the leash and harness. Remember to stop if he pulls, click and treat when he is doing well, and do not discipline but rather reward for positive actions.
Introduce leash
Attach a leash to your big dog and stand still next to him. Remain still. You can look at him but do not talk or move. As he settles down and sits with you, give him a treat and verbal praise.
Step away
Take a step away from your dog, creating a tighter leash. Stand still again and wait for your dog to react. If your dog does not come toward you, taking a step himself, call him using his name. Once he takes that step to close the distance, give him a treat.
Toss treat
Toss a treat behind your dog. He will want to go get the treat and may pull the leash to get to it. Loosen the leash and allow him to go with the leash loose. If he doesn't come back to you when he gets his treat, call him by name. Once he comes back to you, give him another treat for listening and returning.
Walk
As soon as your dog starts to walk back to you, turn your body and walk away from him. If he wants more treats, he'll follow you and walk with you. Once he catches up, give him a treat.
Repeat
Repeat walking, stopping, enticing, and encouraging your dog to come back to you should he be distracted as he was when you threw a treat behind him.
Practice
Every time your dog is on the leash, repeat these steps to keep him with you. Over time, he will know he is to be with you and not pulling on the leash going away from you. Continue to entice with treats to redirect your big guy should he begin to pull or tighten the leash between you two.
Walk
Place a leash and harness on your large breed dog and go for a walk. Try to pick a walk without a lot of distractions.
Stop
While walking, stop and remain still. When your dog realizes he cannot go any further because you have stopped, he should stop as well.
Treat
When your big guy stops for you, give him verbal praise and a treat.
Pulling
If your big dog pulls, both of you could get hurt. You need to stop this behavior right away and redirect. Pick a command such as 'stop,' and stop in your tracks any time you feel the leash tighten. As you stop, you can tug the leash. Once your dog stops as well, give him a treat.
Move
Start walking again once your dog has stopped. As soon as he pulls, repeat stopping and waiting. He will feel the tug on the leash and stop as well.
Control
If you do not have control over your dog and he does not stop when you stop, do all the above steps with a treat out in the air above his nose to keep his attention on you and the reward.
Distractions
Use commands such as 'leave it' or 'wait' to get your dog's attention when he's distracted. These commands can be taught outside of walking.
Pass by
Once you make it past the distraction without being pulled or stopping, give your dog a treat. If you have to stop to keep him from pulling, include that step again in your walk.
Longer walks
As your dog gets better staying with you, earning treats along the walk, and without distractions pulling him along, go for longer walks. Be sure to have treats on hand for your dog to see and earn.
By Stephanie Plummer
Published: 12/15/2017, edited: 01/08/2021
---