How to Train Your Basset Hound Dog to Walk on a Leash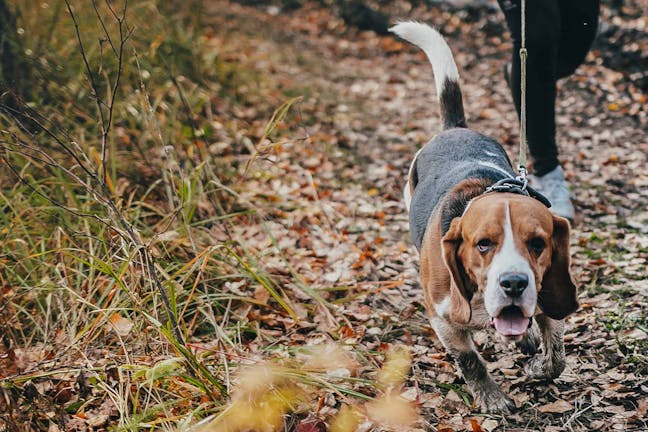 Introduction
He may be small but your basset hound is full of energy. Being a hound he's also got a keen sense of smell. A sense he's eager to use at any given opportunity, whatever the situation. That means when you take him out for walks, he pulls you in every which direction as he follows a scent. This is a serious problem. There's been numerous occasions where he's nearly pulled you into oncoming traffic. It also makes stopping to chat with neighbors a somewhat challenging affair. He may be small, but he's stronger than he looks.
Training him to walk on a leash is essential if you want to enjoy a relaxing walk on a weekend morning. That's what you envisaged when you brought him home, right? Succeed with this training and you'll also find it easier to stamp out other problematic habits.
Top
Defining Tasks
Training any dog to walk on a leash can be a challenge, but Basset hounds can be particularly tricky customers. Although they're sweet natured and affectionate, when their nose catches something they can be dead set on following it to the ends of the earth. This means you need to find creative ways to keep him on task. Some smelly food and treats can often do the job. You'll use these as an incentive throughout training. 
If he's young he should be a fast learner and you could see results in just a week or two. If he's older and stubborn then you may need a couple of months before he's fully got the hang of it. Get this training right and your walks can return to the peaceful, calm strolls you first imagined. Not to mention training him other commands will be much easier. 
Top
Getting Started
Before you can start training you'll need to get a few bits together. You'll need a generous supply of his favorite food or smelly treats. You'll also need to get your hands on a short, secure leash. 
Although they're small, Basset hounds can be quite strong, so it may be worth investing in a body harness too. This will increase your control and reduce the strain on his neck. You can practice training when you're on your daily walks, so you don't need to set aside any extra time. 
Once you've got all of the above just bring a positive attitude and you can get to work!
Top
Head out
Secure him to a short leash so he's right by your side. Then head out the door slowly. Don't be too animated at this point; you want to keep him relatively calm and focused on you.
Wait
Wait for him to use up all the leash. You need to be ready to react quickly when he does. Make sure you don't do anything until he begins to pull you.
180
As soon as the leash pulls, turn around and pull him in the other direction. You need to do a complete 180-degree turn. Don't tell him off or scare him, remain calm. Then start walking in the opposite direction. You are showing him that if he pulls he will not be able to go in the direction he wants. You are showing him you are in control.
Repeat
Now repeat this whenever he walks. It may mean to start with you are just walking back and forth. However, he will quickly catch on and then you'll be able to walk further before he starts to pull. This bit will require patience, so stay strong.
Reward
As he improves, you can start to appeal to that serious nose. Give him the odd treat when you've walked 50 yards without pulling. This combination of positive and negative reinforcement will swiftly whip him into shape.
Head out
Secure him to a short leash and head out for a walk as you normally would. Just make sure you have a pocket full of treats with you. Also, hold a treat out firmly in your hand at waist height. You want him to smell it but not be able to get to it.
Walk several yards
Use the treat to keep his attention and to keep him walking calmly by your side. When you've gone a few steps with him staying close to you, stop and hand over the treat. Give him some verbal praise and then get out another treat and start walking again.
Change the treat
If he doesn't stay at your side and loses interest then you need to re-think your choice of food. His nose is particularly strong so the smellier the food the more success you will have.
Increase the distance
This time, walk a little bit farther before you hand over the treat. The idea is to gradually build up the distance as you go. Keep increasing the distance each walk until you only have to hand over a treat every couple of hundred yards.
Lose the treats
After several weeks it will become habit to walk calmly at your side. At this point you can gradually cut out the treats. He knows what's expected of him now.
Start your walk
Head out for your walk as you normally would. However, make sure he's on a short leash and that you're holding him firmly on one side. Also, have some tasty treats with you.
Stop
As soon as he walks past you, stop and stand still. You are going to teach him that he can never walk further ahead than you. Don't yank him or hurt him, just stop and wait for him to return to your side.
'Heel'
At the same time as you stop, issue a 'heel' command in a clear but firm voice. You don't want him to think this is all a big game, so remain relatively stern. You don't have to use the word 'heel', you can use any phrase you like.
Reward
Wait patiently for him to return to your side. Then, because he's a Basset hound, you need to reinforce the training by appealing to his hound nose. So, give him a treat and some verbal praise. Then you can carry on walking again. When he pulls, repeat the same process.
Be consistent
This technique fails when people don't stick to it religiously. If you have a couple of walks where you let him pull then you're pushing the end result back further. You need to be consistent and react every time. Once he's got the hang of it you can slowly cut out the treats.
By James Barra
Published: 12/13/2017, edited: 01/08/2021
---