How to Train Your Dog to Walk on a Slippery Floor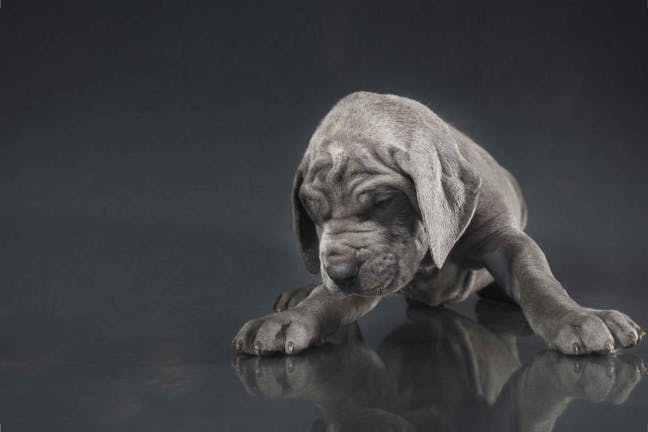 Introduction
Walking on a slippery floor can be a scary task for any dog. If your dog slips and slides on your tile floor or the floor at your veterinarian's office, he may be apprehensive to visit that room or his own doctor. A dog who slides around and falls a lot on a slippery floor could become injured. You want your dog to be safe but also know how he can manage walking across your tile or your wood floors without damaging them and without slipping and falling. 
Dogs who have fallen in the past may be apprehensive about walking across a slippery floor because it can be a scary task once an injury has occurred. Older dogs or dogs who have arthritis may have constant pain and worry about not only falling but also sprawling and losing balance as they try to maneuver their way across the slippery floor. But you can teach your dog how to walk across these sorts of floors.
Top
Defining Tasks
Training your dog to walk on a slippery floor will take a little bit of time. If you have a younger dog, it might be easier than if you're working with an older, arthritic or even a large breed dog. Building trust in you as well as with himself is going to be important in this training. Your dog needs to know that he can walk across this floor and not slip and slide or fall and get hurt each time he tries. He's going to need lots of love and encouragement from you as well as some special tools to help him get across. Consider placing small area rugs or even a bed somewhere on the floor so when your dog is in this space, he has a safe place to go to sit or lie down. This will also help him get up off of the slippery floor should this be a place where he chooses to lie down and sleep. Slippery floors can be found in various places, whether within your home, within your veterinarian's office, and even at the groomer's. Train your dog to have trust. Walking across a slippery surface will take some time and patience but can certainly be done right.
Top
Getting Started
To train your dog this somewhat scary task, you're going to need high-value treats. Bring lots of patience to these training sessions. Some of these methods require non-slip mats so your dog can walk across the floor without having to touch the floor at first. As he builds up trust in his skills, he is more likely to take on the slippery floor once he's been exposed to it through safer methods. Find some non-slip mats for practicing getting across the floor. You can purchase bath mats or a rug pad that would typically go under a rug to keep the rug from slipping. Rug pads can be cut to size and are relatively inexpensive, so using them for training and cutting them may be more economical than purchasing several mats for the purpose of training.
Top
The Treats and Leash Method
Treats
Offer your dog some high-value treats from a safe place off of the slippery floor and then sprinkle a few on the floor you need your dog to walk on.
Leash
Leash your dog so you can have better control over him while he's learning to walk on the slippery floor.
Step
Take a step onto the slippery floor with your dog leashed, encouraging him with a high-value treat, such as cheese or a hot dog, to step onto the floor with you. Be prepared to hold him up if needed.
Encourage
Do not correct or discipline your dog if he does not step onto the floor. Do not tug on the leash either. But rather encourage him by luring him with a high-value treat to step onto the floor with you.
Walk
For every step your dog takes onto the slippery floor, offer him a treat. Be sure you are walking ahead of him as well so he has to walk towards you to get to the high-value treat.
Praise
Be sure to offer your dog lots of verbal praise with enthusiasm. A nice soft tone will get your dog more comfortable and excited to be on the floor with you.
Off-leash
Once your dog has walked across the floor using the leash with you, take the leash off and start again. Encourage your dog with the use of these high-value treats to walk across the floor, eating treats as he goes. You can either offer him treats from your hand and encourage him by walking in front of him or you can leave the treats on the floor for him to gobble up.
Practice
Continue to practice this slow walk across the slippery floor using treats until your dog is comfortable walking on it alone without the use of treats.
Non-slip surface
Use a non-slip surface to introduce your dog to a slippery tile or wood floor. You can place small mats that will not slip and slide under your dog's paws on the floor in various places so your dog can use them as stepping stones to walk across the floor. This puts your dog on the slippery floor with the security of keeping his paws stable.
Exposure
Keep these non-slip mats on the floor, moving them from place to place each day so your dog has no fear of the floor itself and has a safe place to walk. Move them from time to time encouraging your dog to take a different route as he travels across the floor.
Fewer mats
Over the course of the second week, decrease the number of mats on the floor, making the path to travel across the slippery surface a little more challenging for your dog.
Rewards
Each time your dog travels across the floor, offer him a reward once he is on the opposite side. Slowly remove the number of mats your dog has to comfortably travel without touching the slippery surface and offer your dog a reward each time his paws touch the hard floor rather than the mats you've provided.
Eliminate mats
Once your dog has used the mats to get across the floor and you have decreased the number of mats your dog has to travel on, begin to eliminate them all together. At this point, your dog should be comfortable enough being on the floor. However, it is still slippery, so he may need some encouragement to travel across.
Treats
Encourage him to travel across the floor to earn a treat.
Encourage
Without the mats, your dog may be a little hesitant to walk across the slippery surface on his own. You can stand next to him encouraging him with lots of verbal phrase and love. Be sure to offer him a treat anywhere he is used to seeing a safe surface to stand on.
The Target Training Method
Hand target
Have your dog target your hand with you standing on the slippery floor and your dog standing in a safe place.
Treat
Hold your hand with a treat in it far enough out onto the slippery surface for your dog to have to take at least one step onto the slippery floor in order to earn the treat in your hand.
Touch
While you are holding your hand out, encourage your dog to take a step onto the slippery surface and touch your hand with his nose. As soon as he does, give him a treat. For these first few tries, if your dog does not touch your hand with his nose but does put his paw on a slippery floor, still offer him a treat.
Step back
Take a step back and repeat the process for hand target training. With the treat in your hand, encourage your dog to come and get it. Have him touch your hand with his nose and offer him the treat. With the second step, your dog should have at least two paws on the slippery floor.
Continue
Take one step at a time step backward and encourage your dog to come forward to earn a treat with each step he takes while targeting your hand. If at any point your dog is hesitant to step forward, step toward him and start over.
Entire floor
Practice these steps until your dog can walk across the entire floor. You may need to practice several times, offering high-value treats and target training until your dog can do it on his own.
By Stephanie Plummer
Published: 11/21/2017, edited: 01/08/2021
---