How to Train Your Dog to Walk Sideways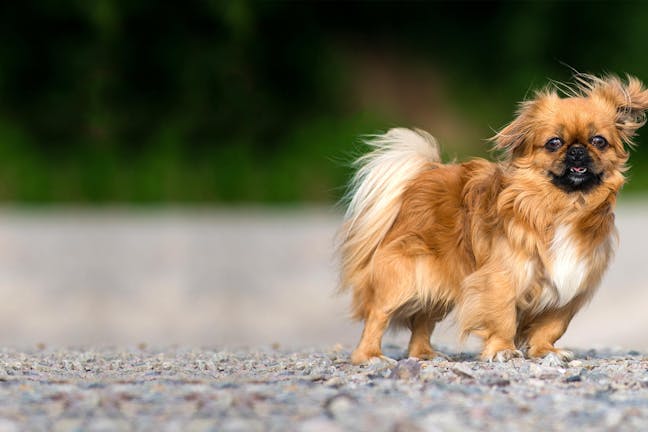 Introduction
There is nothing in the makeup of most dogs that would give them cause to walk sideways. It is not a movement that comes naturally to your pup. But, there is nothing that says you can't teach your pup to walk sideways once he has mastered the basic commands. It's a great trick for your pup to add to his current repertoire and an even better way for the two of you to show off what you can do. Because you will be asking your pup to move in a way that does not come naturally, this trick will take a while for your pup to master.
The good news, your pup will always have one thing on his mind, this is pleasing you. Be patient and gentle, never punish your pup if he gets any stage of the training wrong. Just be prepared to go back a step and keep working with him until he gets it right. 
Top
Defining Tasks
The task at hand is to teach your pup to walk sideways or "sidestep". This is mostly just a fun trick for your pup to master. Since this motion does not come naturally to them, the movements can look a little humorous in certain breeds. However, keep in mind that if you have a dog whose breed is prone to issues such as hip dysplasia, you should check with your vet to make sure it is safe to teach your pup this trick.
This trick can be hard to teach and as such may take longer than many others and should only be practiced for a few minutes at a time to help avoid the risk of injury. Keep it short, keep it simple, and most of all keep it fun and you will both have a great time!
Top
Getting Started
The one big thing you need to do before you start training your dog walk sideways is to have a nice quiet place to train. As challenging as this training can be, the fewer distractions there are the better. The only other things you are likely to need include:
Treats: Both for training and as rewards.

Space: You will need a bit of space for this one.

Time: Several 5-minute sessions per day are better than one or two longer ones.

Patience: Yep you got it, this one is going to take an ample supply of patience.

The big thing about training your pup to sidestep is that it is not easy for some breeds to be very gentle and if your pup shows any signs of discomfort, be sure to take him to see his vet. Stop all training immediately to avoid the risk of serious injury. 
Top
Quiet space with treats
Find a quiet place in the backyard to work in and have a bag of your pup's favorite chewy treats at the ready. You need treats that are big enough for you to hold one end and your pup the other.
Have a seat
Call your pup over and make him sit in front of you. Give him a treat and let him see you have more.
Hold out
Hold a treat out in front of your pup's nose so that he can smell it. Let him grab one end in his mouth while you hold the other.
Create the next movement
Gently take one step to the side (doesn't matter which one) and pull the treat with you. Your pup will most likely scoot in that direction. When he does, let him have the treat and praise him.
Up and moving
This time, put enough pull on the treat that your pup has to get up and move to get the treat.
Walking sideways
With your pup's teeth still firmly clamped on the treat, start walking to one side, taking your time to make sure he is following by walking sideways. Remember to go slow at first; save the speed for after he masters this trick.
Grab some treats
Grab some of your pup's favorite treats and head outside with him for a training session.
Go outside
Try to find a large space outside with as few distractions as possible.
Assume the position
With your dog standing in front of you, stand with your legs straddling his hindquarters.
Hold the treat
Using a treat as a lure, get your pup's attention. He should turn his head so that he can see the treat.
Some movement may occur
With your pup looking at the treat, start to move it to one side so that he tries to follow it with by turning his front end towards it. As he does so, use the appropriate leg and gently push his rear end in the same direction. Give him the treat and repeat this until he starts to anticipate the movement.
Out in front
Move to where your legs are no longer straddling his rear end and repeat the training. He should automatically start to move to the side each time you hold out a treat. Walk around the front of your dog and repeat the sidestep command with the treat from in front of him. The rest is all about practice; take your time and have fun.
With treat in hand
Stand in one spot with a treat in one hand.
Call the circle
Holding the treat so your pup can see it, turn in a circle slowly with your hand out front. This will force him to follow you in the circle while at the same keeping his head at the front where it belongs. Stop each time you complete a circle and give him a treat.
One step to the side
Each time you come to a stop, take a single step to the side. Your dog should follow you to the side. Each time he does so, give him a treat.
Add steps
Start slowly adding in a few steps in each direction. Your dog should follow you and the circular motion you started with should force him to keep his body straight so that he is sidestepping. This is going to take some time so be patient.
The payoff
Only reward him when all four legs are involved, work in short training sessions, and you and your pup will soon have another great trick to show off.
By PB Getz
Published: 12/13/2017, edited: 01/08/2021
---