How to Train Your Dog to Walk Slowly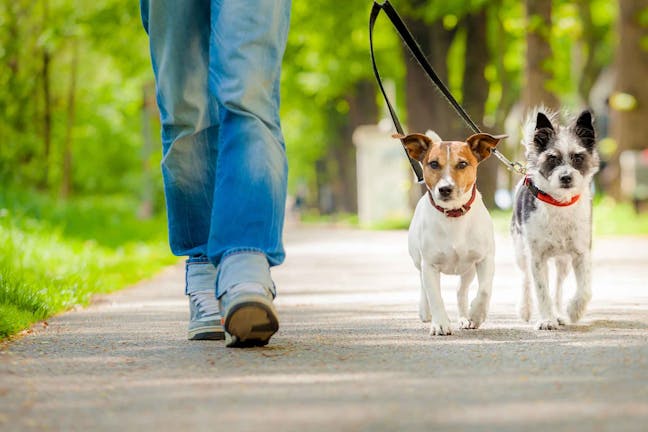 Introduction
You're out on a walk trying to make it a peaceful stroll instead of a half jog as your dog pulls you along. You try pulling on the leash and shouting to him, but he's insistent that this will be the quickest of walks. It's a problem and one that needs addressing. It would also be helpful for when you start the walk and open the door. Currently, he leaps out onto the sidewalk and then straight onto the road. You need him to slowly leave the house so you can avoid him getting run over before you've even stepped out of the house.
Training him to walk slowly will also be vital for helping you assert your control and position as the pack leader. If you can control his walking, you'll find it easier to control other behaviors you aren't so keen on too.
Top
Defining Tasks
Training your dog to walk slowly won't be easy, unfortunately. This is particularly the case on walks. This is often the highlight of his day and he's understandably excited and eager to tear around and sniff everything he can. Training, therefore, will consist of motivating him to walk slowly and using a mixture of positive and negative reinforcement to achieve the end result. If he's older he should have mellowed out somewhat over the years and reigning him in may take just a couple of weeks. Puppies are often more excitable and energetic and getting a handle on that energy may take a couple of months.
Get it right though, and you'll be able to enjoy peaceful walks and have him trotting slowly in a range of situations. You'll also find training him to 'stay', 'sit' and any other number of commands will take less time too.
Top
Getting Started
Before you declare war on speed, you'll need a few things. A short or an extendable leash will be needed. You may also want to use a body harness to reduce the strain on his neck. Make sure you top up on his favorite food or treats, they'll be used to incentivize the slow walk.
You can train while you're on your walks each day so you don't need to set aside any time. You do need to walk him somewhere where he won't get easily distracted by pets, people, and traffic, though.
Once you've got all of that you just need a patient attitude and you're ready to start!
Top
The Short and Slow Method
Head out as normal
Go out for your walk as you normally would but secure your dog to an extremely short leash. If he has no slack you have complete control over the speed you walk. If he's strong and you struggle to reign him in, put him in a body harness, this will increase your control.
Take it slow
Walk extra slowly to start with. You need to get him used to walking on your terms and at your speed. Hold him close to your side and take it steady for 10 minutes.
Reward
Constantly praise him verbally and give him the odd treat for the entire time he doesn't pull and stays by your side. Start this is as soon as he's secured to the leash.
React promptly
As soon as he starts pulling, stop walking completely until he too comes to a standstill. If you do this every time you will drill into him that he has to walk slowly if he wants to walk anywhere at all.
Be consistent
You need to use a mixture of the positive and negative reinforcement measures above every time you step out of the house. Each day you let him get away with pulling will set the final result back. After a number of well behaved weeks you can stop giving him regular treats, he knows what's expected of him now.
'Fast'
Start walking with him on a leash at a normal speed, but issue a 'fast' command as you start walking. Verbally praise him as you go and then give him the odd treat. If you can teach him to walk quickly on command, you can also instruct him to walk slowly. As you can imagine, the quick pace will be easiest to teach!
'Slow'
After 50 yards, issue the 'slow' command in a clear and firm voice. At the same time, drop your speed right down to a very gradual pace. Straight away, start praising him and giving him the odd treat.
Correct him
If he struggles to stay walking slowly, stand still and stop giving him praise until he stops too. Then start walking slowly again, praising as you go. Continue this for another 50 yards.
Chop and change
Over the next few days, conduct your walks in this manner, alternating between a fast and slow walk. He will soon start to distinguish between the two commands and different speeds.
Lose the treats
It may take a while, but once he's got the hang of it, you can slowly cut out the treats. By now the behavior will be ingrained and he will no longer need a food incentive to walk at the speed you'd like him to.
Start at home
Put a leash on your dog at home and leave it on though out the day. Dogs will often walk at a crazy speed because they're so excited to be on a walk. As soon as they see their leash they go crazy because they know what's coming. Leaving the leash on him all the time will make it easier to walk him slowly to start with.
Walk around the house
A couple of times a day, walk him very slowly around the house. Keep him firmly by your side on a short leash and walk at the speed you want him to.
Lure
To get him walking slowly if he won't do it naturally, hold a treat out at waist height. Hold it firmly in your hand so even when he tries to sniff and lick it he won't be able to get to it. Use this to force him to walk slowly.
Reward
After several successful steps of slow walking as he tries to get the treat, let him have it. Also give him some verbal praise so be begins to understand he's done something right. Keep practicing this each day around the house, until you can have him walk slowly by your side consistently.
Take it outdoors
Once he's mastered walking slowly inside you can head outside. Follow exactly the same steps as above to keep him calm and walking steadily. The tastier the treat, the more likely he will be to walk slowly to try and get it. Keep practicing this until it becomes habit to walk at that speed.
By James Barra
Published: 11/01/2017, edited: 01/08/2021
---