How to Train Your Basset Hound Dog to Walk With You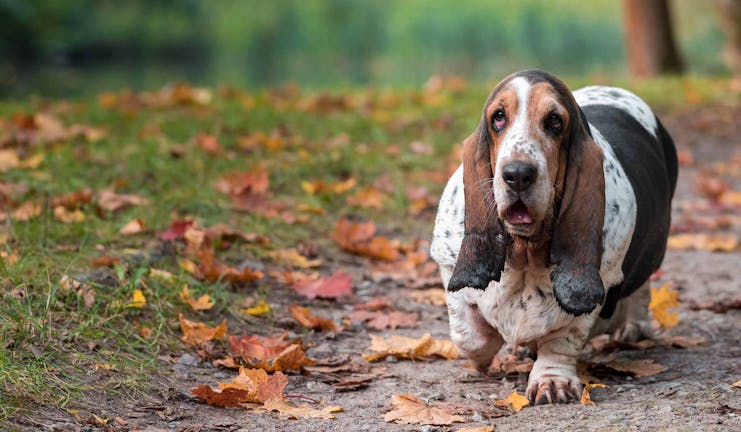 Introduction
If you have never owned a Bassett Hound before, you can't really be blamed for thinking training him to walk would be just like training any other dog. Sadly, or perhaps happily, it's not quite that easy, as Bassett Hounds are known for being stubborn. The fact is, these dogs have an extremely good sense of smell, one that they want to put to use everywhere they go. Of course, this can make going for a walk more than challenging.
Training your pup to walk with you rather than trying to rip your arm off or making that ten-minute walk turn into 30 minutes, is very important. No one wants walks to turn into a nightmare rather than something everyone in your family can enjoy. 
Top
Defining Tasks
The idea here is to teach your pup to walk with you, without his trying to drag you everywhere. There is no time when it would be right for your pup to tug on the leash while you are taking him for a walk.
Bear in mind that even after you are comfortable with your pup having learned to walk on his leash, you should still treat each walk you go on as a training session. You can never reinforce this behavior too much. Be sure that each time you take him for a walk, you need to remain consistent in the way you interact with him. Remember, going for walks is good for both of you, take advantage of every chance you get to take your Bassett Hound for a walk. 
Top
Getting Started
Teaching your dog to walk with you is more about time than it is about supplies. However, there are a few things that will make the training go faster and more smoothly.
A standard-length leash

A well-fitted collar

Soft, smelly treats

Time for several short walks a day

The rest is all about finding a quiet place to take your Bassett Hound for walks and having the time and patience to stick to the training program and ensure your pup will always behave when the two of you go for a walk. 
Top
The Meet Your Leash Method
Say hello to your leash
Since you are teaching your pup to walk with you, it's time for you to introduce him to his leash and, if he's not used to wearing one, his collar. To get him used to both, put his collar on, clip his leash on it, and let him wander around the house several times a day for a few minutes at a time. Play with him and give him a treat or two.
Introduce your cue
Time to teach your pup to recognize the cue word and associate it with what you expect from him. You can use simple words like "Walkies time" or "Let's go for a walk." It really doesn't matter what you use as long as you use the same cue every time. You can practice this in a quiet room or in your backyard if it's quiet. Give him the cue and when he turns to you, give him a treat and lots of praise. Practice this over the course of several days.
Come on over
This time when you have his leash attached, call your dog over to you. Give him a treat when he comes. Start moving further and further back. Now do this while walking away from him, if he comes to you and starts walking with you, praise him and give him a treat. Keep working at it until he gets really good at walking with you.
On the road again
Now that you have your pup walking with you indoors or in the safety of your backyard, it's time to take his training to the streets. As the noise starts to distract your dog, or he simply can't resist trying to follow some random smell, give him the cue word "walk" and start walking away from him. If he follows, give him a treat. If he doesn't, keep working with him until he does.
Keep rolling with it
The rest is all about sticking to practicing with your pup until he has mastered the skill. It won't take long, but once he learns to walk with you, both of you will have far more fun.
Pick a side
Most people will train their pup to walk on their left side in what is commonly known as the "Heel" position. You can use either side, but just be consistent as swapping sides will only confuse your dog.
Use a short leash
During the early stages of training, you need to use a short walking leash as this allows you to maintain more control over your pup. Just don't make it so short you are literally dragging him along with you.
Grab a treat
One way to get your dog to come to the "heel" position is to use one of his favorite smelly treats. Hold the treat down by your side on your chosen heel position. When your pup comes to the spot, give him the treat and praise him.
Keep up the 'heel' training
Keep repeating this training until your pup comes to the heel position every time you call him.
Out for a walk at last
Head out with your pup on his leash for a nice short walk. Any time your pup starts to wander or pull on his leash, give him your 'heel' command to bring him back into position. Each time he does, you can praise him and give him a treat.
Keep on walkin'
Time to start adding distance and duration to your walks. Keep up the good work and before long the two of you will be hiking all over town.
Head on out
Hook your pup on his leash and take him outside. Then simply say "let's go" and start walking away from your pup. Don't even look at your pup, just keep walking as long as there is slack in the leash.
Tension is not acceptable
When you feel the slightest amount of tension, come to a complete stop, then start backing up towards your pup. Call him to come and pat your leg to show him where he is supposed to be. When he arrives, take off again and keep an eye on the leash. If there is slack in the leash, you can stop and give him plenty of praise and a treat.
What if he decides to stop?
If your pup decides to come to a crashing halt, you do the exact same thing. Then just stand there and wait until he finally decides to come to you. When he does, take off walking again.
Options
The other way to deal with him stopping or pulling on the leash is to turn and walk in a different direction. The idea behind this is to teach your dog that it is not acceptable for him to go anywhere he pleases. Whenever he turns and starts walking with you again, be sure to stop, praise him, and give him one of his favorite smelly treats.
It's all about practice
The rest truly is up to you. The more time you can put into practicing the better, so your Basset Hound will walk anywhere with you without pulling on the leash or trying to take off on his own. Then go out and enjoy many miles of fun walks together.
By PB Getz
Published: 12/27/2017, edited: 01/08/2021
---