Flying with Your Dog on United Airlines
Flying with Your Dog on United Airlines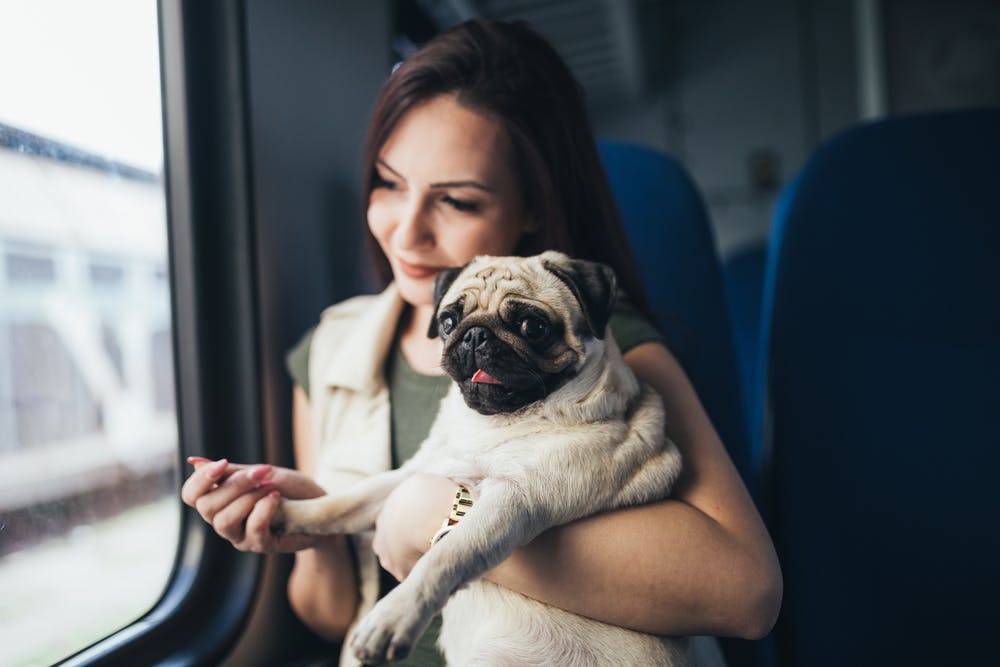 By Mel Lee-Smith
Published: 09/08/2020, edited: 10/21/2021
Save on pet insurance for your pet
You don't have to choose between your pet and your wallet when it comes to expensive vet visits. Prepare ahead of time for unexpected vet bills by finding the pawfect pet insurance.
Updated: 8/16/2021
Planning a trip to a far-flung destination and want to bring your pupper along? If you're thinking about traveling with United Airlines, you might be wondering if it's easy to fly with your dog. The rules on flying with a dog on United Airlines vary depending on whether you're flying international or domestic, as well as your dog's size and breed. 
Read on to find out everything you need to know about United Airlines' pet policy.
United Airlines Pet Policy: Domestic Travel
Flying to another state with your doggo is a lot easier than flying to another country. However, domestic flights aren't exactly a walk in the dog park. Below, we've covered United's crate and health requirements, booking procedures, and pet fees for both in-cabin travel and United's PetSafe® program.
In-cabin travel
Crate Requirements
Small dogs who fit in a TSA-approved kennel or carrier will be allowed to travel in-cabin under the seat in front of you. Your kennel or carrier can be soft or hard-sided. 
Hard-sided kennels cannot be any larger than 17.5 inches long x 12 inches wide x 7.5 inches high. There is more leeway for soft-sided carriers as they can fit easier under a seat. The max dimensions for soft-sided pet carriers are 18 inches long x 11 inches wide x 11 inches high. 
United Airlines doesn't specify size requirements for dogs. Your dog should be able to stand up and turn around comfortably in their kennel. If you're unsure whether your kennel meets TSA standards, contact United Airlines.
Dogs cannot fly with an unaccompanied minor or on a separate flight to their pet parent. Each ticket is valid for one pet only. Your dog must stay under the seat in front of you and inside their carrier at all times. 
Health Requirements and Documentation
To fly in-cabin on United Airlines, your pup will need to be at least 4 months old. If your dog is too big to fly in-cabin, they will have to fly through United Airline's PetSafe® program (see below). 
United Airlines' dog travel policy requires all dogs to have a health certificate and proof of rabies vaccination from their vet. Ensure your dog is vaccinated against rabies well in advance, as they won't be able to travel for 30 days after their last rabies shot. If you're unsure about your dog's vaccinations or health certification, contact your vet for advice. 
Booking Procedures and Pet Fees
You can book your dog's flight at the same time you reserve your own seat. When booking a flight online, you'll come to a page that asks for the number of passengers and pets in the cabin. 
It's also possible to add a dog to your flight under your booking's "Manage reservation" tab. If you have questions about reservations, call United's customer contact center. 
The price of traveling with a dog in-cabin is $125 per animal one way. Bear in mind if you have a layover of more than 4 hours, you'll be charged an additional $125 fee. The same goes if your layover is more than 24 hours internationally. 
Exemptions and Other Considerations
You cannot fly with a dog in-cabin to Hawaii. Check United's website for information if you're connecting through a different country to a final destination in the US. Pit Bull breeds are prohibited from flying in-cabin.
Service dogs are exempt from crate size restrictions and pet fees. Therapy dogs and emotional support dogs are also exempt from crate size restrictions, but are still subject to a $125 service charge. 
You'll also need a certificate from a licensed health professional and your veterinarian confirming your dog is a therapy or emotional support animal. These documents must be less than a year old. You'll have to submit 3 forms, including documentation, within 48 hours of your flight online. 
PetSafe® travel
If you're traveling internationally or your dog is too big to fit in a small kennel, they'll likely have to fly under United Airline's PetSafe® travel scheme. This option is vastly different from in-cabin travel.

Your dog will travel in a pressurized, temperature-controlled compartment and not in the cabin with you. This experience can be stressful for dogs, so United recommends getting your dog used to long periods in a kennel through crate training. You should also consider your dog's age, health, breed, and temperament before booking. 
Breeds restricted from the United Airlines PetSafe® program include Cavalier King Charles Spaniels, Boxers, Belgian Malinois, and more. Energic breeds and dogs with separation anxiety may also become distressed during transit. 
Crate Requirements
As with in-cabin travel, your dog must be able to stand up and turn comfortably inside their kennel. The maximum height for a kennel or crate is 34 inches. All kennels used for transport must meet United Airlines, USDA, and International Air Transport Association (IATA) regulations. Only one dog can travel in each crate. You can find out more information about crate requirements on United Airlines' website.
Health Requirements and Documentation
Here's what you'll need to do to travel with a dog on United Airlines' PetSafe® program: 
Complete a Customer Acknowledgement Form prior to take-off

Submit a clear, digital photo of your dog and their travel crate

Provide information on when your dog was last given food and water*

Report any special needs or requirements

Supply a health certificate from your vet no older than 10 days before your flight**
*You shouldn't feed your dog within two hours of flying, as this can cause health problems like bloating and vomiting.
**If you're flying internationally, this timeframe may change in line with the specific country's laws. EU pet passports are also considered a valid health certificate as long as they contain the necessary information. 
United Airlines prohibits sedating your dog before flying. Sedation can cause serious health issues during flying and could prove fatal. As a result, any dog that appears to be sedated will not be allowed to fly. 
Booking Procedures and Pet Fees
As with in-cabin travel, you can add your pet to your flight by going to the reservations section of your online booking. Due to how complicated PetSafe® booking procedures can be, you're probably better off calling United Customer Service to book and confirm your reservation. If you're unsure of anything and need clarification, contact United's PetSafe® Desk on 1-800-575-3335 or 1-832-235-1541.
The cost of booking with PetSafe® isn't transparent and depends on the combined weight of your dog and their crate. You may also incur additional charges for handling, kenneling, and booking. All transport costs must be prepaid. 
If you're traveling internationally, you can contact the International Pet and Animal Transportation Association (IPATA) for rates and shipping options. 
Exemptions and Other Considerations 
When you're traveling with a dog on United Airlines, you're allowed to provide food, water, and a few added extras. You can attach up to 16 ounces of food and a drip-style water bowl to your dog's crate. Your dog won't be able to travel with toys, bones, or medication, but blankets less than 3 inches thick are permitted. You'll find a full list of what's allowed on the United Airlines website. 
Similar rules regarding service, therapy, and emotional support animals apply to international travel. However, certain countries need different documentation, so you should contact the relevant embassy before booking. Some exceptions also apply to state department and military personnel on assignment. United offers special handling for government workers so they don't have to book via an IPATA third-party shipping agency. They can also avail of QuickPak® service to speed up check-in times. 
United Airlines Pet Policy: International Travel
Traveling internationally with your dog is sure to cause plenty of headaches. As no two countries have the same laws and regulations on traveling with a dog, United doesn't provide general information on the subject. 

The Center for Disease Control (CDC) states that passengers should contact their vet as soon as possible to discuss the requirements for the country they're traveling to. If you have any questions, you can contact a vet 24/7 through Wag!.
The Animal and Plant Health Inspection Service's (APHIS) website is another great source of information on traveling internationally with a dog. Here, you can enter your destination to find location-specific rules and requirements.

Many common requirements for traveling include microchipping, blood tests, and vaccinations. Some rabies-free countries will quarantine dogs to prevent the spread of rabies. The duration of quarantine varies from country to country. Contact your final destination's embassy for more information about traveling internationally with your dog. 

Anything can happen while you're away. Before traveling, check out our pet insurance comparison tool. Brought to you by Pet Insurer, Wag! Wellness lets pet parents compare insurance plans from leading companies like Figo and Healthy Paws.