Introduction
Traces of preserved alcohol have been found in jars from China that date back to somewhere between 7000 and 6650 B.C., with medicinal uses being listed in both Sumerian and Egyptian texts as far back as 2100 B.C. Cultures all over the world have developed some form of this liquid to consume, and it was used as one of the world's earliest and most popular of social lubricants. It was often employed at great celebrations where throngs of people shared in its effects, and in many cases, it is still celebrated in that way today. Unfortunately, it's one of those ingredients, along with chocolate, grapes, and garlic, that we simply can't safely share with our canine companions. One way that you can share an interest in alcoholic beverages with your dog, without letting them consume any, is to give them a name inspired by one of the many types of alcohol that we have acquired.
Alcohol inspired Dog Names in Pop Culture
Featured Famous Dog With an Alcohol Inspired Name
Hooch
 Alcohol has been around for thousands of years, and dogs have been our companions for all of that time, it's not really surprising that we've been naming them after one another, you have brands of alcohol named after dogs, such as Bird Dog Whiskey, Foo Dog Vodka, and Dancing Dog Gin, and then you have dogs named after alcohol. In the Abergavenny Museum in Wales houses, the last remaining specimen of a dog called a Turnspit dog, an extinct breed that was once commonly seen in nearly every household. The taxidermied canine was dubbed Whiskey and had originally been developed to run in a wheel that caused meat in great brick ovens to turn on a spit, but when technology made their job obsolete the little dogs didn't have the winning personality to make the transition to a companion animal and they became extinct, this category of names, however, has remained popular. 
A Bernese Mountain dog with a damaged spinal cord by the name of Guinness was featured on the show "Supervet," where he overcame tremendous odds to learn to walk again, at just 6 inches long, little Heaven Sent Brandy was listed as the smallest dog in the world as of 2007, and one of the main canine characters in the movie "Look Who's Talking Now" was named Rocks. One of the most beloved dogs with a name inspired by alcohol was a fictional dog, a big slobbering beast of a dog named Hooch, from the movie "Turner & Hooch," a Touchstone Pictures production starring Tom Hanks that was released in 1989. In the movie, Turner, a by the book police officer, acquires the large and unmanageable Hooch while he is investigating a crime scene. Hooch, who also happens to be the only witness to the murder he is trying to solve, does not adjust to Turner's well-ordered life, but eventually, this odd couple figures out a way to work together. Hooch was played mainly by Beasley the dog in his one and only acting role. Beasley was a breed known as a Dogue de Bordeaux, and his participation in this heart-tugging movie helped to bring this unusual breed into the spotlight. Like many other giant breed dogs, Dogue de Bordeaux dogs generally have a shorter lifespan than other breeds, averaging just over five years of age, but Beasley broke the mold there as well, playing the role of Hooch at the advanced age of ten years old, and living another three years after that in relatively good health. 
Alcohol Inspired Dog Name Considerations
Choosing a name for your canine companion, while fun, is also serious business. The name that you choose to give your new pet can influence how quickly and effectively they bond with you as well as their ability learn new commands. The best name for your pet is one that you and your household are able to easily pronounce, one that you can live with saying repeatedly for several years, and one that your individual dog responds to. There are many factors that you may consider when trying to choose your dog's new name, and elements such as appearance, personality, breed, and even the dog's intended purpose may help to guide you in your decision. A name like Guinness might work nicely for a dog with a dark brown coat, while a small golden colored dog may be perfectly suited to the name of Bees Knees, or Syrah might be just the thing for a dog with a flowing red coat. A sweet, bubbly dog may be dubbed Mimosa, the crazy dog who never slows down might end up as Kamikaze, and the therapy dog may get a refreshing or healing name such as Julip or a healing name like Cordial. In some cases, you might look to your own interests as well, a fan of the Simpsons may be more likely to pick a name like Duff, while a horse racing fan who loves bourbon might mix interests by picking a name that represents both, like Kentucky. 
Male Alcohol Inspired Dog Names
Votes
Name
Vote
8

Hurricane

A sweet drink served in a large glass that includes both dark and light rum as well as passion fruit, lemon, and ice

8

Malt

A fermented drink made from slightly sprouted barley seeds

8

Ouzo

An anise-flavored alcoholic drink from Greece, Cypress, and Lebanon that is usually served before dinner

7

Saké

An alcoholic drink from Japan that is made from fermented rice, can be consumed either cold or warm

7

Tito

Tito's Handmade Vodka is a popular and well-known brand of American vodka that is made from yellow corn

6

Jack

The name Jack can refer to either Jack Daniel's Tennessee Whiskey, or to Yukon Jack, a whiskey out of Canada

6

Mezcal

A distilled drink made from the flesh and juice of the Agave plant

5

Guinness

A very old and very popular brand of Irish Stout beer, occasionally referred to as a "meal in a cup"

5

Rocks

If you just want your drink in a glass with ice, order it on the rocks

5

Vermouth

A fortified wine flavored with various botanicals, comes in sweet and dry varieties

4

Cognac

A grape-based alcohol that is aged in a wooden cask

4

José Cuervo

A well-known brand of tequila, can be shortened to either José or Cuervo

4

Kamikaze

Vodka, Triple Sec, and lime juice in a cocktail glass

4

Stout

A beer made with roasted barley, often with a thick texture and dark coloring

2

Berringer

A well-known and popular winery based out of St. Helena, California that was founded in 1876

2

Bourbon

In order for whiskey to be considered Bourbon it must be made from at least 51% corn

2

Cosmopolitan

A popular mixed drink made with vodka, Cointreau, and cranberry and lime juice

2

Gimlet

A gin sour made with lime, a drink that is both sweet and tart

1

Duff

Duff beer began as a fictional brand that could only be found in Springfield, but now has become a reality

1

Collins

While Tom Collins is the most well-known of the Collins family of drinks, there are several other varieties

1

Gin

A clear alcohol that is made with grain or malt and has the flavor of juniper berries

1

Lager

A crisp, clean style of beer without the fruity notes found in ales

1

Mule

The Moscow mule is a mixed drink consisting of ginger beer, lime juice, and vodka, served cold in a copper mug

1

Scotch

Scotch Whiskey only comes from Scotland using water and malted barley for the foundation ingredients

1

Soju

In Korea, soju can be made with either rice or sweet potatoes

0

Hennessy

A brand of cognac that is based out of Cognac, France

0

Hooch

A slang term for inferior or illicit hard liquor

-1

Pisco

Sometimes referred to as a Pisco sour, an un-aged grape brandy that usually has egg white added to it

-1

Sazerac

A New Orleans drink that includes absinthe, whiskey, bitters, and simple syrup

-1

Wormwood

Absinthe is flavored with wormwood, anise, and fennel
Female Alcohol Inspired Dog Names
Votes
Name
Vote
9

Kahlua

A Mexican liqueur with a unique coffee flavor

9

Martini

A classic mixed drink that includes gin and vermouth and is generally garnished with either an olive or lemon peel

8

Margarita

A well-known mixed drink made with tequila, triple sec, and lime juice

7

Daiquiri

A fruit-based alcoholic drink, that includes rum, citrus juice, and a sweetener

7

Julep

A Mint Julep is a refreshing drink made from bourbon, water, ice, and muddled mint

7

Pina Colada

A tropical mix of cream of coconut, pineapple juice, and rum

6

Whiskey

A distilled alcoholic beverage that is derived from fermented grain mash

5

Appletini

A cute little green drink made with vodka, apple schnapps, and lemon juice

5

Moscato

A sweet wine with low alcohol content from Italy

5

Syrah

A dark red wine made from the Syrah grape, also known as the Shiraz grape

5

Tequila

An alcoholic drink derived from cactus plants

4

Bombay

A popular brand of gin from London that has been in business for over 200 years

4

Junmai

This is a type of saké is made with no distilled alcohol added to it

4

Mai Tai

A tropical drink with rum, Curacao liqueur, as well as pineapple juice and other tropical fruits

4

Mimosa

A mix of champagne and orange juice, sometimes served as a breakfast drink

4

Mojito

A Mojito is made from rum, water, sugar, and muddled mint

4

Moonshine

This originally referred to illegally made distilled spirits but is now defined as a clear, un-aged whiskey

4

Skyy

A popular brand of vodka with a distinctive bright blue bottle

3

Anise

Absinthe is flavored with anise, wormwood, and fennel

3

Cordial

A comforting sweet drink that was often recommended as a medicine

3

Sambuca

This is an Italian liqueur that is usually colorless and has an anise flavor

3

Stella

Stella Artois is a Belgian made beer that was originally brewed just for the holidays

2

Grappa

A grape-based brandy-type drink of Italian origin

2

Riesling

The variety of grape used to make Riesling wine, a dry, semi-sweet wine with floral notes

1

Absinthe

A high-proof green alcohol flavored with wormwood, anise, and fennel

1

Barefoot

A popular winery based out of Modesto, CA

1

Brandy

An alcoholic drink that is distilled down from wine and aged in a cask

1

Kentucky

Ninety-five percent of the world's bourbon comes out of Kentucky

0

Vodka

A clear alcoholic beverage that is usually made by distilling cereal grains or potatoes

-1

Bees Knees

A mixed drink that was particularly popular in the 1920's consisting of gin, lemon, and honey
Community Dogs with Alcohol Inspired Names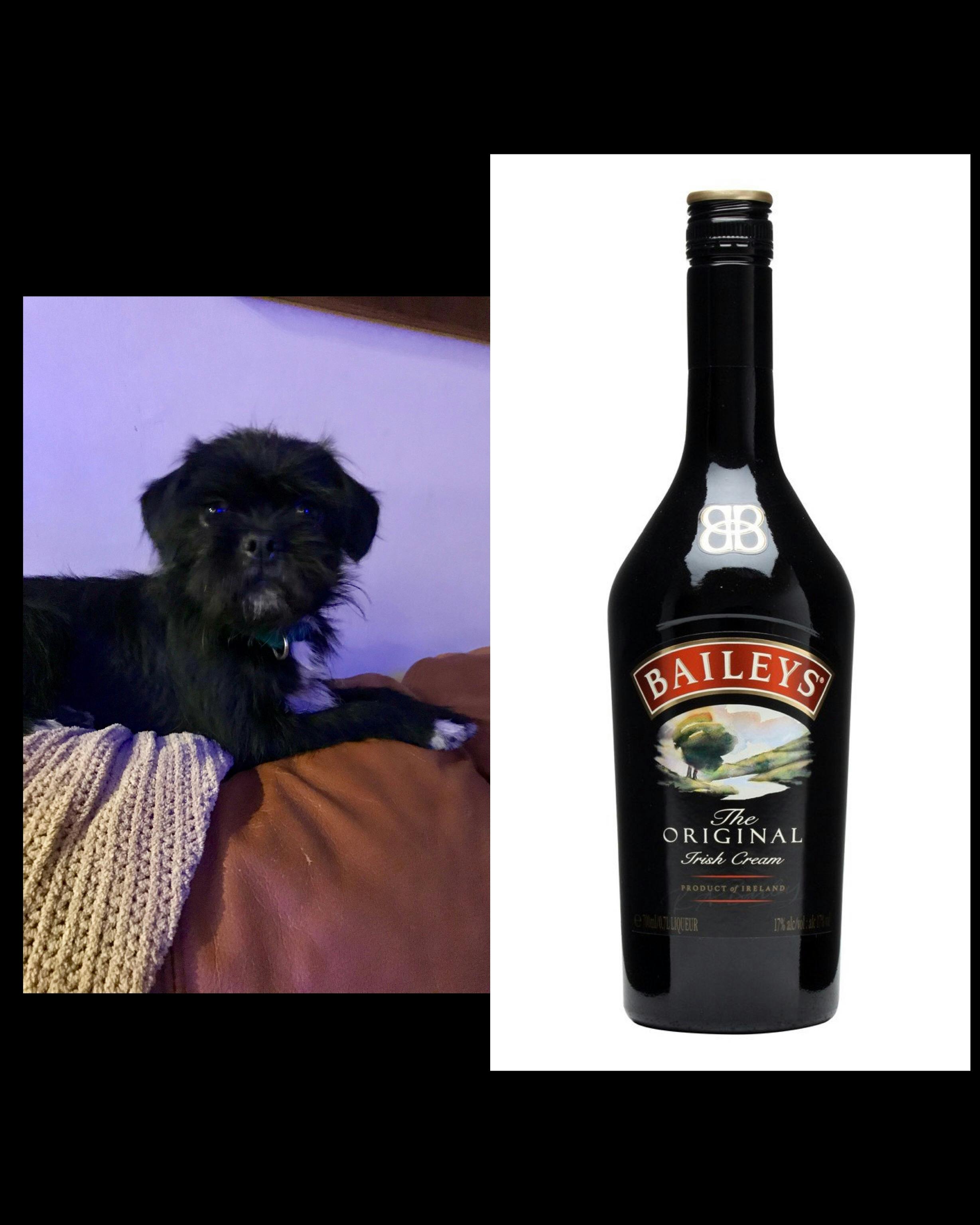 Baileys
Female
Brussels Griffon
New York City, NY
When I was about to turn 18 my mom friend gave me a sip of Baileys Irish cream and I fell in love with it since then. I'm now 46 so that's to tell you how long, LOL. I recently became a first time Pet Parent and I first laid eyes on her I automatically fell in love with her. And that has only happened twice before in my life (fell in love @ first glance) One was my daughter and the other was when the Baileys back at 18. Couldn't name her same as my daughter so Baileys was the next choice (though at times I have called her my daughter's name LOL).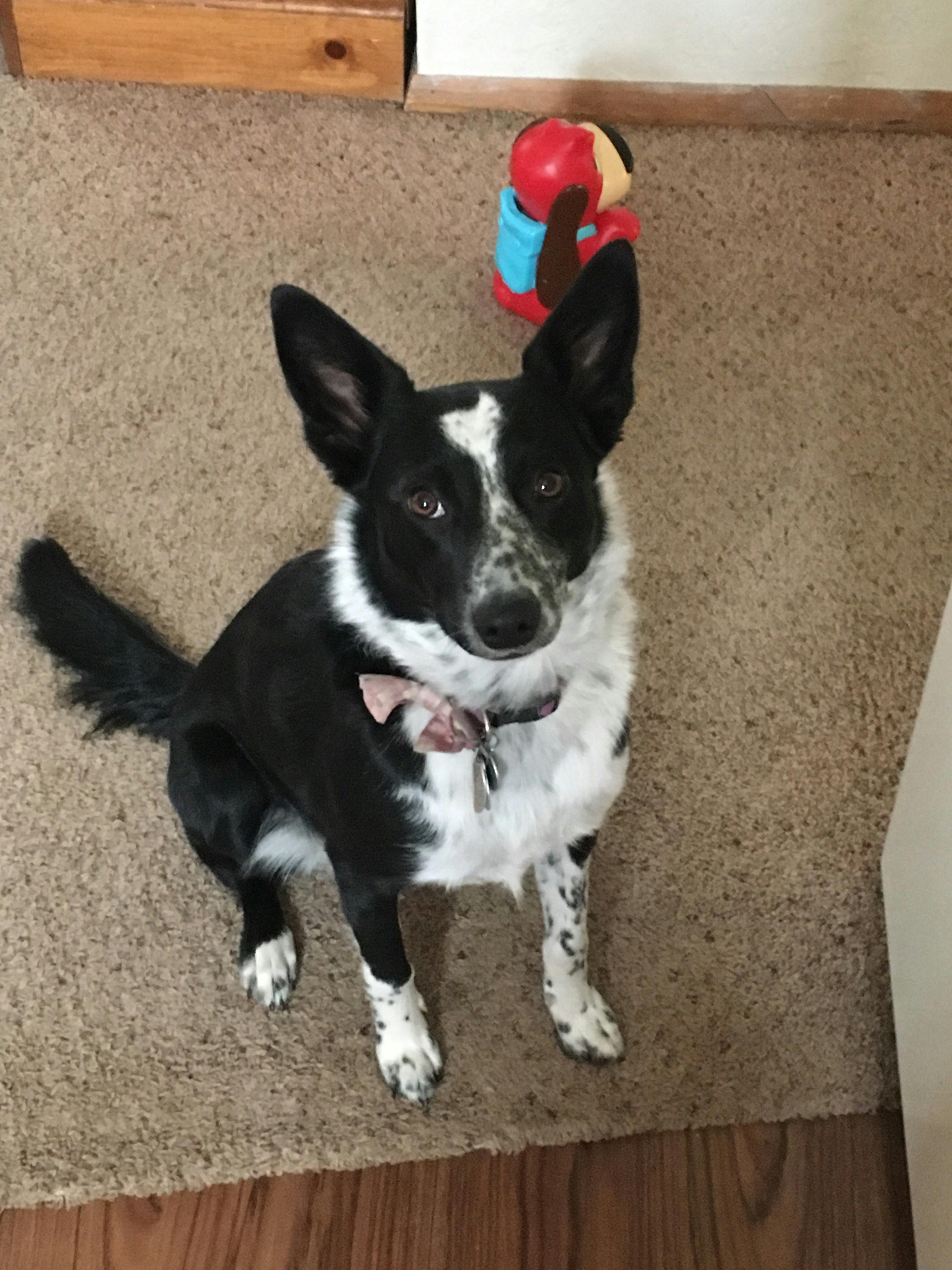 Whisky
Female
Blue Heeler
Steamboat Springs, CO
Personality
Adventurous
Lively
When my fiancé and I first really got to know each other it was over a big bottle of Jack Daniels. That was the same night I convinced him our house needed a pup and what else to call her besides Whisky. Also it's great fun to scream Whisky at 10 in the morning 😊 all the neighbors thought we'd lost our minds till they saw our adorable little addition.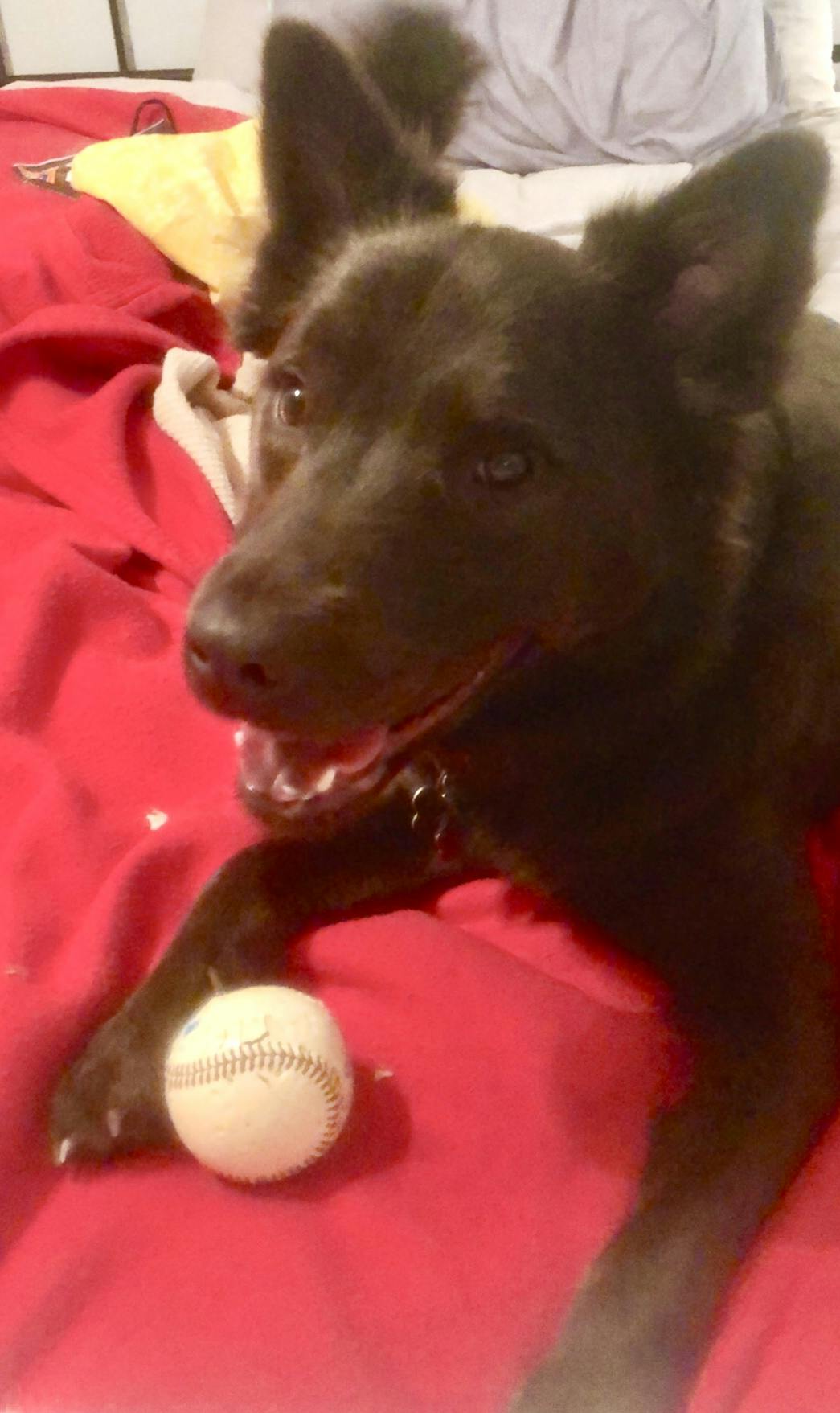 Jameson
Male
German Shepherd
Raleigh, NC
So, Jameson was adopted from SPCA clear the shelters day. . . When people say that dogs chose their owners, it's 100% true. Jameson chose me that day. Jameson's name was originally chewy. . . Well a classmate of mine from high school used to refer to wedgies as chewies. . . I was not going to have a dog that made me think of butt cheeks eating pants every time I said his name. . . Well after many nights of staying up trying to keep this dog from eating and chewing on everything (underwear, pants [yes, I am aware of the irony], socks, shoes, EVERYTHING) and trying to deal with the worm infestation that he had brought home, I reached for some "liquid sleep aid" or "mommy juice" and low and behold it was a bottle of Jameson. That night my dog officially had a name.