Introduction
Going strong since 2001, the Animal Crossing franchise is undoubtedly one of the most feel-good games out there. No matter which title you play, you'll feel the stress melt away while you fish, catch bugs, hunt for fossils, and chat with your fellow villagers. Animal Crossing villagers come in all shapes, sizes, and species. The cat villagers are "pawticularly" adored for being friendly, spunky, and even grouchy.
Looking to name your feline friend after this wholesome game series? Here are our favorite Animal Crossing-inspired cat names. Creating this list of 60 names was the easy part — the hard part will be choosing just one!
Animal Crossing Cat Names in Popular Culture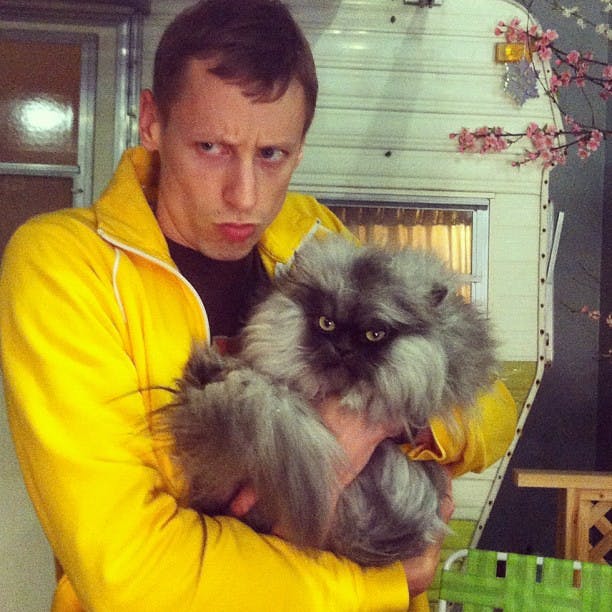 Featured Famous Animal Crossing Cat Name
Colonel Meow
Okay, so there isn't an Animal Crossing villager named Colonel Meow. But this internet sensation shares part of his name with Meow, a cat villager that appeared in one relatively obscure Animal Crossing game.
Colonel Meow became a social media sensation when he won the Guinness World Record for the longest cat hair in 2014. The majestic mane on this American Himalayan-Persian cross measured 9 inches long. He needed brushing 3 times per week, a job that took both his pet parents to tackle. Talk about a floofy feline!
The cranky colonel gave Grumpy Cat a run for his money — his humans often posted pictures of his scowl and furrowed brow on Instagram. He amassed millions of "minions" and had his own website, YouTube channel, and social media accounts.
Before he skyrocketed to internet stardom, Colonel Meow was rescued by the Himalayan and Persian Society. Sadly, Colonel Meow went to kitty heaven in 2013, but his legacy still lives on.
Meow the Animal Crossing villager couldn't be more different. This pink, peppy kitty is exclusive to Animal Forest e+, released on GameCube in 2003. Meow was only obtainable via an E-reader card, similar to the amiibos Animal Crossing players use today. Meow was named after Meowlingual, a "cat translation" device released in Japan the same year. Meowlingual can allegedly decipher your cat's expressions and behavior to tell you how they're feeling. Neat!
Animal Crossing Cat Name Considerations
Die-hard Animal Crossing fans know that each villager has their own personality type, catchphrase, and quote. Consider these in addition to your fur-baby's temperament and breed when choosing an Animal Crossing name for your cat.
Names like Peanut and Bitty are cute choices for small cats with big hearts. Groucho and Chief suit grumpy or headstrong cats. Some Animal Crossing cat names are perfect for certain breeds — think Bluebear for a Russian blue.
Of course, you might just want to keep things simple name your fur-child after your favorite villager, whether they're an alligator, hippo, or even — dare we say it? — a dog.
Male Animal Crossing Cat Names
Votes
Name
Vote
1

Kabuki

A cranky kitty whose catchphrase is "meooo-OH!"

1

Kid Cat

Kid Cat takes his name from a Japanese superhero.

0

Bob

This cool cat's quote is, "You only live once...or 9 times."

0

Moe

Moe's catchphrase is "myawn", making this a great name for a sleepy kitty.

0

Pierre

This clown cat villager is the "purrfect" inspiration for a dopey kitty.

0

Punchy

Punchy's quote reads, "There's always more fish in the sea!"

0

Raymond

This coveted cat villager fetches millions of Bells from adoring players.

0

Tabby

Can you guess what inspired this Animal Crossing cat name?

0

Rover

This traveling cat appears in every game for special jobs and events.

0

Dizzy

A "furrific" choice for a cat that gets the zoomies on the regular.

0

Alfonso

Like most cats, Alfonso the alligator likes eating and relaxing.

0

Anchovy

The "pawfect" pick for a fish-loving feline.

0

Bam

A cute name for an energetic floofer.

0

Biff

What better name for your BFF?

0

Boots

A fitting choice for a black cat with white "socks".

0

Jitters

For the frenetic feline who can't sit still.

0

Buck

Buck is a sporty villager and a great name for a masculine mouser.

0

Chief

For the cat who rules the roost.

0

Curly

The obvious choice for a curly-haired cat breed.

0

Groucho

A name fit for a grumpy tomcat.

0

Marshal

Marshal is a fan favorite and a "pawesome" name for a friendly feline.

0

Ozzie

A 2-for-1: Ozzie is an Animal Crossing villager and an internet famous kitty.

0

Beau

Beau means "handsome" in French, making this name a top choice for a regal Ragdoll.

0

Pietro

A whimsical name for cats who like to clown around.

0

Roscoe

Name your grumpy black cat for this grumpy black horse villager.

0

Pudge

A fitting name for a chonky boy.

0

Teddy

For the cuddly cat in your life.

0

Rizzo

A unique cat name inspired by the cranky mouse villager.

0

Scoot

What better name for a playful cat who loves to run and chase?

0

Bones

Bones might be a dog villager, but it's a "grrreat" name for a cat too!
Female Animal Crossing Cat Names
Votes
Name
Vote
0

Mitzi

This cute kitty's catchphrase is "mew".

0

Felicity

The covergirl for 2 K.K. Slider albums, Felicity is a feline fashionista.

0

Lolly

This gray tabby villager is sweet like candy.

0

Ankha

This "pawpular" villager takes her name from the Egyptian hieroglyph that means "life".

0

Bea

Sure, Bea is a beagle, but what your cat don't know won't hurt her!

0

Kiki

This black cat's name is likely inspired by the Studio Ghibli film "Kiki's Delivery Service".

0

Purrl

A puntastic Animal Crossing inspired cat name — need we say more?

0

Olivia

This beloved cat villager's catchphrase is "purr".

0

Tangy

What better name for a ginger cat?

0

Rosie

The "purrfect" name for a friendly feline.

0

Merry

This pink and white cat is downright adorable.

0

Apple

For the apple of your eye.

0

Audie

One of the most popular villagers in the franchise.

0

Katie

A special traveling cat character, Katie is a great name for a kitty who likes to roam.

0

Bluebear

A superb choice for a blue tortoiseshell or Russian blue.

0

Bonbon

This chocolate-colored bunny makes the perfect name for a Havana Brown.

0

Bree

Bree is technically a mouse, but your catto doesn't need to know that!

0

Ava

Ava is a chicken villager and a great name for a 'fraidy cat.

0

Coco

Players around the world "pawsitively" love Coco.

0

Bitty

What better name for an itty bitty kitty?

0

Dotty

A fitting name for a Bengal.

0

Freckles

Freckles has a short attention span, kinda like most kitties!

0

Maggie

A cute villager who loves gardening, Maggie is a "pawesome" choice for an outdoor kitty.

0

Queenie

A fitting name for an unspayed cat (also called a queen).

0

Midge

Midge might be a bird, but we think this is a "furrific" name for a cat too.

0

Peanut

A cute choice for a Munchkin cat.

0

Pippy

This bunny's catchphrase is "li'l hare".

0

Bubbles

An excellent pick for a cheerful kitty.

0

Stella

This sheep villager's name means "star" in Latin.

0

Cally

The obvious choice for a calico.
Cats with Animal Crossing Names