Introduction
Are you an anime fan? Do you love the intricate storylines and whimsical characters? If you are an aficionado of the famous Japanese art form, you might consider giving your new puppy a name that came from one of your favorite animated series. Usually, anime characters have large eyes, mostly disproportionate to the size of their heads. Therefore, if your dog is a wide-eyed sweetheart, anime-inspired name might be perfect for them! Coming up with an anime name can be a nice excuse to re-watch your favorite shows or have cozy nights in with your friends and family, noting down the character traits that best fit your new pup.
Anime Dog Names in Pop Culture
Featured Famous Dog with an Anime Dog Name
Akamaru
Akamaru is one of the most notable anime dogs and a character in the show Naruto. He is one of the ninken, which literally translates to "ninja dogs", and is a companion of another notable character, Inuzuka Kiba. Akamaru and Kiba are always together, from their days at the Ninja Academy, all the way to their adult years when they fought many dangers that threatened the peaceful life of Konoha village.
Akamaru is a devoted dog with a chipper personality. He and Kiba can often be seen playing in the forest, going on walks, and chasing one another among the trees. He is also very protective of his best friend, always running to his aid in the battle, and watching over him in their daily lives. Although he is a very active dog, when he grows up, his favorite pastime becomes – napping!
As far as appearances go, in the first part, Akamaru is a small white puppy, so small that Kiba can carry him on his head! He is considered to be a Pyrenean Mountain Dog, also known as the Great Pyrenees. In the second part, Naruto Shippuuden, Akamaru grows up to his full size, which for Great Pyrenees dogs is around 27-32 inches (69-82 cm), and he is so large that Kiba can ride on his back. However, since they spend so much time together, Kiba does not even notice this, and considers it to be normal.
Akamaru is very good at sensing chakra, he can take Kiba's form, and even merge with Kiba using the Beast Human Clone technique! He can also very successfully track targets by scent, set various traps, and use several ninja techniques on his own. His attacks are powerful and fast, and his senses of smell and hearing are accurate. One of the techniques that Akamaru is very good at is the Passing Fang, which can inflict a lot of damage to the enemy, and it is done by spinning at great speeds and striking with many almost-deadly attacks. When in Passing Fang mode, Akamaru can cut through tree trunks and chakra walls!
When it comes to his name, Akamaru got it because of his ability to turn feral and red when he eats a military rations pill. In Japanese, "aka" means red, and "maru" is a common suffix for masculine names, however, it can also mean "baby". 
Anime Dog Name Considerations
Naming your dog after an anime character doesn't mean that you are limited to dogs in anime. Sometimes, the best names come from your favorite human or otherworldly characters you have grown fond of over the years of watching their adventures on your screen. So, think about a show that really made an impact on you, a character whose traits you find inspiring enough to have your dog named by them. Take your dog's personality into account as well! If you have a particularly energetic and maybe even loud dog, a name such as Naruto might suit them perfectly, especially if their coat is orange!
For a raven-coat pup, a legendary name such as Goku could be a winner, especially when you take into consideration that he is one of the most iconic anime characters ever. If you are into short names, your dog's moniker could become L, after the famous character from Death Note (plus, if you are a fan of Stranger Things, you'll like the name even more).
Finally, the naming process will be a challenging task, since there are so many options to choose from, but do not let that discourage you! It just means that your puppy will end up with a name which has an epic backstory!
Votes
Name
Vote
13

Kira

Light Yagami's alter ego from Death Note

9

Zeke

A white puppy with black ears from Highschool of the Dead

8

Totoro

A forest creature with a white belly, grey fur, and pointy ears

8

Luffy

After Monkey D. Luffy, the protagonist of One Piece

5

Pluto

A demon hound from Kuroshitsuji who can also take human form

5

Eren

The main protagonist of Attack on Titan

4

Ichigo

The main character from Bleach; orange hair

4

Haji

A chevalier from Blood+

3

Maru

A fluffy white stray from Kimi ni Todoke

3

Pakkun

Pug from Naruto with a deep voice and immeasurable intelligence

3

Tetsuya

A blue-haired, blue-eyed character from Kuroko no Basuke

3

Sasuke

A raven-haired character from Naruto

3

Akira

A psychic boy from the famous 1988 film Akira

2

Potato

An adorable white fluffy dog from Air

2

Iggy

A mutt who resembles a Boston Terrier from Stardust Crusaders

2

Hayate

A black Shiba Inu from Fullmetal Alchemist

2

Light

The main protagonist from Death Note

2

Alucard

The most powerful vampire from Hellsing

2

Taromaru

An adorable Shiba Inu from Gakkou Gurashi!

2

Apo

A Pug from Space Brothers

2

Mustang

After Roy Mustang, a character from Fullmetal Alchemist

2

Bonta

A teddy bear from Full Metal Panic!

2

Tatsuhiro

A hikikomori from NHK ni Youkoso!

1

Sadaharu

A white dog with strong eyebrows from Gintama; saves the Earth by eradicating alien cockroaches

1

Ein

Corgi from Cowboy Bebop, also known as the "data dog"

1

Guts

A Pug from Kill la Kill

1

Lancer

A demigod from Fate/stay night; also known as the Hound of Culann

1

Vegeta

A Saiyan prince from Dragon Ball

1

Aizen

A Shinigami from Bleach

1

Tobimaru

A brave Akita from Sword of the Stranger
Votes
Name
Vote
10

Mikasa

One of the main characters in Attack on Titan

5

Rin

A Mage from Fate/Stay Night

4

Menchi

A cute, white, fluffy dog from Excel Saga

4

Ayame

A red-haired girl from InuYasha; "Iris flower" in Japanese

4

Nami

Orange-haired pirate from One Piece

3

Ai

"Love" in Japanese; a tattoo on the forehead of one of the main Naruto characters, Gaara

3

Kurenai

A sensor type ninja from Naruto

3

Hinata

A shy girl with All Seeing White Eye (Byakugan) from Naruto

3

Akame

One of the Elite Seven assassins from Akame ga Kill!

3

Maka

A Scythe-Meister from Soul Eater

2

Saya

A main character and Chiropteran queen from Blood+

2

Mayuri

An adorable girl from Steins;gate

1

Faye Valentine

A wanted bounty head from Cowboy Bebop

1

Leone

A blonde tomboy and a member of the Night Raid from Akame ga Kill!

1

Clare

A protagonist of Claymore

1

Misaki

The main character of Welcome to the N.H.K.

1

Ika

Main character from Shinryaku! Ika Musume

1

Kaga

A popular girl from Golden Time

0

Bulma

A scientist from Dragon Ball

0

Hachibei

A Golden Retriever from Ouran Highschool Host Club

0

Nina

A Human Chimera from Fullmetal Alchemist:Brotherhood

0

Misa

An outgoing model with Shinigami eyes from Death Note

0

Orihime

A friendly ginger girl from Bleach

0

Rukia

A Shinigami from Bleach

0

Korra

Avatar from The Legend of Korra

0

Revy

A gunslinger from Black Lagoon

-1

Diva

Antagonist and Chiropteran queen from Blood+

-1

Antoinette

A Golden Retriever from Ouran Highschool Host Club

-1

Kallen

One of the main characters from Code Geass

-1

Petra

One of the soldiers from Attack on Titan
Community Dogs with Anime Names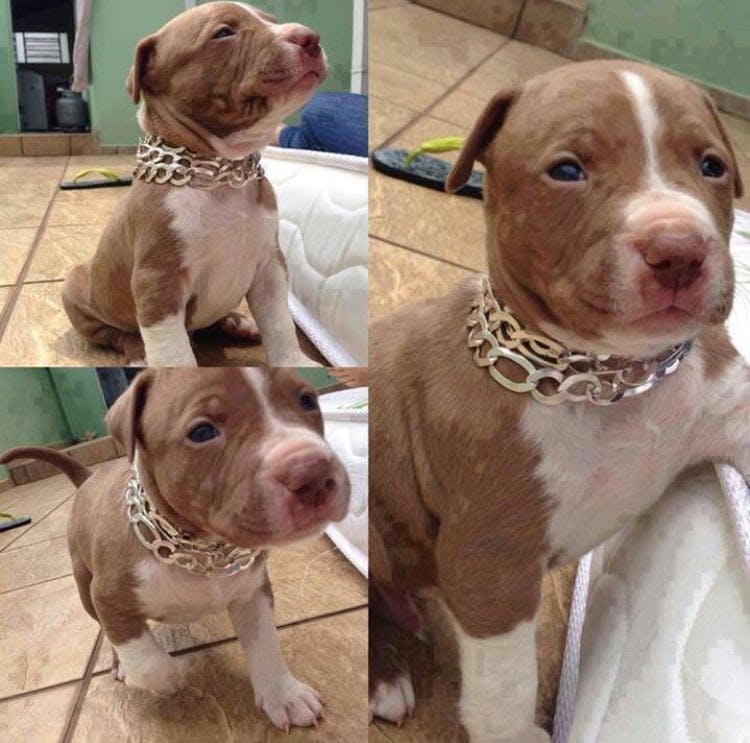 Pinkie pie
Female
Pit Bull
Hollywood, AL
Personality
Lovable
Friendly
We bought her as a pup at 8 week old and now she is 2 year old