Introduction
Aruba is a picturesque island found off the coast of Venezuela. It is located in the Southern Caribbean and is a destination where the sun shines all year round - literally! The weather is described as perfect every day and despite the small size of the island (it measures 20 miles long and 6 miles wide at its largest point), there is plenty to see and do. We bet once you have visited there, you will return again and again! If you have been to this happy island or hope to go there one day and would like to honor it by giving your new pup a name to celebrate Aruba's beauty, look no further than our list of the top 60 Aruba dog names.
Aruba Dog Names in Pop Culture
Featured Famous Aruba Dog
Sgt. Pepper
It is nice to see that with the age of the internet, and the fact that the web is expanding the breadth of exposure exponentially, that the plight of the Aruba dog is improving. Rescue networks are popping up in Aruba with reaches all over the world, including the United States, the Netherlands, Canada and Sweden.
The Arubian Cunucu is a canine that typically makes their home on the streets of Aruba. They are thought to have descended from the Portuguese Podengo and perhaps the Iberian Hound. They may have been brought to Aruba by the Portuguese in the 16th century. Over time, they bred with Aruban street dogs and have developed over hundreds of years into the Cunucu, a very loyal, friendly and fun-loving breed of dog. It is unfortunate that many of these dogs are living their days on the streets. However, advances are being made to spay, neuter and adopt out the dogs, often to people who do not live on the island. Diverse in coloring and size, these dogs all have a similar look with beautiful eyes and an adorable face!
One rescue organization is making small changes in a very big way in the life of the Aruba dog, and it all started with a tiny pup native to this beautiful island. Rachel (Miller) Brathen, owner of Sgt. Pepper's Friends rescue first rescued little Sgt. Pepper from the streets of Aruba when he was only 3 weeks old. He was in bad shape, his little body full of wounds and ticks and his belly swollen from lack of nourishment. Rachel and her partner, Dennis, brought the puppy home to live with them and their canine brood. He quickly became a cherished member of the family, even taking on the role of best man at Rachel and Dennis' wedding a couple of years later. Sadly, Sgt, Pepper died of a tick-borne disease at the young age of four. His memory lives on though, as Rachel was called upon to honor his memory by forming the Sgt. Pepper's Friends Foundation.
The Animal Relief Foundation of Aruba is working hard to adopt out dogs like Emmy and Eve who have found homes in Florida and New York. New Life for Paws is another busy and dedicated organization in Aruba, as is the Aruba Animal Shelter Foundation.
Aruba Dog Name Considerations
Have you recently adopted a pup and are looking for the ideal name? Look no further than your favorite vacation destination! Spending a week or two relaxing and touring is the perfect way to choose a tag for your new pup. If you have no vacation booked, take a virtual tour and stop off at cities or cultural landmarks that catch your eye. Savor by sight the delicious foods of the area or check out a video of a cultural event. 
Consider Aruba as an option; with stunning scenery, a bevy of friendly locals on hand, and an abundance of carnivals and festivals to attend, you are sure to find a terrific tag for your new addition. Names like Tumba, for a steel drum-type music heard at carnivals in Aruba or Divi, for pretty Divi Beach, are unique choices for your new number one best friend.

Read up on the Aruban Cunucu dog and their struggle to find a place in the hearts and homes of people world over. Names like Sgt. Pepper, Eve and Emmy will inspire you to give your pup the best home ever - and perhaps to even adopt a second furry buddy!
Votes
Name
Vote
0

Eagle

Eagle Beach is well known for water sports

0

Arikok

A National park where you can view cave paintings

0

Bubali

An area in the Noord district

0

Butucu

A neighborhood in San Nicolaas

0

Funchi

A cornmeal mush

0

Angochi

An area in the Santa Cruz district

0

Brasil

An area in the San Nicolaas district

0

Pan

For Pan Bolo, a fancy bread pudding

0

Mahumu

Neighborhood of Oranjestad

0

Warawara

An area in Santa Cruz

0

Roman

Roman Aparicio played for the Aruban football team

0

Pastechi

This is a fried, cheese filled pastry

0

Balashi

A popular local beer

0

Juan

For the Juan Irausquin Boulevard, named after person responsible for Aruba's infrastructure

0

Saco

Saco di Felipe is a busy eatery serving local favorites in a brown paper bag

0

Gasparito

Gasparito - This restaurant is famous for the goat stew and funchi

0

Arawak

Part of the island heritage is from the Arawak Indian culture

0

Alto

For the Alto Vista Chapel, also known as Pilgrim's Church

0

Antillo

This wreck is the largest dive site in the Southern Caribbean

0

Alonso

The first European to visit Aruba was Alonso de Ojeda from Spain

0

Daniel

The Plaza Daniel Leo is a pretty shopping district

0

Seroe

Seroe Colorado has a 30 meter high limestone hill

0

Hato

The Aruba Aloe Museum is here

0

Farrell

Late Singer and performer Bobby Farrell was born here

0

Sidney

Sidney Ponson was a pitcher for the Baltimore Orioles among other teams

0

Gomez

For Frederick Gomez, famous footballer

0

Ayo

The Ayo Cave contains Arawak cave paintings

0

Willem

After King Willem III

0

Blue

The Blue Residences condos are near Eagle Beach

0

Tumba

A type of steel drum music
Votes
Name
Vote
0

Aruba

After the island

0

Sunny

Aruba is known for the high number of sunny days per year

0

Madiki

A neighborhood in Oranjestad

0

Goldie

Gold was discovered in Aruba in 1824

0

Tanki

Tanki Flip is a neighborhood in Oranjestad

0

Keri

Keri Keri is fish stew favored by locals

0

Marawiel

This neighborhood is in Paradera

0

Babijn

An area in the Paradera district

0

Keshi

A traditional meal is Keshi yena, a ball of cheese often stuffed with chicken

0

Dacota

This neighborhood is in Oranjestad

0

Ayaca

Steamed meat in a banana leaf

0

Sabana

Sabana Basora is in Savaneta

0

Bati

Pan bati is a sweet bread

0

Ariba

A popular cocktail is the Aruba Ariba

0

Divi

For beautiful Divi Beach

0

Bushi

For the Bushiribana Ruins, a former smelting works on the North Coast

0

Cali

After the California Lighthouse, named after a steamship that wrecked nearby

0

Anna

After the Santa Anna church, built in the 1770s

0

Etnia

The Etnia Nativa Art Gallery and Museum local exhibits made from discarded and collected materials

0

Florin

This is the Aruban official currency

0

Windy

Aruba is a very windy island

0

Coral

Aruban sand is made of coral and shells

0

Macuarima

The legend of Macuarima ends with her leaving for Venezuela

0

Savaneta

This means small savannah

0

Barbola

For the San Barbola aloe plantation

0

Piedra

In Piedra Plat there used to be an abundance of flat green stones

0

Calypso

For the Calypso Latin beat heard at carnival time

0

Biba

The Biba Aruba Festival is every Tuesday at the Hilton

0

Beatrix

For the Queen of Netherlands, mother to King Willem

0

Fakkel

Fakkel Optocht is the commonly heard name for Aruba's Torch Parade
Community Dogs With Aruba Names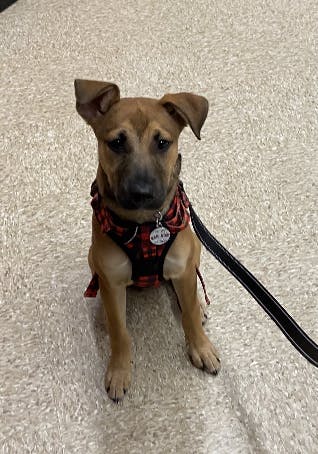 Fenway
Male
Arubian Cunucu
Dracut, MA
We are from Boston and My kids are big Red Sox baseball fans. The Red Sox play at Fenway Park hence the name Fenway