Introduction
Valentine's Day is a much-celebrated day for lovers, and nothing is cuter than a little puppy love on February 14th.  However, Valentine's Day is not just for lovers.  Many people's Valentine's Day gift ideas are to celebrate with adopting a dog for themselves as well as getting gifts for their pets; after all, there is no love like the love of your canine companion.  People who adopt a dog on or near Valentine's Day may want to remember the special moment.  Naming your dog after a Valentine's Day theme is the perfect way to remember where you were and the love you felt when you first set eyes on your best friend.
Valentine's Day Dog Names in Pop Culture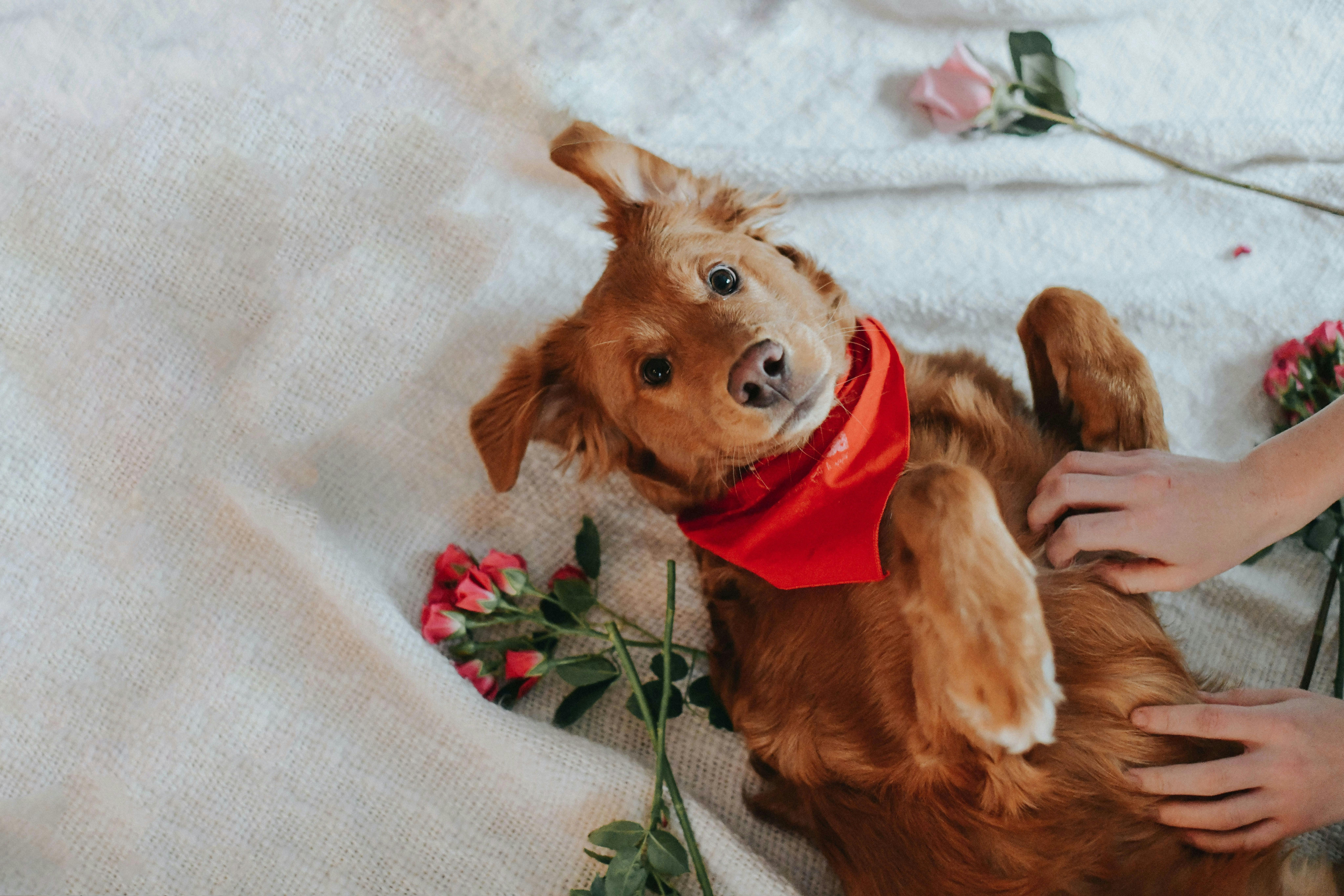 Featured Famous Valentine's Day Dog
Cupid
Valentine's Day dogs are an essential part of Valentine's Day pop culture from exchanging Pound Puppies in the 1980's to Valentine's Day dog movies featured on the Hallmark Channel; dogs are definitely a big part of the tradition today.  It also seems that some rescue dogs gain worldwide celebrity status for their unique stories.  One such dog, with a Valentine's Day name, made headlines in February 2017.  Cupid, a Pyrenees mix puppy, was found in such a deplorable state, thrown away in a trash bag in a garbage can in Toronto, Canada.  The then nameless puppy was only eight weeks old and was missing his two front legs.  
Fortunately, a good Samaritan found the poor suffering puppy and brought him to a local rescue for rehabilitation.  The sweet puppy was found in February and owing the season of love as well as his heart-shaped nose; his rescuers named him Cupid.  Cupid's Internet fame rose quickly as his sad beginnings and triumphant recovery made headlines across the globe.  Cupid was fitted with prosthetics resembling skis and later a front wheel to help the growing puppy adjust to his new life.  Rescue dogs, especially those who have such sad starts are always capable of stealing our hearts, and Cupid befits his name well.
Cupid is a popular choice for Valentine's Day dogs but so is Hallmark.  The Hallmark Channel is well-known in pop culture for their heartfelt productions and Valentine's Day brings out some of the media company's best love stories.  No Valentine's Day movie is complete without some puppy love.  In 2012, Hallmark released Puppy Love featuring a single mom who adopts a dog named Jake from the pound for her daughter.  Jake's former owner tracks down his dog who got lost and finds his new family can't live without him and this leads to romance. Hallmark also released another feature in 2018 titled Walking the Dog.  This Valentine's Day movie brings two lawyers, who are pitted against one another, together through their dogs' mutual affection for each other.  Hallmark makes for an excellent Valentine's Day dog name, and owners can cuddle up with their favorite pooch while watching Valentine's Day movies.  Another notable movie featuring lovers and dogs is the Diane Lane and John Cusack flick, Must Love Dogs.  Mother Theresa, the large Newfoundland Dog is another example of a great pop culture name for a dog that brings two people together.
Valentine's Day Dog Name Considerations
Like so many themes, there are no breed, size, or color restrictions on the Valentine's Day theme.  Most people chose this theme to help name their new family member because they're adopted him or her for, or around Valentine's Day.  However, not even the time of year is restrictive, and you can choose a Valentine's Day name in mid-July if that suits your feelings about your dog.  Valentine's Day is about love, and the only consideration owners should take is how much they love their dog.  Within the Valentine's Day theme, there are names that are more size, breed, and color specific.  For example, Red or Rose might be more fitting for a reddish brown colored dog.  Pet names like Sweetpea, Pookie, or Snookums may suit smaller dogs better while Thaddeus, Roman, and Conor sound like big dog names.  Many names within the Valentine's Day theme are derived from non-English words and owners may wish to pay their dog's breed heritage homage by selecting one of these names.  For example, you may want to name your French heritage Papillon Aime, which is French for love or your German heritage Schnauzer Shotzey, which is German for loved one.
Male Valentine's Day Dog Names
Votes
Name
Vote
10

Romeo

Juliet's star crossed lover

6

Casanova

A ladies man

4

Valentine

A Roman saint associated with courtly love

4

Cupid

A boy-like god of love and desire

1

Beau

Your lover boy

1

Amadeus

A Latin name meaning love god

1

Dante

A word meaning enduring

0

Beso

Spanish for kiss

0

Amour

French for love

0

Red

A color often associated with Valentine's Day and love

0

Archer

Cupid is an archer

-1

Lancelot

King Arthur's most trusted knight and the lover of Queen Guinevere

-1

Eros

Greek god of attraction

-1

Smoochie

Smooches are loud kisses

-1

Arrow

Cupid's weapon of choice

-2

Demetrius

One of Shakespeare's lovers in Once Upon a Midnight Summer Night's Dream

-2

Roja

Spanish for red

-3

Byron

Reference to Lord Byron and his dark lover archetype, the Byronic Hero

-3

Baci

An Italian chocolate maker with a romantic story

-3

Babe

What you call your best guy

-3

Roman

Romance is love

-4

Erasmus

Greek for beloved

-4

Bijoux

French for jewel

-4

Rolo

A chocolate and caramel candy

-5

David

Hebrew for dearly loved

-6

Shotzey

German for loved one

-6

Tristan

Before there was a Romeo, there was Tristan

-6

Westley

As you wish, Princess Buttercup

-6

Thaddeus

Aramaic for heart

-6

Conor

Gaelic for lover of hounds
Female Valentine's Day Dog Names
Votes
Name
Vote
12

Juliet

A star crossed lover of Romeo

10

Angel

Associated with Cupid and love

8

Sweetpea

A climbing pea plant and nickname for your darling

8

Honey

A pet name for your sweetpie

8

Scarlet

A deep red color

7

Boo

A pet name for your Valentine

7

Sunshine

Meaning cheerful and happy

7

Diva

A soprano singer and a self important but desirable lady

5

Rose

A flower given on Valentine's Day and the symbol of love

4

Posey

A small bouquet of flowers

4

Buttercup

A small yellow flower

3

Cupcake

A small cake with icing

3

Aphrodite

The goddess of love

3

Snookums

An affectionate pet name

2

Cara

Irish for friendship

2

Bonnie

The infamous outlaw and other half to Clyde

0

Mina

The wife of Dracula

-1

Candy

Give to your lover on Valentine's Day

-1

Lady Valentine

A song by David Gates

-2

Adora

Latin for glory

-2

Gwen

Refers to Guinevere, married to King Arthur, in love with Lancelot

-3

Pookie

A cutsie pet name for your sweatheart

-4

Asta

Norwegian for love

-4

Jezebel

A Phoenician Queen and promiscuous lover

-5

Val

A female version of Valentine

-5

Anabelle

A name meaning easy to love

-6

Lovey

A pet name for someone you love

-6

Pucker

Pucker up for a kiss

-7

Carys

Welsh for love

-8

Aime

French for love
Community Dogs with Valentine's Day Names
Gracie
Female
Bernedoodle
Lititz, PA
Personality
Cute
Picky
Funny
Loving
Entergetic