Introduction
Astronomy is the scientific study of the physical universe as a whole, but it deals most frequently with celestial objects in space such as stars, planets, and nebulae. It requires the application of mathematics, physics, and chemistry in order to attempt to explain the origins and evolution of those celestial objects. We learn more about our universe every day and its big place that can be at once awe-inspiring and frightening at the same time. Our dogs often help give us a sense of closeness and comfort that can help us to soak in all the awe and just let the fear go. 
Astronomy Inspired Dog Names in Pop Culture
Featured Famous Dog With an Astronomy Inspired Name
Comet
Names based on the science of astronomy can be elegant, smart, and even a little funny on occasion, which makes this field a popular one to derive inspiration from; they are names that can spark our imaginations and sometimes remind us of our dreams. In 2009, a dog named Galaxy, trained to work with autistic children, changed the life of Simon Weinstock, an eight-year with severe autism in Australia, and a dog found beaten and shot in 2012 in Tennessee was given the new name of Corona, and while a few bullet fragments still remained in her throat, by 2013 she had made a miraculous recovery. Nova, a name describing an extremely bright star, certainly fits the dog listed as "Nova the Genius Dog." This mostly black pup with a bright white stripe on his chest is intelligent enough to learn how to do chores around the house, including putting the dishes in the dishwasher, loading the clothes washer, and putting his own toys away. During his off-time, Nova enjoys balancing treats on his nose and practicing the sport of parkour, a type of urban agility training. Astronomy related names have made it into the movies as well; the main character in the 2003 comedy "Good Boy!" starring Liam Aiken that centers on a talking terrier named Hubble, voiced by Matthew Broderick, who is actually a canine from Dog Star Sirius 7, who has been sent to ensure the canine takeover that was started thousands of years ago has occurred. Hubble was actually played by three separate dogs named Flynn, Mallie, and Defford. 
One of the most well-known dogs with an astronomy-related name has to be Comet, the Golden Retriever from the hit television show "Full House". While many sites on the internet erroneously list Buddy from "Air-Bud" as the dog that played Comet, this information isn't entirely correct. While both dogs were expert canine actors, Buddy, the dog that played Air Bud was a different dog entirely, although he was close enough in appearance to Comet that he was able to play a cameo as Comet for the episode titled "Air Jesse" in 1995. Comet began his career on "Full House" by playing his mother, then coming back several episodes later as her grown puppy and the Tanner's beloved pet. Comet was known for having a good attitude on set, a lot of energy, and a serious work ethic. These traits later landed him a role in the movie "Fluke", which is also sometimes ascribed to Buddy. Initially, they felt Comet was simply too golden and pretty for the part, but they were so impressed with his acting ability that they ended up cutting and dying his fur to better fit the part.  

Astronomy Inspired Dog Name Considerations
Choosing an appropriate name for your new dog is an important step for a new pet owner and one that should not be taken too lightly. Choosing a name that is simple to pronounce for all of the household members will make it easier for your dog to recognize their name, and starting with a name that the individual dog naturally responds to will shorten your training time. While the meaning behind the name is generally lost on our dogs, the reactions that you have to the name will not be, so choosing a name that means something to you and makes you happy can help to strengthen your bond. The individual dog's appearance and personality may help to pinpoint the best name for your canine companion, Doppler may make a good name for a dog with brindle or spotted coat that looks like it changes when the dog moves, and Orbit is a great name for a dog who is never far from your side. While the names on this list are divided up into categories of male and female, a large percentage of names related to astronomy could be suitable for either. 
Male Astronomy Inspired Dog Names
Votes
Name
Vote
7

Axis

The imaginary line around which an object, such as the Earth, rotates

7

Meteor

A particle of rock or dust that burns away in the Earth's atmosphere

6

Syzygy

The conjunction or opposition of a celestial object when it is forms a straight line with the Sun and Earth

5

Atom

The smallest particle of any element

5

Crater

The bowl-shaped impression formed by the impact of an asteroid or meteor

5

Equinox

The points at which the sun crosses the celestial equator

5

Kepler

Johannes Kepler was the scientist who discovered the laws of orbit, areas, and periods; known as Kepler's Laws

4

Doppler

The Doppler Effect refers to the apparent wavelength change to sound or light that occurs in relation to the observer's position

4

Kirkwood

Kirkwood gaps are empty regions located in the asteroid belt that are caused by Jupiter's gravitational effects

4

Orbit

The curved path of one celestial object around a star, planet, or moon

4

Trojan

The Trojan's asteroids circle the sun by following in Jupiter's orbit

4

Umbra

The area of darkness and shadow that is caused by an eclipse

3

Extraterrestrial

A term used to describe anything that does not originate on Earth

3

Hubble

Hubble's Law states that the farther a galaxy is from us the faster it is moving from us

3

Parallax

The apparent change in position of two objects due to a change in the viewers perspective

3

Transit

In astronomical terms, this refers to the passage of celestial body across the disk of a larger celestial body

2

Terminator

The line on the moon or on a planet that divides the lit part from the part in shadow

1

Comet

A celestial object that is made of ice and gas that forms a tail of particles that point away from the sun

1

Neutrino

A very small particle which has no charge and no mass

1

Neutron

A neutron star is the remaining compressed core of a star that has previously exploded

0

Dactyl

A natural satellite to the asteroid Ida, discovered in 1994

0

Hermes

An 800-meter asteroid that passed close to the Earth in 1937, but has since been lost

0

Phaethon

An asteroid that has an orbit that approaches close to the sun, releasing meteors

-1

Bolide

An exceptionally bright meteor that often produces a sonic boom

-1

Nadir

The point directly underneath a body or an object

-2

Filament

A strand of cool gas that appears dark against the disk of the sun

-2

Galaxy

A large group of stars that may come in many shapes and sizes

-2

Wavelength

A unit of measurement for electromagnetic radiation, the distance between the consecutive crests of a wave

-3

Caldara

A type of exceptionally large volcanic crater

-3

Seyfert

A type of galaxy with a bright, compact core
Female Astronomy Inspired Dog Names
Votes
Name
Vote
7

Eclipse

The partial or total blocking of one celestial body by another

6

Catena

A chain or series of craters

6

Star

A luminous object that shines due to nuclear reactions at its core

6

Ultraviolet

A wavelength that is shorter than the violet end of visible light, but still longer than x-ray waves

6

Ida

An astroid well known for having its own moon, spotted in 1994 when examining images from the Galileo fly-by

5

Coma

The nebulous envelope containing ice and comet dust that forms around a comet when it passes close to the sun

5

Perigee

The point in an objects orbit when it is closest to what it is orbiting

4

Aurora

A glow in a planet's ionosphere caused by charged particles from the sun interacting with the planet's magnetic field

4

Chasma

A planetary feature, a long, narrow impression with steep sides

4

Kuiper

The Kuiper belt is a large ring of icy objects that orbit farther out than Neptune

4

Solstice

The points at which the sun is furthest from the celestial equator

3

Apogee

The point in an object's orbit when it is furthest from what it is orbiting

3

Flare

A flare star is a faint red star with surface explosions that make it appear to be changing brightness

3

Stellar

A word that can be used to describe anything that is connected with stars

2

Binary

A binary system consists of two stars revolving around the same center of gravity

2

Jet

A narrow beam of matter that is ejected from certain astronomical phenomenon

2

Mare

An astrological term used to describe a large, circular plain, such as the mares on the moon

2

Milky Way

The spiral galaxy that contains our solar system

2

Sunspot

Dark patches that are visible on the sun's surface

1

Corona

The outer part of the suns atmosphere, visible during a solar eclipse

1

Gamma Ray

The shortest wavelength form of electromagnetic radiation, with the highest energy

1

Parsec

A measurement equaling 3.26 light years

1

Supernova

The explosion of a star, an exceedingly bright expenditure of energy

0

Ceres

A celestial object classified as either a large asteroid or a small dwarf planet, that orbits between Mars and Jupiter

0

Nova

A star that temporarily flares up to several times its usual size

0

Virgo

The Virgo cluster is a huge cluster of over 2000 galaxies that is found near the Virgo constellation

0

Zenith

The point of the sky that is directly overhead the observer

-1

Nebula

A cloud of dust and gas that represents the raw material that will eventually become stars

-1

Tektite

Small, black, glassy objects that are formed during meteor impacts

-3

Pallas

The second asteroid to be discovered and the second largest of the known asteroids
Community Dogs with Astronomy Inspired Names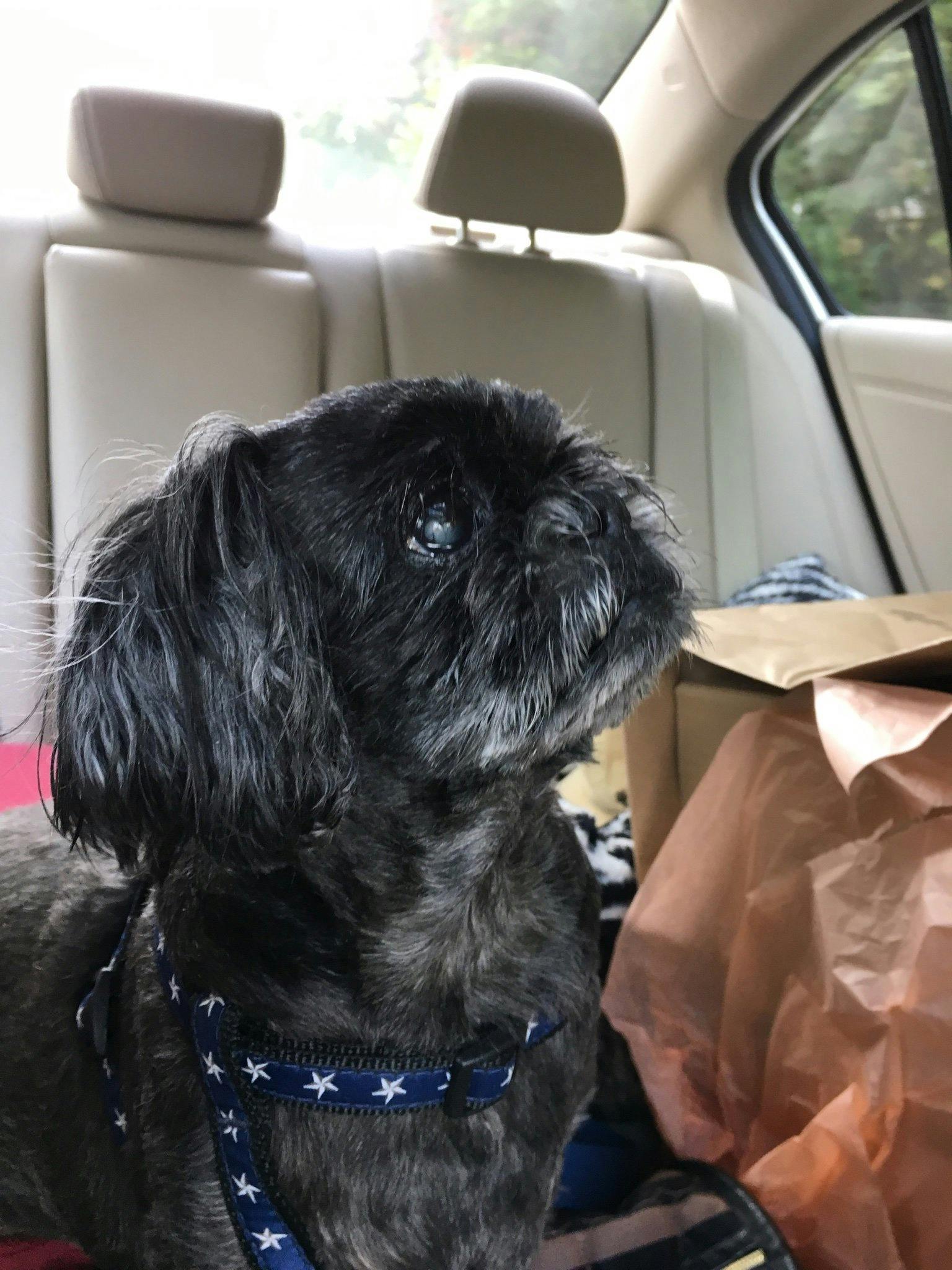 Gibbous - gibby
Male
Shih Tzu
Madison, AR
He was not only born in a Gibbous moon,but he had a Gibbous moon on his paw of white fur - otherwise he was born jet black
Luna
Female
Rottweiler
Malvern, PA
bella luna is the show name but luna is her call name