Introduction
Although they are often mistaken as German Shepherds, the Belgian Malinois is unique in its own right. Originally bred in the city of Malines in Belgium, the Malinois was developed to be used as a herding dog. Nowadays, the breed are also a frequent choice for guard dogs, household companions, search and rescue, and police K-9 units. The Belgian Malinois is intelligent and has an impressive stamina, enabling it to perform a variety of agile tasks. Despite their strong body and muscular build, the Malinois is extremely sensitive and likes to be included in activities of the family. For those who want a physically-capable dog with a soft spot, the Belgian Malinois is the perfect choice.
Belgian Malinois Dog Names in Pop Culture
Featured Famous Belgian Malinois Dog
Max
The Belgian Malinois may not be as popular as the German Shepherd, but it has been featured in a number of pop culture works, specifically in film, literature and television. The Malinois has appeared in the silver screen multiple times over the years, although most of these are in non-starring and minor roles. Some of the films where a Malinois can be spotted include Ace of Hearts, The Breed, Case 39, Dogboys, The Dog Who Saved Summer, Night of the Wild, Maze Runner: The Scorch Trials, Olympus Has Fallen and Step Brothers.
One of the films where a Belgian Malinois has a starring role is in the 2015 film entitled Max. The adventure family movie features a Malinois as the titular character. The plot revolves around Max as he serves with the United States Marine Corps. In the film, he is trained by a marine named Kyle Wincott. Kyle discovers that his friend, Tyler, is involved in some sketchy dealings and warns him that he will not cover for his acts. As they go on the battlefield, Kyle is killed in a fight.
Max, who is displaying aggressive behavior upon Kyle's death, was given to the Wincott family. Immediately, Max takes a liking to Kyle's brother, Justin. While Justin was not a fan of the dog at first, he eventually warms up to Max. He also receives a DVD showing Kyle training Max and realizes just how close the dog and his brother were. As Justin tries to investigate the death of Kyle, he starts to become more suspicious of Tyler. When Justin discovers the dealings of Tyler with a cartel, he decides to take matters into his own hands. This leads to a number of events involving Justin, Max and his friends trying to expose Tyler's wrongdoings. Eventually, Max saves Justin from Tyler. At the conclusion of the film, Max is adopted by the Wincott family.
Max helped boost the reputation of the Belgian Malinois and highlighted the breed's extreme protectiveness and loyalty. Other major Belgian Malinois characters in film include Scoot, from the 2013 film Scoot & Kassie's Christmas Adventure and Meatball, from the 2013 film Step Dogs.
Other than films, the Belgian Malinois was also featured in a few literary works. One of the most prominent novels involving a Malinois is the Tucker Wayne series by James Rollins. The series, which was made in collaboration with Grant Blackwood, features a Belgian Malinois named Kane in a major role. 
Belgian Malinois Dog Name Considerations
The Belgian Malinois is a lovely dog that should be given a name that is as equally lovely. One of the simplest ways to name your dog is to use its country of origin as an inspiration. The Malinois was first bred in Belgium, specifically in the city of Malines. To date, the Malinois remains to be one of the most popular breeds in its home country. Since Belgium has three official languages – Dutch, French and German, an eloquent name from any of these languages will work well for your dog. Moreover, anything that relates to Belgium and its culture may also be used as a name for a Malinois.
Another tip for naming a Belgian Malinois is to use its striking characteristics as inspiration. The Malinois is known for a short, fawn-colored coat and a black mask on their face. It has a medium-sized but strong body and build. Apart from their physical attributes, the Malinois' personality is also characterized by high levels of energy, intelligence, protective personality and sensitivity. If your dog has certain habits or quirks, you can also use that as a good basis for a name. All these qualities can help you brainstorm for a name that is suitable for your new Belgian Malinois.
Male Belgian Malinois Dog Names
Votes
Name
Vote
1

Bram

Dutch form of "Abraham"

1

Cain

Hebrew name meaning "spear"

1

Hans

German name meaning "gift from God"

1

Klaus

Dutch variation of "Nicholas", which means "victory of the people"

0

Beau

Means "handsome" in French

0

Magnus

Means "great one" in Latin

0

Marvel

Means "to wonder" in French

0

Butch

Means "masculine in appearance"

-1

Sevrin

French name meaning "restrained"

-1

Bruno

German name meaning "brown"

-1

Coen

Dutch name meaning "bold advisor"

-1

Egon

German name meaning "strong with a sword"

-1

Engel

Means "angel" in German

-1

Gunther

German name meaning "warrior"

-1

Floris

Dutch name meaning "prosperous"

-1

Markus

Dutch version of Mars, the Roman god of fertility

-1

Joost

Dutch name meaning "just"

-2

Baz

Greek name meaning "royal"

-2

Audrick

German name meaning "noble friend"

-2

Kelian

Belgian term for a small water channel

-2

Emo

German name meaning "serious"

-2

Barend

Dutch name meaning "bear"

-2

Lars

Scandinavian name meaning "victory"

-2

Abelard

Dutch name meaning "noble"

-2

Udolf

English name meaning "wealthy wolf"

-2

Amell

German name meaning "power of an eagle"

-2

Pieter

Dutch name meaning "rock"

-2

Johan

Hebrew name meaning "gift from God"

-2

Dirk

Dutch name meaning "ruler of the people"

-2

Sander

Dutch form of the name "Alexander", which means "defender of mankind"
Female Belgian Malinois Dog Names
Votes
Name
Vote
2

Adele

German name meaning "noble"

2

Anika

Dutch form of "Anna", which means "grace"

1

Aleta

Dutch form of "Adelheid", which means "nobility"

1

Lara

Means "citadel" in Dutch

1

Belle

Means "beautiful" in French

1

Espen

Dutch name meaning "bear of God"

1

Mons

A city in Belgium

1

Gertrude

German name meaning "spear of strength"; can be shortened to Gertie

1

Gustel

German name meaning "noble"

1

Petra

German name meaning "rock"

0

Analiese

German name meaning "grace"

0

Bente

Dutch name meaning "brave"

0

Devi

Sanskrit name meaning "divine"

0

Zara

Russian name meaning "princess"

0

Nadia

French name meaning "hope"

-1

Godiva

A brand of gourmet chocolates from Belgium

-1

Belfort

A famous tower in Belgium

-1

Edda

Means "poetry" in Dutch

-1

Adal

German name meaning "sweet"

-1

Anneke

Dutch name meaning "grace"

-1

Belvas

A famous chocolatier in Belgium

-1

Halfrida

German name meaning "peaceful heroine"; can be shortened to Hal or Frida

-1

Slania

French name meaning "health"

-1

Irmgard

German name meaning "war goddess"

-1

Maud

Dutch version of "Matilda", which means "strength in battle"

-1

Marit

Scandinavian name meaning "pearl"

-1

Lieke

Dutch name meaning "angelic"

-2

Bruges

A city in Belgium

-2

Gunnel

German name meaning "battle maiden"

-2

Ilse

Dutch form of "Ilsa", which means "pledged to God"
Community Dogs With Belgian Malinois Names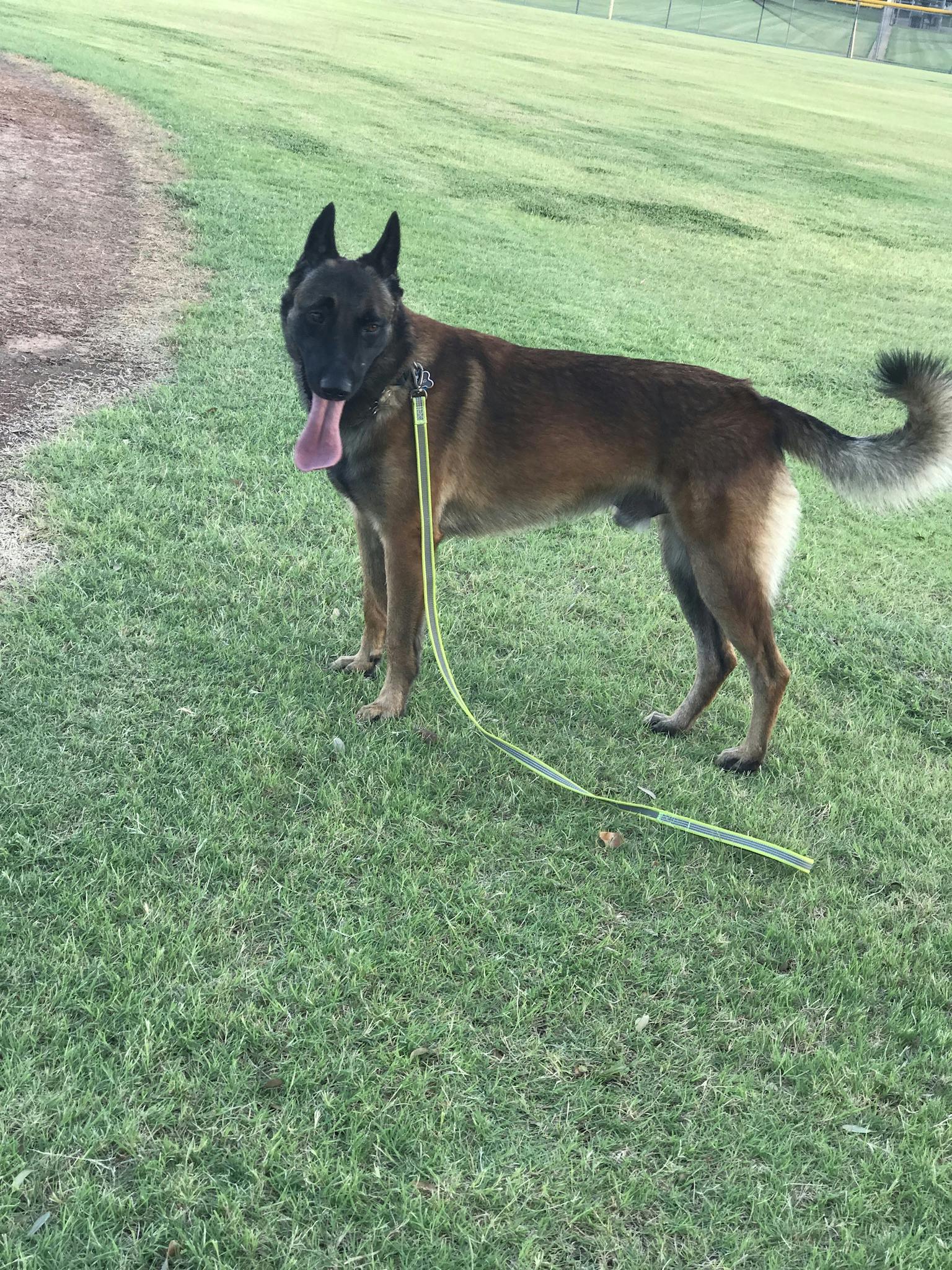 Gambino
Male
Belgian Malinois
Dallas, TX