Introduction
From the unforgettable classics to the exciting new franchises, board games will always be a party favorite. Friends and family alike are able to make so many fond memories through tense, competitive, and hilarious moments. Many rivalries and times of camaraderie are discovered through playing these clever titles, and you almost always end up finding something new about yourself or the other players!
Are you a tabletop fanatic as well? Bring your board game interests into your life by naming your dog with a moniker inspired by your favorite board game pasttime.
Board Game Inspired Dog Names in Pop Culture
Featured Famous Dog with a Board Game Inspired Name
Checkers
Checkers is the classic board game involving strategy - predicting your opponent's moves and planning out your counter moves. It's simple in its mechanisms but has created decades of mind-bending and competitive fun. The nature of the game is eerily familiar to politics. That's why we aren't surprised that our Featured Famous Dog was the pet of not just any politician, but a president of the United States!
Checkers the Cocker Spaniel belonged to the family of the 37th president of the United States, Richard Nixon. The famous dog's distinct look and style can be found in many pictures of the family, photos detailing their close relationship with the canine.
The reason the unwitting Checkers the dog is cited to be the explanation for Nixon winning the 1968 presidential race is due to a historical event called the "Checkers Speech" or "Fund Speech." In this speech, Nixon defends himself against the allegations that he was using a trust fund meant for the Republican's campaign for his personal extravagant expenditures. Sitting in a middle-class set and detailing all the evidence of his history of spending, he promised he had never inappropriately used supporter's money and other donations during his tenure as a politician. That is, all except for one special dog...
Checkers was actually a gift from a Nixon supporter from Texas. A man named Lou Carrol heard oMrs. Nixon claim their family would love to have a dog over a radio show, and decided to give them a spotted canine. In the speech, it was revealed that it was Nixon's then 6-year-old daughter, Tricia, who bestowed the adorable name to the black and white Cocker Spaniel. The Republican presidential candidate acknowledged that the fact that Checkers was a donation posed a problem, but it was too late - the entire Nixon family fell in love instantly! While he was careful to keep the donation heat off of his career, he couldn't resist the wonderful dog and decided to keep Checkers, no matter what his greatest critics might say. This special devotion made him a country-wide every man, putting on a face that made him relatable to the average American. The innocent and sincere reasoning behind keeping the dog made him a likable person, and nothing like the usual straitlaced politician we are used to seeing in the papers. We can safely say that it worked like a charm!
Due to the result of the Checkers Speech, an overwhelming success that turned the tables, we have no reason to doubt that the Nixon dog was appropriately named.
Board Game Inspired Dog Name Considerations
The most obvious choice may be to name your dog after your favorite board game - full stop! There is a whole library of games out there that you have probably played from the time you were a wee child to the tougher, more exciting franchises you gather your friends for today. Either look back in nostalgia to the titles that made you laugh and cry, or you could browse your current library for the most epic games you have ever played. It's a good thing that the world of board games is boundlessly full of creative themes, stories, art, characters, and more. The industry and community are growing and growing so you will always hear a nice new name you'd love to give your dog.
We advise just picking a title that has given you so many memories - wonderful memories you hope to have with your new pal! Whether it was your crowning moment of awesome, driving the owner of Boardwalk to bankruptcy or your hilarious fail moments when you swiped that Jenga block that caused the entire tower (and your friends) to topple over in laughter, you'll find the one that's stuck to you the most! Giving this super special name to your pet almost guarantees the amount of fun you will gave together!
Male Board Game Inspired Dog Names
Votes
Name
Vote
1

Tokyo

After the majestic monster battling game, "King of Tokyo"

0

Checkers

After the famous 8x8 draughts board game

0

King

After the main character and point of victory in Chess

0

Bishop

After the diagonal-traveling character in Chess

0

Knight

After the L shape-traveling character in Chess

0

Catan

After the strategy game, "Settlers of Catan"

0

Othello

After the fun game of black and white coloured disks

0

Axis

After the Board Game "Axis & Allies"

0

Go

After the traditional Japanese board game

0

Stratego

After the battle-inspired board game

0

Monopoly

After the timeless money-making classic board game

0

Battleship

After the classic strategy board game

0

Twister

After the body-bending classic mat game

0

Blokus

After the abstract strategy board game

0

Yahtzee

After the fun dice game

0

Kerplunk

After the fun marbles game

0

Trouble

After the 4-piece transport mission

0

Bingo

After the classic number calling game

0

Pieface

After the viral whipped cream game

0

Wonder

After the globe-trotting, victory point-grabbing adventure "7 Wonders"

0

Cluedo

After the updated detective classic

0

Dominion

After the fast-paced card game

0

Arkham

After the Lovecraft inspired board game "Arkham Horror"

0

Balderdash

After the mind-bending vocabulary challenging board game

0

Boggle

After the box-shaking classic word game

0

Tsuro

After the longevity strategy board game

0

Resistance

After the smoke and mirrors character game inspired by futuristic space drama

0

Shogun

After the Japanese Sengoku-inspired board game

0

Summoner

After the magic battlefield inspired game "Summoner Wars"

0

Tokaido

After the Japanese-inspired traveling game
Female Board Game Inspired Dog Names
Votes
Name
Vote
0

Chess

After the famous 8x8 character board game

0

Queen

After the most powerful character in Chess

0

Rook

After the straight line-traveling character in Chess

0

Parker

After Parker Brothers, the creator of Monopoly

0

Risk

After the territory-grabbing diplomacy board game

0

Scrabble

After the tile-laying word game

0

Clue

After the fun detective board game

0

Ally

After the Board Game "Axis & Allies"

0

Mancala

After the two-player marble strategy board game

0

Cranium

After the mind-bending puzzle board game

0

Qwirkle

After the 2006 tile-laying game

0

Jenga

After the classic block-tower strategy game

0

Trivia

After the game "Trivial Pursuit"

0

Connect

After Connect 4

0

Zingo

After the modern twist on the number calling game

0

Candy

After the "Candy Land" board game

0

Cootie

After the children's roll-and-move table game

0

Codename

After the word puzzle spy-inspired board game

0

Ticket

After the thrilling train ride game "Ticket to Ride"

0

Splendor

After the relaxing gem trade-inspired game

0

Cosmic

After the 1977 alien-inspired board game "Cosmic Encounter"

0

Reversi

After the fun game of black and white coloured disks

0

Carcassonne

After the tile-laying strategy board game about French territory

0

Agricola

After the fun farming-inspired strategy game

0

Dixit

After the mind-bending picture puzzle game

0

Mastermind

After the 1970's code breaker puzzle game

0

Takenoko

After the panda-caring strategy board game

0

Avalon

After the smoke and mirrors character game inspired by Arthurian legend

0

Grande

After the Spanish world-domineering strategy board game "El Grande"

0

Parcheesi

After the Indian-inspired square and circle travelling game
Community Dogs with Board Game Inspired Names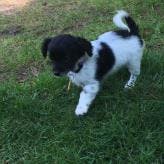 Poe
Male
Mutt
Washougal, WA
Personality
Baby
Energetic