Introduction
If you're a huge fan of the Call of Duty series, and are looking to adopt a new best friend, then you've made it to the right place. Call of Duty is a massive video game franchise full of games, merchandise and die-hard fans. It has a campaign, or linear story line to follow and progress though, as well as established characters, but players will all agree that it's the multiplayer option that really makes the games. Well, that and the fact that you get to play with guns, different classes and even a dog companion. Speaking of which, here are some Call of Duty names you might like to consider when naming your new buddy. 
Call of Duty Dog Names in Pop Culture
Featured Famous Call of Duty Dog
Riley
The playable dog from Call of Duty: Ghosts, Riley is a member of the Ghosts squadron and part of the player's team. He's helpful, friendly, and helps by sniffing out explosives, as well as by taking out hostiles. What makes Riley so unlike other canine companions in video games is that players can remotely control him. You can even give him orders over a headset. 
Plus, have you ever seen a dog jump up on a helicopter close to the ground, then bite the pilot to take the plane down? Because Riley does it! This German Shepard is technically a member of the US Special Operations unit, along with his caretaker, David "Hesh" Walker, and Logan Walker. He is portrayed as a vital team member, always alerting his human companions of threats in the area, scouting ahead, and engaging with enemies directly. 
 And this is all coming from a dog who isn't even in all the Call of Duty: Ghosts levels. In fact, he's mainly featured in the first half of the campaign, but then gets featured a bit less. That's not to say that he is forgotten though. Who can forget a dog who performs solo reconnaissance of enemy territory, guided only by a radio and camera feed built into a vibrating collar? Whether this is realistic or not is up for debate, but Riley certainly instilled the idea into everyone's heads. 
Of course, Riley wasn't the only dog in Call of Duty: Ghosts. He was the star, but not the only dog. There were also guard dogs. When activated, a guard dog spawns and follows the player. It growls to let the player know there are enemies nearby, and will chase them, usually taking them down with one attack. On the off chance that the player still dies, the guard dog will seek and hunt down the murderer. And he will stay in a match as long as the game goes on, unless he is killed.  
The only problem with these guard dogs is that they aren't the easiest to control all the time. They try to run back to the player after killing off an enemy, but it can go after another enemy he encounters on his way back. Although helpful, it can often cause the dog to be missing for a lengthy period of time. So, if you want the guard dog to be right by your side all the time, you're better off finding yourself a real dog to sit on the couch and watch you play! 

Call of Duty Dog Name Considerations
When naming your new dog, there are some things to keep in mind that may result in an easier, simpler process. For instance, if you already adopted the dog, but have yet to name him or her, you may want to consider which Call of Duty characters best describe your dog. Do any of them resemble the dog at all?  
On the other hand, if you haven't adopted the dog just yet, you may want to consider thinking about the dog's potential breed, size and color. Chances are you have an idea of what type of dog you want, or at least the general size. The tiniest bit of information can point you in the right direction.   
Finally, consider what you love the most about the Call of Duty series. Is it the action, the adventure, the spirit of competition? Who in the story really stood out to you? Which character do you think embodies the entire series?  
Remember, a dog is a best friend, a companion, and most importantly, a living, breathing life form with his or her own likes and dislikes. Prepare to see some changes and variations that don't quite resonate with the Call of Duty series. This is fine, and normal! The name doesn't have to always match the dog, although it certainly does help.  
Male Call of Duty Dog Names
Votes
Name
Vote
3

Price

A captain and recurring supporting character throughout the series, he's basically invincible

3

Gaz

A member of the S.A.S. team in Call of Duty 4

1

Belov

One of the Red Army soldiers, loyal to Captain Viktor Reznov

1

Markhov

A minor character in Call of Duty: World At War, he commanded his units to fight Nazis

1

Dunn

An Army Ranger from Modern Warfare 2; fought in Afghanistan and aided in American defense against Russia

1

Foley

One of the commanding officers in Call of Duty, Call of Duty: United Offensive and Call of Duty Classic

1

Daletski

A friend of Reznov during the Battle of Stalingrad

1

Dimitri

A playable character in Call of Duty: World At War, and a supporting character in Call of Duty: Black Ops

1

Ghost

Simon "Ghost" Riley is part of the special forces, and is tasked with capturing Vladimir in Modern Warfare 2

1

MacMillan

Captain Price's commanding officer in Call of Duty 4: Modern Warfare

-1

Thomas

After Admiral Thomas Briggs, a supporting character who helps capture Raul Menendez, the main antagonist in Call of Duty: Black Ops II

-1

Alejandro

Known as Alex the Red, he's an arms dealer being chased down in Rio de Janeiro

-1

Alex

The main protagonist in Call of Duty: Black Ops, voiced by Sam Worthington

-1

Bruce

A supporting character with a black face mask in Call of Duty: Black Ops, mission "WMD"

-1

Carlos

He assists Mason, Woods and Bowman in Call of Duty: Black Ops

-1

Daniel

One of the two characters voiced by Gary Oldman in Call of Duty: Black Ops

-1

David

The protagonist in half of Call of Duty: Black Ops II; son of Alex Mason

-1

Derek

A playable character in Call of Duty: Modern Warfare 3; part of the Delta Force

-1

Maxis

Leader of Group 935; creator of Hell-hounds and zombies

-1

Frank

One of the major supporting characters in Black Ops; aids Alex Mason

-1

Friedrich

Defector from Nazi Germany; developed Nova 6

-1

Amsel

German officer; lead massacre of Red Army soldiers and Russian civilians

-1

Romero

The main antagonist in Black Ops: Call of the Dead

-1

Weaver

Works alongside Jason Hudson in Black Ops

-1

Imran

One of the main antagonists in Call of Duty 4, he is the source of nuclear weaponry

-1

John

The main protagonist of the S.A.S. missions in Call of Duty 4: Modern Warfare

-1

Joseph

Private first class, he's a playable character in Modern Warfare 2

-1

Lev

One of the main antagonists in Black Ops, he's voiced by Andrew Divoff

-1

Michael

A playable character in Black Ops: Call of the Dead, and a noteworthy actor in the TV show The Walking Dead

-1

Mike

A friend of David Mason, and member of the SEAL Team Six in Black Ops II
Female Call of Duty Dog Names
Votes
Name
Vote
1

Tanya

A female soldier in Call of Duty: Finest Hour

1

Anna

The female Red Army soldier from Call of Duty: Finest Hour; fights in Battle of Stalingrad

1

Sasha

Lieutenant and Red Army officer from Call of Duty: Finest Hour

1

Prip

After Pripyat, Ukraine, featured in Call of Duty 4: Modern Warfare; real-life city that had to be evacuated due to a nuclear explosion

0

Karma

Chloe Lynch's nickname in Black Ops II

0

Isabelle

French resistance fighter from Call of Duty 3

0

Luna

After the location in Black Ops, more specifically, the zombies map

0

Ghilli

After the famous disguise used by the military, featured in most of the Call of Duty games

-1

Abigail

A playable character in Call of Duty: Black Ops II Zombies

-1

Misty

Abigail Briarton's nickname in Call of Duty: Black Ops II Zombies

-1

Chloe

A supporting character in Black Ops II, she has a thing for piercings

-1

Samantha

The secondary antagonist in the Zombies storyline, she's Ludvig Maxis' daughter

-1

Sophia

Dr. Ludvig Maxis' assistant in the Zombies storyline

-1

Sarah

Yes, Sarah Michelle Gellar, better known as Buffy the Vampire Slayer, is a playable character in Black Ops

-1

Michelle

Also after Sarah Michelle Gellar, from Black Ops and Buffy the Vampire Slayer

-1

Charlie

After Firebase Charlie, the Federation forward operating base in San Diego, CA

-1

May

After Mayenne, a town in France where Call of Duty 3 is based

-1

Foy

A city in Belgium where Call of Duty: United Offensive is based

-1

Virgina

Featured in Call of Duty: Modern Warfare 2

-1

Volga

A river in Russia featured in Call of Duty, Finest Hour, and Black Ops II

-1

Paris

The city in France featured in plenty of COD games, including but not limited to WWII, World at War, Black Ops and Modern Warfare 3

-1

Pankow

A suburb of Berlin, Pankow can be seen in Call of Duty: World at War

-1

Liberty

After the Liberty Wall in Call of Duty: Ghosts

-1

Cosmo

After Baikonur Cosmodrome, the largest space launching facility in the world, at least according to Black Ops

-1

Rhine

After the chapter "The Rhine" in Call of Duty: WW2's campaign

-1

Coup

After the chapter "The Coup" from Call of Duty 4: Modern Warfare

-1

Basra

After Basra, Iraq, featured in Call of Duty 4: Modern Warfare

-1

Paula

The female version of Paul Jackson, the 1st Force Reconnaissance, from Call of Duty 4

-1

Aiello

An ability in Call of Duty WWII that gives you a special smoke signal grenade

-1

Caen

The city in France, featured in Call of Duty: WWII
Community Dogs with Call of Duty Names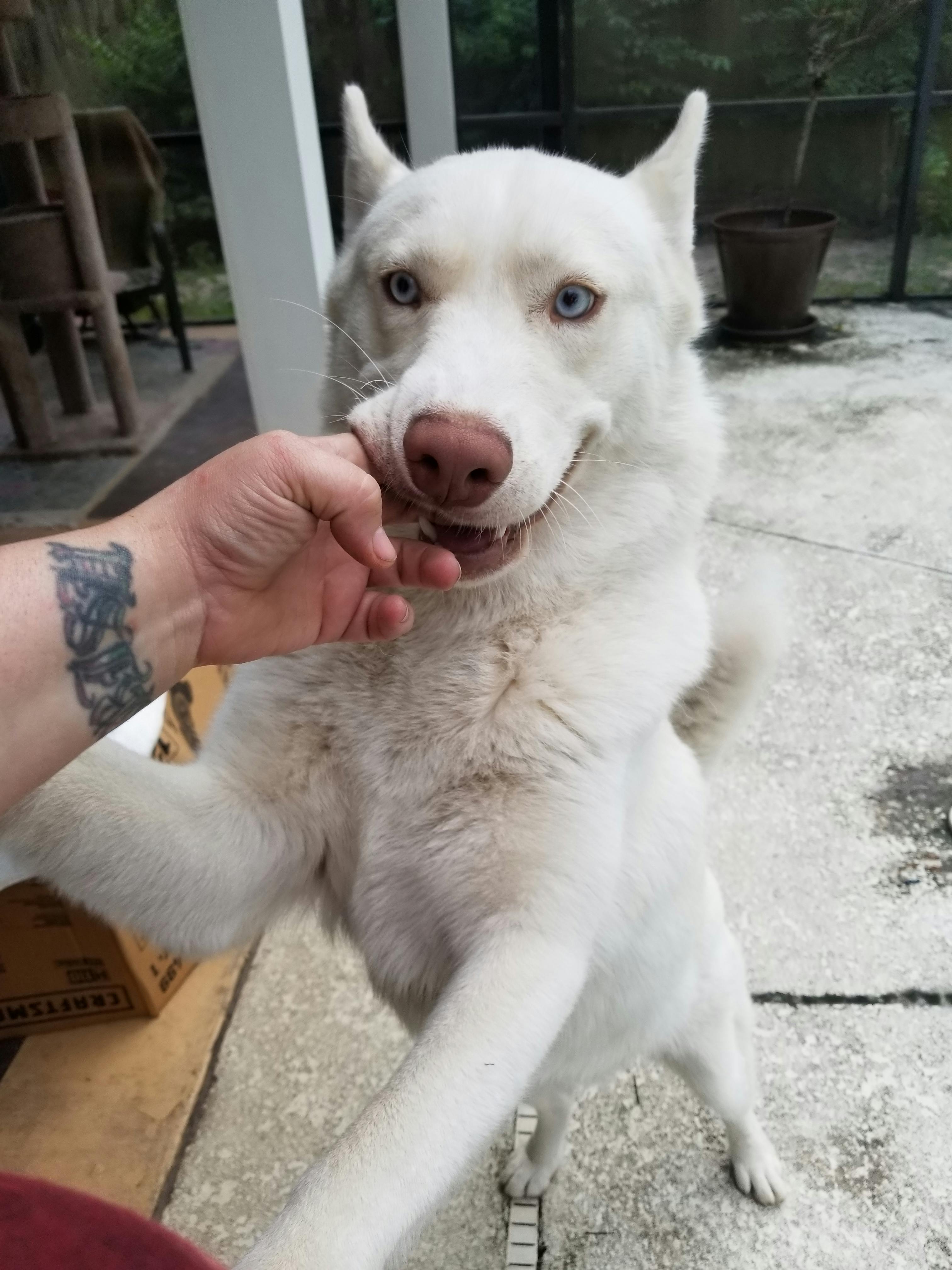 Soap
Male
Siberian Husky
Adairville, KY
Bought him from an Amish man in PA he has been my support dog through tough times. His sunny, happy go lucky personality keeps me on my toes and drives his brother an sister huskies crazy