Introduction
Picking a name for pets can be a challenging task, and inspiration is often sought from outside sources to find exactly the right name. When choosing a name for our dogs we often look towards the things that, like our canine companions, have given us comfort, and one of the things that many people derive a great deal of comfort from is food. Herbs lend a great deal of impact to our food imparting both smells and flavors that can either take us to new lands or deliver us back home to our childhood dinner table, as well as helping to heal our bodies.

Dog Names Inspired by Herbs in Pop Culture
Featured Famous Dog With a Name Inspired by Herbs
Jasmine
Herbs have been used for cooking, healing, and even decorating for thousands of years, they have meaning in our lives, and emotional power. These traits make many people look to their herb garden when trying to find an appropriate pet for our homes, and a few of these names have made their way into popular culture here and there. In animation there has been Dill, the hyperactive dog in the stop animation children's show The Herbs in the 1960's and Rhubarb, the Sombrero-wearing canine scientist in the short lived show The Houndcats, aired in 1972 and 1973, and a canine actor by the name of Myrtle made appearances in the English television shows All Creatures Great and Small in 1988 and Two Fat Ladies in 1998. Celebrities have even occasionally used these types of names with their pampered pooches, with Twilight star Kevin Lutz dubbing his dog Kola and Jim Morrison of the Doors giving his dog the name Sage. It was dog named Rishi, the Hindu word for sage, that made all the difference for 10-year-old Jake, an autistic boy with high levels of anxiety. Rishi was trained to work with autistic children and was matched with Jake by the foundation "Dogs for Good." Since Rishi has come into his life Jake has been better able to deal with the stresses of the world, attending weddings, cricket games, and family holidays, and most of all, to feel safe.
Jasmine is a delicate flavor, but when just one bud is dropped in a pot of tea spreads it's floral essence throughout the pot. Jasmine the Greyhound at the Warwickshire Wildlife Sanctuary was much the same way. This gentle, unassuming dog was found in 2003, cold and starving in the garden shed where she had been dumped. She was brought back to the shelter to be nursed back to health and during the several weeks it took for her to fully recover, Jasmine took on the job of greeting each new member to the facility. It didn't take long before she was playing mother hen to a whole host of animals including not only dogs, puppies, and cats, but guinea pigs, birds, foxes, badgers, and even rabbits. She was especially close to baby roe deer named Bramble that was brought to the sanctuary and they were constant companions from the time Bramble was 11 weeks old until she was old enough to be released safely back into the wild. All in all, Jasmine cared for over 50 different animals before she passed on in 2011 and left us with a reminder that love can overcome any difference. 
Dog Names Inspired by Herbs Considerations
There are many things to take into consideration when in the process of choosing a name for your new family member, after all, it's a name you are likely to be saying and hearing several times a day, hopefully for quite some time. Your dogs new name should be one that is easy for you and other household members to pronounce as well as being one that your dog responds to fairly easily to. Names based on herbs can be quite adaptable and can suit many different dogs. While most of the herbs on the list are green, some are connected with colors more commonly associated with canines, so Sage might work for a dog with a grayish coat, Pimento for a red colored dog, or Vanilla for a white one, and many of these herbs are often ascribed a particular character and are even sometimes used to describe personality traits, such as salty for a person who is irritable and unpleasant, or peppery to describe someone with a hot temper, while a cooler headed or calmer individual might end up with a name more like Peppermint or Linden. Your personal preferences and interests may also have an effect on which name is chosen, those that grew up with Italian foods may find names like Basil and Rosemary to be comforting, while Filé powder or Cayenne may be more popular for those who prefer the cooking of the southern part of the United States. 
Male Dog Names Inspired by Herbs
Votes
Name
Vote
13

Basil

Basil is an herb in the mint family that is also known as the king of herbs, tasty both raw and cooked

12

Sage

An evergreen shrub with woody stems and grayish leaves that has a slight peppery flavor and is said to ward off evil

10

Tarragon

A species of plant in the sunflower family that is used as a culinary herb

8

Dill

Dill is an aromatic herb with fern-like leaves that flavors many dishes, including dill pickles

8

Rishi

A name meaning sage in Hindu

7

Kola

Short for Gotu Kola, an herb purported to help improve memory

7

Mugwort

Mugwort was used to flavor beer before hops and has been used to expel digestive worms, but contains toxic thujone

6

Valerian

The root of the valerian plant has sleep-inducing properties

5

Chickory

While chicory is cultivated for its bitter leaves, the roots are often used as an additive to coffee or beer

5

Linden

Both the leaves and flowers of this tree are said to have medicinal properties and linden flower tea is very relaxing

5

Sorrel

A sour herb with leaves that have a flavor similar to kiwifruit that can be added to soups and sauces

4

Alfalfa

Alfalfa is an herb that is believed to help lower cholesterol and detoxify the blood

4

Chive

Chives are a close relative to garlic with a milder flavor

4

Kale

A dark green leafy vegetable that is high in calcium, iron, and vitamin C

3

Sabola

An Egyptian name that means pepper

2

Caraway

The seeds of the caraway plant have a distinctive mild licorice flavor that is similar to anise

2

Herb

Any plant with leaves, seeds, or flowers that are used as food, medicine or flavoring can be defined as an herb

1

Bergamot

A plant in the citrus family whose fruit is often used in herbal teas

1

Pimento

Before allspice is a spice, it is a Pimento berry

0

Filé

The dried and powdered leaves of the Sassafrass tree give us this spicy herb

0

Mekhag

A name meaning clove in Armenian

0

Rhubarb

A tart seasonal vegetable that is more often treated like a fruit than a vegetable

-1

Savory

A mild, peppery herb that can be used in the same way as the herb thyme

-2

Panax

The Latin name for ginseng is panax ginseng

-3

Chervil

A delicate looking herb related to parsley with an equally delicate flavor

-3

Ilex

Ilex paraguariensis is the scientific name for the Yerba Maté plant

-4

Eyebright

This herb was traditionally used to strengthen the sight and eliminate trouble with the eyes

-4

Sumac

The red fruits of the sumac plant are dried and ground into powder then used to add a tart lemony flavor to foods

-5

Hops

An herb used in the making of beer

-5

St John

The herb St. John's wort is said to help relieve conditions like depression and anxiety
Female Dog Names Inspired by Herbs
Votes
Name
Vote
10

Rosemary

A woody, fragrant herb that can be added either fresh or dried to many foods

9

Violet

Historically, violets have been used medicinally as well as being used as a garnish or made into candy

8

Jasmine

Jasmine blossoms are sometimes added as a subtle flavoring to teas

8

Lavender

Both the flowers and the leaves of this plant can be used for either savory dishes or tea

7

Parsley

A species of flowering plant that is widely used as a seasoning and a garnish

7

Rose

The fruit of a wild rose is known as a Rose hip and the best-known source of Vitamin C

6

Myra

An English name based on the word Myrrh, a resin extracted from a small thorny species of tree

4

Cayenne

A moderately hot chili pepper that is often powdered and added to increase the spiciness of a dish

4

Cilantro

Also known as coriander leaves, this natural antioxidant ads a sharp tang to salads and garnishes

3

Dandelion

Dandelion shoots and greens are a savory herb used in salads and tea

3

Marjoram

An herb closely related to oregano with a much sweeter flavor but a susceptibility to cold

2

Arnica

A flowering herb that is said to help reduce bruising and swelling

2

Fennel

The fennel plant has delicate aromatic leaves with a mild flavor; the seeds can also be used as a spice

2

Laurel

Bay leaves come from the bay laurel plant and are a tasty flavoring in small doses

2

Primrose

Infusions of primrose can be utilized as a sedative, inducing rest and easing tension

1

Chamomile

An herbal plant well known for it's calming properties

1

Nettle

The extract of the nettle plant can be used to help reduce or eliminate rheumatic pain

1

Thyme

A lemon-scented evergreen that is frequently used in cooking and in salads

1

Yarrow

Yarrow is an herb with yellow flowers that used to be used as a flavoring for beer prior to the use of hops

0

Biljana

A name meaning herb in Serbian

0

Calamint

Although not frequently used for cooking in North America, it is more frequently used in Middle Eastern cuisine

0

Ginseng

The herb ginseng has been employed in attempts to treat anemia, fatigue, and chronic illness, among other conditions

0

Yerba

A Spanish word meaning herb and type of holly tree

-1

Betony

Bettony, also known as woundwort, is said to be good to resolve complaints of the head

-1

Myrtle

A flowering tree that was historically used for treating lung infections and bronchitis

-1

Stevia

As well as being a natural sweetener, stevia leaves can be steeped in water to make tea

-1

Verbena

A genus of flowering plants that includes the herb lemon verbena

-2

Sassafrass

Sassafrass root is the main ingredient in root beer

-5

Mentha

The Mentha, or mint, genus of plants are well known aromatic herbs with erect, branched stems

-5

Peppermint

A well-known variety of mint frequently used to flavor drinks and candies as well as foods
Community Dogs with Herb Inspired Names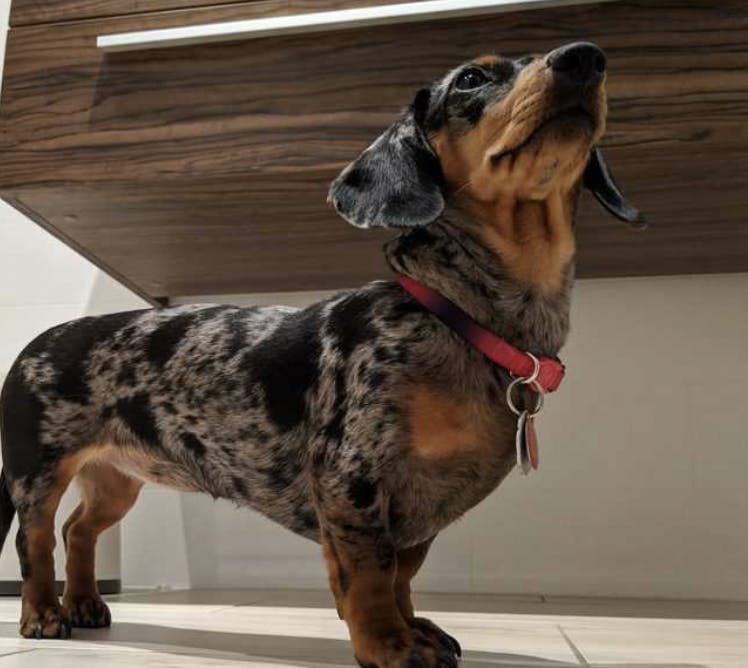 Sage
Female
Dachshund
California, KY
I've wanted the name since I was little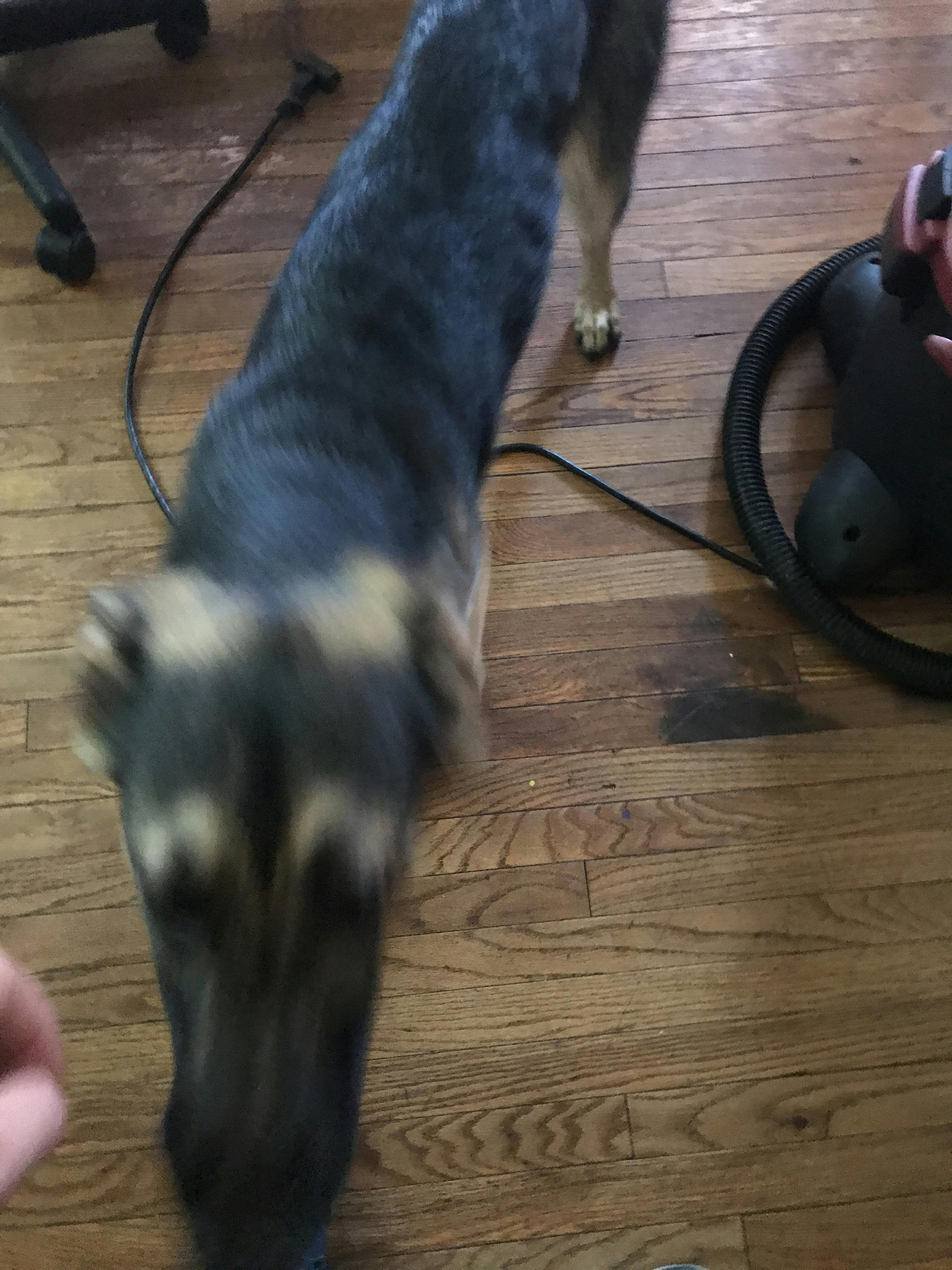 Sage
Female
German Shepherd
Vine Grove, KY
Personality
Sweet
Sassy
Cuddleie
We got her and had no name idea so we looked in the cupboard and found on. Sage