Introduction
There are many joys involved with bringing home a new dog, and many decisions as well, including what to feed them, how to train them, and even what to call them. Comfort can have a number of different meanings. It can mean to give solace to, treat someone with warmth and compassion, or it even can be used to denote ease and wealth. While only a rare few of our dogs will provide us with financial comfort, the emotional support that they provide to us is immeasurable and can be a good source of inspiration when choosing a new name for our canine companions. 

Dog Names Meaning Comfort in Pop Culture
Featured Famous Dog With a Name Meaning Comfort
Hope
Many pets are given names that relate to the comfort that we feel when we are with our canine companions, so it is no surprise that some of these names have shown up here and there in popular culture as well. Brandy, a fairly commonplace name for canines, is a name that can refer to a warm and sometimes comforting alcoholic drink with an attractive color. The smallest dog listed in the Guinness Book of World Records is a six-inch-long Chihuahua by the name of Heaven Sent Brandy, and the canine that possesses the longest tongue is a boxer named simply Brandy. Some of the early Raggedy Ann stories featured a little white puppy with the name of Millicent, and the First Dog during George W Bush's presidency was a black Scottish Terrier with the name of Barney, a dog who gave comfort to many people by hosting the Holiday tour of the White House during a time of great uncertainty. 
Prior to being trained by Mark Harden, Noah, an Anatolian Shepherd whose name means comfort and rest, had been put up for adoption. He was proving difficult to manage and, at 135 pounds, had become too much dog for his living situation. Under Mark's tutilage Noah the dog became an excellent canine actor, playing Butch, a major role in the movie "Cats & Dogs," as well as being featured in the romantic comedy "Kate & Leopold," starring Meg Ryan and Hugh Jackman. 
Another comforting name, Hope, was the name given to one of the several trained therapy dogs at Doernbecher Children's Hospital in Oregon. Hope, a Golden Retriever, began her training as a facility dog at just eight weeks old, an endeavor that took about a year an a half to complete. The training and screening processes for facility dogs tends to be more extensive than the training for therapy dogs as facility dogs are often required to know a number of different commands for different situations and they must be fully screened for any health or temperament problems that might arise. Hope knows over 70 commands, including "jump on" and "snuggle" and spends two to three hours a day working as the "chief canine officer." During the course of the day Hope can be seen providing comfort, emotional support, and unconditional love to the children who interact with her; she visits patient rooms snuggling, playing, and even swallowing fish oil pills to get kids to take their medicine, she gives encouragement to the patients walking the halls for physical therapy, and with the assistance of Hope's handler, children are sometimes allowed to take her for walks or play games of fetch in the courtyard, getting much needed fresh air and sunlight. 
Dog Name Meaning Comfort Considerations
Choosing a name for our pets can be a challenging but rewarding chore, one that can have either a positive or negative effect on both you and your new animal for years to come.  It is important that the name you choose for your dog is one that both you and your household can easily pronounce and one that your dog responds well to. In many cases, people choose to share their lives with dogs for the comfort and companionship that they provide, and this can be reflected in the name that they give their pet. There are many names that can reflect on the concept of comfort; some that remind us of objects of comfort, names like Blanket or Binky, others that remind us of flavors or smells that comfort us, such as Dumpling or Cocoa, and dozens that actually mean comfort for different cultures and in different languages. Your dog's appearance, personality, or even their contribution to the family may influence your final choice of name as well, so the dog that sports a black coat may be named Apache, while Ratatouille might work for that dog you just can't seem to keep out of the vegetable garden, and the name Anu would work nicely for a dog who will be helping out with the chores on a cattle farm.
Male Dog Names Meaning Comfort
Votes
Name
Vote
7

Sharma

A Hindi name that means comfort and protection

6

Noah

A Biblical name that means rest and comfort

5

Socks

Slippers and socks keep our feet warm and comfortable

5

Phirum

A name from Cambodia that means comfort and peacefulness

5

Noe

In Hebrew this name means comfort

5

Maysarah

A name from the Muslim culture meaning ease and comfort

5

Dumpling

Nearly every culture on earth has some sort of dumpling as comfort food

4

Nahum

A name that means penitent and comforter in Hebrew

4

Candle

Many cultures light candles for comfort when distressed or grieving

4

Barnabus

A name meaning comfort in Hebrew

3

Sann

A Cambodian name that means peaceful, quiet, and comfortable

3

Capernaum

A city referenced in the Bible; the field of repentance and the city of comfort

2

Yusri

An Arabic name meaning comfortable and well-to-do

2

Luam

A comforting name meaning peaceful and calm

1

Ratatouille

A Mediterranean comfort food made with garden vegetables

1

Mendel

A Yiddish name that means he who comforts

1

Menahem

A name meaning comforter or who conducts them in Hebrew

1

Jahmai

An comforting Israeli name meaning warm making warm

1

Blanket

Many toddlers and young children carry blankets, sometimes called blankies, with them for security

0

Trost

A German surname that means comfort or consolation

0

Solazzo

An Italian nickname meaning solace or consolation

0

Shefi

A Jewish heritage name meaning comfort and peace

0

Na'ima

Muslim and Arabic word meaning to live in comfort

0

Moonis

An African name meaning to consoler and companion

0

Jabir

An Arabic or Persian name meaning comfort

0

Faraji

Swahili name meaning comfort and consolation

0

Barney

An American derivative of Barnabus, a Hebrew name meaning comfort

0

Apache

Apache tear stones are often used to cleanse grief and comfort those experiencing it

-1

Raha

The Arabic word for comfort

-1

Gravy

To add gravy to something is to add luxury and comfort
Female Dog Names Meaning Comfort
Votes
Name
Vote
7

Consuela

A Spanish name meaning to console or comfort

6

Sharmilla

The feminine of Sharma, a Hindi name meaning comfort and protection

6

Salwa

An Arabic name meaning solace and comfort

6

Ha

A comforting Vietnamese name that means sunshine and warmth

5

Shukura

A name meaning be comforted from Africa

5

Rhea

Greek mother to the gods, Rhea was also known as a goddess of comfort and ease

5

Missy

A shortened form of the English name Millicent, meaning one who brings comfort

5

Millicent

A name meaning the one who brings comfort in England and strong worker in Germanic

5

Hope

A feeling of positive expectation and comfort

5

Brandy

An American and English name that refers to an alcoholic drink that many find warm and comforting

5

Binky

This is a slang term for a pacifier, a source of comfort for many infants

4

Selima

Biblical name that means comfort

4

Rehati

The Albanian word for comfort

4

Nechama

A name meaning comfort or comforter in Hebrew

4

Mustardseed

A talisman of hope and faith that gives comfort to many

4

Mendelay

A name from Russia that means comforter of the mind

4

Chicken

One of the key ingredients in comfort foods worldwide including fried chicken, chicken cacciatore, and of course, chicken soup

3

Solace

A word that means comfort in times of distress in the English language

2

Lily

Lily flowers are often given as a symbol of comfort

2

Cocoa

Hot cocoa is a warm and comforting beverage suitable for any age

2

Chesna

A comforting Slovakian name meaning bringing peace and calmness

1

Geranium

Geranium flowers signify health, true friendship, protection, and comfort

1

Feather

Some cultures believe that birds can carry our prayers to the heavens on their feathers, a comforting thought

1

Comfort

The name, meaning "to strengthen greatly," was often used after the Protestant Reformation

0

Lady

The flower known as Ladies' Mantle symbolizes comforting

0

Anu

An Irish and Celtic goddess that ruled over comfort, fertility, prosperity, and cattle

-1

Rainbow

Rainbows are seen as symbols of hope and comfort by many cultures

-1

Codie

An English name meaning cushion or comfort

-1

Angel

Angels are forces of good who offer comfort and aid to those in need

-2

Maysarah

Muslim name that means ease and comfort
Community Dogs with Names Meaning Comfort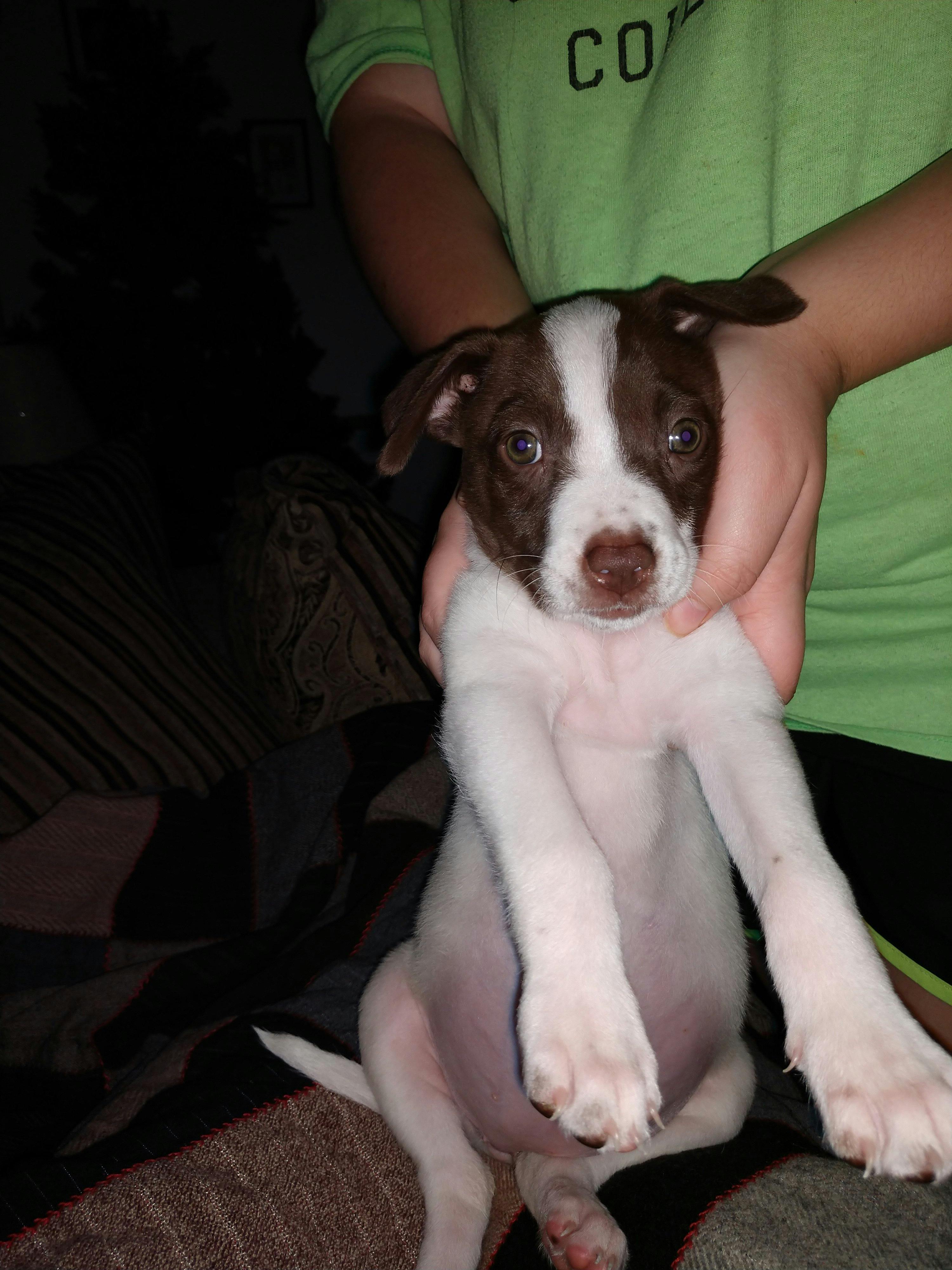 Dot
Female
Pit Bull
Hephzibah, GA
She has a brown Dot on her back, and but