Introduction
Bringing home a new dog is an exciting experience; the world changes for you and for your new pup, sometimes a little and sometimes a lot. Whenever the world changed for the Greeks, whether it was a little or a lot, they called upon their gods and goddesses, of which they had many. People are still fascinated by the great Pantheon of Greek gods and goddesses even today and many people may choose to give their pets names based on these complicated and beguiling characters from ancient mythology. After all, it couldn't hurt to have a furry god or goddess in the family!
Greek God and Goddess Dog Names in Pop Culture
Featured Famous Greek God and Goddess Dog
"The Lads" Zeus and Apollo
Giving dogs names from the Greek pantheon of gods and goddesses is not an uncommon practice and some very notable dogs have been given monikers related to Greek deities. The name of the first search and rescue dog to arrive at the site of the Twin Towers just fifteen minutes after its collapse on September 11, 2001, a dog who braved both flames and falling debris to save people trapped in the rubble, was Apollo, and the Great Dane that held the title of the tallest dog in the world from October of 2009 to February of 2010 was named Titan for his great size. Ironically, this title which eventually passed to another Great Dane in 2012 and 2013 who was named Zeus, after the Greek god that overthrew the Titans and seized control of Olympus.
Fans of Magnum PI, a 1980s action series starring Tom Selleck, are likely to remember the two highly trained and beloved Doberman Pinschers that guarded the large estate in which the main character resided. These two dogs, known collectively as "The Lads," were named Zeus and Apollo. While these two fictional canines were certainly indulged with luxurious surroundings and fine food, they were also devoted and loyal guardians who were drugged and sedated several times in the line of duty and Apollo was even shot once protecting the estate, barely surviving the operation that was required to save his life. These two beloved canine characters were played by several canine actors throughout the years, both male and female, and even starred in a public service ad in 1987 to bring awareness to the dangers of leaving dogs in hot cars, a subject that is still relevant today.
Two popular movies from the 1990s that were aimed at kids also featured dogs named for Greek mythology. Sandlot is a movie released in 1993 that centers around a group of young baseball players during the summer of 1962 and their nemesis is a gigantic mastiff-type dog named Hercules, known only to the children as "The Beast". While the character played a large role in the film, many of the scenes that featured Hercules utilized a mechanical puppet rather than a canine actor. In 1997 the name Zeus pops up again, this time as the moniker of an adorable sandy-haired dog that develops a special relationship with a dolphin named Roxanne in the heartwarming family movie "Zeus and Roxanne," starring Steve Guttenberg and Kathleen Quinlan. 
Greek God and Goddess Dog Names
Choosing a name for your new canine is an important step in creating a bond with your pet. It is something you will say and hear many times a day, hopefully for many years and it should be a meaningful name that is easy for you and your household members to pronounce and that the dog responds favorably to. There are countless names that can be garnered from the Greek pantheon of gods and goddesses. Some, like Hercules and Athena, have stories that are well-known and instantly identifiable, while other names such as Elpis, referring to the hope remaining in Pandora's box, or Kratos, referring to the god of strength and power, may be more obscure. While some names may seem almost obvious given a specific dog's appearance, like Atlas or Titan for a very large canine, or a dark colored dog named after the goddess of night, Nyx, other names may take a little more thought. In some cases, it may benefit both you and your dog to wait a few days before choosing their new name. Only time allows you to see the twitching paws that inspire you to name your dog after Morpheus, the god of sleep and dreams, or to learn that the name Hestia is perfect for your new dog because her new favorite thing to do is to lay in front of the fireplace.
Male Dog Greek God and Goddess Names
Votes
Name
Vote
8

Apollo

Originally the Greek god of music, healing, herding, later earning the title of sun god as well

8

Zeus

King of Olympus and philandering husband to Hera, queen of Olympus; god of the sky, weather, and justice

7

Atlas

The Titan who carried the weight of the heavens on his back

7

Chaos

The origin of everything, according to Greek mythology, is the Chaos void

7

Triton

Messenger of the sea and son of Poseidon who could calm the waves by blowing his conch shell trumpet

7

Zelus

One of the four children of Titans Pallas and Styx and the Titan god of zeal, rivalry, dedication, and jealousy

7

Zephyr

The gentle West wind and the messenger of spring, also the husband to many wives and father to many children

6

Helios

The first Greek god of the sun, who drove the chariot of the sun across the sky

6

Typhon

The god of monsters, storms, and volcanoes who unsuccessfully challenged Zeus for control of Olympus

5

Pallas

The Titan god of war who had four children with the goddess Styx: Bia, Kratos, Nike, and Zelus

5

Pan

The satyr God of the woods, fields, and flocks

5

Poseidon

The wrathful and often cruel god of the ocean and of earthquakes

4

Hades

The morbid and fearsome god of the dead and king of the Underworld

3

Ares

The Greek war god that represents the untamed and violent aspect of war

3

Hermes

The quick moving god of commerce and travel who acts as messenger to the gods

3

Uranus

The god of the sky and the father of the Titans, whom he despised

2

Kratos

The Titan god of strength and power and one of the four children of the Titans Pallas and Styx

2

Notus

The personification of the hot South wind of midsummer, the bringer of storms and destroyer of crops

2

Plutus

The god of wealth and agricultural bounty

1

Chronos

The Greek god that rules over linear time

1

Eros

God of love, procreation, and sexual desire and one of the five primordial deities born from the Chaos void

1

Eurus

The lesser known personification of the East wind, a symbol of autumn that delivers warmth and rain

1

Hercules

A son of Zeus and well-known demi-god believed by the Greeks to be the strongest man on Earth

0

Boreas

The strong but temperamental personification of the cold North wind and the bringer of winter

0

Morpheus

The god of dreams, who was said to use dreams to deliver messages from the gods to humans

-1

Erebus

The God of darkness and one of the five primordial deities born from the Chaos void

-1

Hypnos

The god of sleep and brother to Thanatos, the god of death

-2

Tartarus

God of the storm pit in the depths of the Underworld and one of the five primordial deities born from the Chaos void

-2

Thanatos

The god of death and brother to Hypnos, the god of sleep

-3

Titan

A race of Greek gods and goddesses that were overthrown by Zeus and the Olympian gods and goddesses
Female Dog Greek God and Goddess Names
Votes
Name
Vote
11

Athena

The well-known goddess of wisdom, poetry, art and strategy who sprang, fully formed, from Zeus's head

8

Circe

The daughter of the sun god Helios and a powerful sorceress that could change men into animals

7

Calliope

The muse of epic poetry

7

Demeter

The goddess of agriculture, grain, and bread and the mother of Persephone, for whom she grieves each winter

7

Elpis

The name of hope, the only remaining spirit in Pandora's box once it had been opened

7

Nyx

The goddess of night and one of the five primordial deities born from the Chaos void

7

Tyche

The goddess of chance and fate, often depicted in art as a close companion to Nemesis, the goddess of retribution for evil deeds and undeserved good fortune

6

Artemis

The aloof goddess of the hunt and the moon who also protects the animals of the forest

6

Brizo

A little known Greek goddess of mariners, sailors, and fishermen, who is said to bring prophetic dreams

6

Erato

The muse of love poetry and lyrics

5

Astraea

The goddess of innocence, her name means star maiden

5

Metis

The Titan goddess of wisdom, prudence, and deep thought who was the first wife of Zeus and the mother of Athena

4

Enyo

The sister and close companion of Ares who was also closely linked to the goddess of strife, Eris

3

Aphrodite

The passionate but self-centered goddess of love and beauty

3

Gaia

The earth goddess, also known as Mother Earth, and one of the five primordial deities born from the Chaos void

3

Hera

The jealous and vindictive principal wife of Zeus and the queen of Olympus, she is the goddess of marriage and birth

3

Leto

The Titan goddess of modesty and kindness, and the mother of Apollo and Artemis

3

Selene

The goddess of the moon and sister to Helios who drives her own silver moon chariot across the sky at night

2

Clio

The muse of history

2

Hestia

The virgin goddess of home and hearth who rules over daily domestic life

2

Iris

The goddess of the rainbow and the personal messenger to Hera, the queen of Olympus

2

Thalia

The muse of comedy

0

Eris

The goddess of strife and discord who often rode her chariot to war alongside Ares

0

Nike

One of the four children of the Titans Pallas and Styx and the Titan goddess of victory

0

Persephone

The goddess of the spring who lives in the underworld with Hades for six months of each year

-1

Eos

The Titan goddess of the dawn who rose into the sky to disperse the mists of night with her light

-1

Nemesis

The goddess of retribution for evil deeds and undeserved good fortune, and a close companion to the goddess of chance and fate, Tyche

-1

Styx

The goddess of the river Styx that forms the boundary between the underworld and earth, as well as the goddess of hatred

-2

Até

The minor goddess of mischief, delusion, blind folly, and rash actions

-2

Bia

The Titan goddess of force, might, and power and one of the four children of the Titans Pallas and Styx
Community Dogs with Greek God and Goddess Names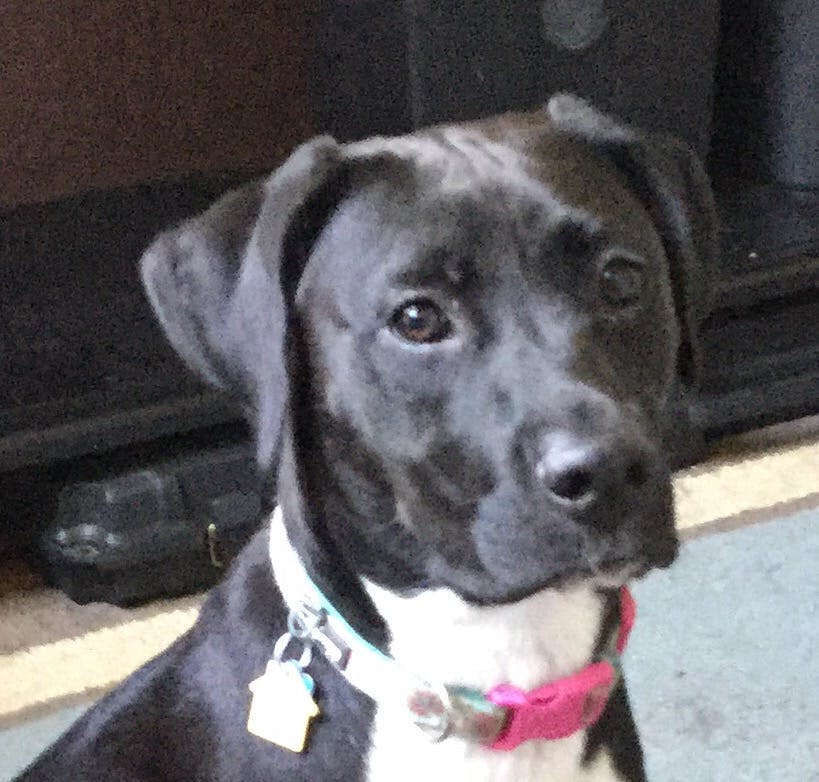 Penelope
Female
Boxador
Lucasville, OH
Personality
Energetic
Silly
Chewy
sleepy
My mother suggested it! Her name was Roxy though originally so she is Penelope Roxy Barnett