Introduction
The Hebrew language is a Semitic language, in the company of other Middle Eastern languages such as Arabic and Aramaic. There are 22 letters in the Hebrew Aleph-bet, the equivalent to our 26 letter alphabet, and it is read from right to left instead of left to right. While this ancient language went unspoken for nearly two millennia, a dramatic revival of the language occurred at the end of the 19th century, in large part due to a man named Eliezer Ben-Yehuda, and it became one of the official languages of the British Mandate Palestine in 1922. Whether you are looking to honor your heritage, looking for a dog name with a long history, or are just interested in the cultures and languages of the region, this list of Hebrew names should give you a good place to start. 
Hebrew Dog Names in Pop Culture
Featured Famous Dog With a Hebrew Name
Judy
There are several dogs with Hebrew based names that have taken the spotlight at one time or another. Moses is a fairly commonly Hebrew name used for dogs, some recent examples of this name in Hollywood include Moses the canine actor, best known for his roles in the movies "Harrison Montgomery" in 2008 and "Amy Cook: The Spaces in Between" in 2009 and the character Moses from the 2004 movie "Meet the Fockers," played by a Yorkie mix dog named Terem. Another canine star from the big screen is Jed the Wolfdog, a male wolf hybrid who was active in Hollywood from 1982 to 1994. His first role as a Malamute during the movie "The Thing" in 1982 was fairly small, but he played starring roles in the remaining three movies, "The Journey of Natty Gann," with Meredith Salinger and John Cusack in 1985, as well as playing the role of White Fang, opposite a young Ethan Hawk in the movie "White Fang," in 1991, and reprising the role for the sequel "White Fang 2: Myth of the White Wolf," in 1994. A dog named Nissa, a Hebrew name meaning "to test" got some attention even more recently in 2014, due in large part to Nissa's talent at a physical discipline known as parkour. Nissa and her handler Kyle were filmed in slow motion by the popular YouTube channel, BeyondSlowMotion, while doing their parkour exercises, putting both Nissa and the sport of parkour in the spotlight. 
Judy, a Hebrew name meaning a woman of Judea was the moniker given to a purebred liver and white Pointer that was born in the Shanghai Kennels in 1936.  Judy was adopted by the crew of the HMS Gnat where she served as ship's dog during World War II, even moving ships to the HMS Grasshopper with the majority of her crew did. While Judy's excellent hearing and scenting capabilities helped the soldiers to avoid trouble for quite some time, the HMS Grasshopper was eventually torpedoed in 1942 and the crew was taken prisoner, Judy along with them. At the prison camp, Judy made friends with another prisoner of war, Leading Aircraftman Frank Williams, and began following him everywhere. He shared food with the canine, and she did what she could to protect the prisoners, warning them of snakes and scorpions and risking her own life and health in order to stop them from being beaten. When a ship transporting prisoners was torpedoed in 1944 Frank pushed Judy through a porthole into the dark water 15 feet below in an attempt to save her life, but he was recaptured. Stories filtered back to him in the camp of a dog that had been helping the men in the water reach pieces of wreckage and carrying men from the water to safety, and a few days later, Judy showed up at the PoW camp that Frank was kept at. By this time the Japanese had exhausted the patience of the Japanese troops and they were actively trying to kill her, but she remained hidden in the jungle nearby until her companions were liberated in 1945. For her heroic endeavors, she was honored with the Dickin medal, along with a collar adorned with her service ribbons and inscribed with her campaigns. 
Hebrew Dog Name Considerations
Choosing a name for your new pet is often an enjoyable experience, but it is also serious business. The name you give your canine companion is one that you are likely to be saying and hearing many times a day each day. A name that is difficult for yourself or your family to pronounce may cause your new dog confusion and distress, while a name that they respond well to will enhance the bonding and learning processes. While people who speak Hebrew regularly may be very comfortable with some of the more exotic pronunciations, such as Baraq or Qeren, those who are novices to the language may prefer names that they may be more familiar with, such as Zach, Jed, or Sarah. There are Hebrew names available that can fit just about any canine and any situation and you can help to narrow down the list by examining at the dog's physical attributes and personality traits as well as your own personal values. Names like Uphaz, Flint, and Tsillah can refer to the individual dog's coat and color, while names like Tzevi might be given to dogs that like to run, and the name Nissa may be perfect for that dog that keeps testing their limits. There is a wide variety of meanings for Hebrew names that can reflect your own values as well, names such as Chayim, meaning life, Doran, meaning gift, or Binah, for knowledge, insight, and understanding.
Votes
Name
Vote
12

Ori

The meaning of this name is my light

8

Meydad

This name means love and was listed in the Bible as the name of a prophet in the time of Moses

7

Baraq

A name meaning a flash of lightning

7

Elazar

This name, meaning God has helped, was given to several characters in the Bible

7

Hadar

This name, meaning honor in Hebrew, was listed as the name of an early Edomite king

6

Vered

This name, meaning rose, is often used for both males and females

5

Nes

A name that means miracle

5

Yoqtan

The meaning of this name is small

4

Achi

A frequently used Hebrew slang word meaning essentially my brother, usually spoken from one man to another

4

Shlomo

A shortened form of the name Shelomoh, meaning peaceable

4

Uphaz

A name in Hebrew that refers to a type of type of gold from the Uphaz region

4

Yithrow

The name of Moses' father-in-law according to the Bible and a name meaning overhanging or abundance

3

Doran

A Hebrew name meaning gift that was adopted from the Greek language

3

Flint

An ornamental name that means shotgun

2

Ittay

A name that means neighboring or with me in Hebrew, although an alternate spelling, Itai, also means ouch in Japanese

2

Moses

An Israelite boy raised by the Pharaoh's daughter who later led the Israelites to the promised land

1

Gad

A name meaning troop in Hebrew, named as a prophet in the Bible

1

Kalev

The Hebrew word for dog

1

Moche

Moses was also known as Moche Rabbenu, a name meaning Moses our teacher

1

Qayin

This is a Hebrew name meaning possession or acquisition

0

Chayim

The meaning of this name is life

0

Iyra

This name means watchful of a city

0

Zach

This name can mean clean and pure or it may be a shortened version of Yitzchak, meaning he will laugh

-2

Balagan

A slang word meaning a mess or a complicated situation

-2

Jed

A shortened version of Jedidiah, a name meaning beloved of Jehova

-2

Tzevi

A name that means gazelle or deer

-3

Paroh

This is a Hebrew name that was adopted from the Egyptians and means great house

-4

Abraham

The Biblical patriarch of the Hebrew people

-4

Lemek

This name, listed as the name of Noah's father in the Bible, means powerful

-5

Samael

This name means venom of God and is listed as the name of an angel of death
Votes
Name
Vote
11

Dodi

A Hebrew name for my beloved or my friend

11

Luna

The Roman meaning of this name, moon, is more commonly known, but the Hebrew name means dweller instead

11

Varda

The meaning of this name is rose

9

Liba

In Hebrew this name means heart, but in the Yiddish of the Ashkenazi Jewish people, it means love

8

Nissa

A name meaning to test

6

Achala

Hebrew slang word derived from Arabic meaning great

6

Odeleya

I will praise God is the meaning of this name

6

Sarah

The name of Abraham's wife in the Bible; it means noble lady or princess

5

Yardena

The feminine form of the name of a river in Palestine; it means flowing down

5

Zayit

A name meaning olive, can be either masculine or feminine

4

Gala

A feminized version of the unisex name Gal, a name meaning mound or wave

4

Meira

A name meaning giving light and the feminine form of Meir

4

Reena

A feminine variant on the unisex name Rina, meaning joy

4

Yalla

A commonly used slang word that means hurry up or let's get going

3

Shira

A Hebrew name that means song

2

Hagar

A Hebrew name that was originally Egyptian, Hagar means flight or stranger

2

Pili

This name has multiple origins, meaning born second in Egypt, pillar in Spain, and in Hebrew, miraculous

2

Qeren

An unusual Hebrew name that refers to the horns of an animal

1

Achoti

A frequently used Hebrew slang word meaning essentially my sister, usually spoken from one woman to another

1

Bosma

A name that means perfumed

1

Chita

This name means food and grain in Hebrew, but conception in Spanish, and kitten in Middle English

1

Elef Ahuz

A slang word that indicates someone is absolutely certain, translates into 1000%

1

Ulla

In Hebrew the name Ula means yoke, but to the Celts, it means gem of the sea

0

Binah

A name meaning knowledge, insight, and understanding

0

Edna

Rejuvenation, pleasure, and delight define this name

0

Kyla

A name meaning crown or laurel that is used in both Hebrew and Yiddish

0

Roni

This Hebrew name is traditionally unisex and means my joy or my song

-3

Judith

The wife of Esau in the Old Testament had this name, which means woman of Judea

-3

Sababa

A Hebrew slang word meaning ok, great, alright, cool…

-3

Tsillah

The name of Lamech's second wife in the Bible, it means shade or shadow
Community Dogs with Hebrew Names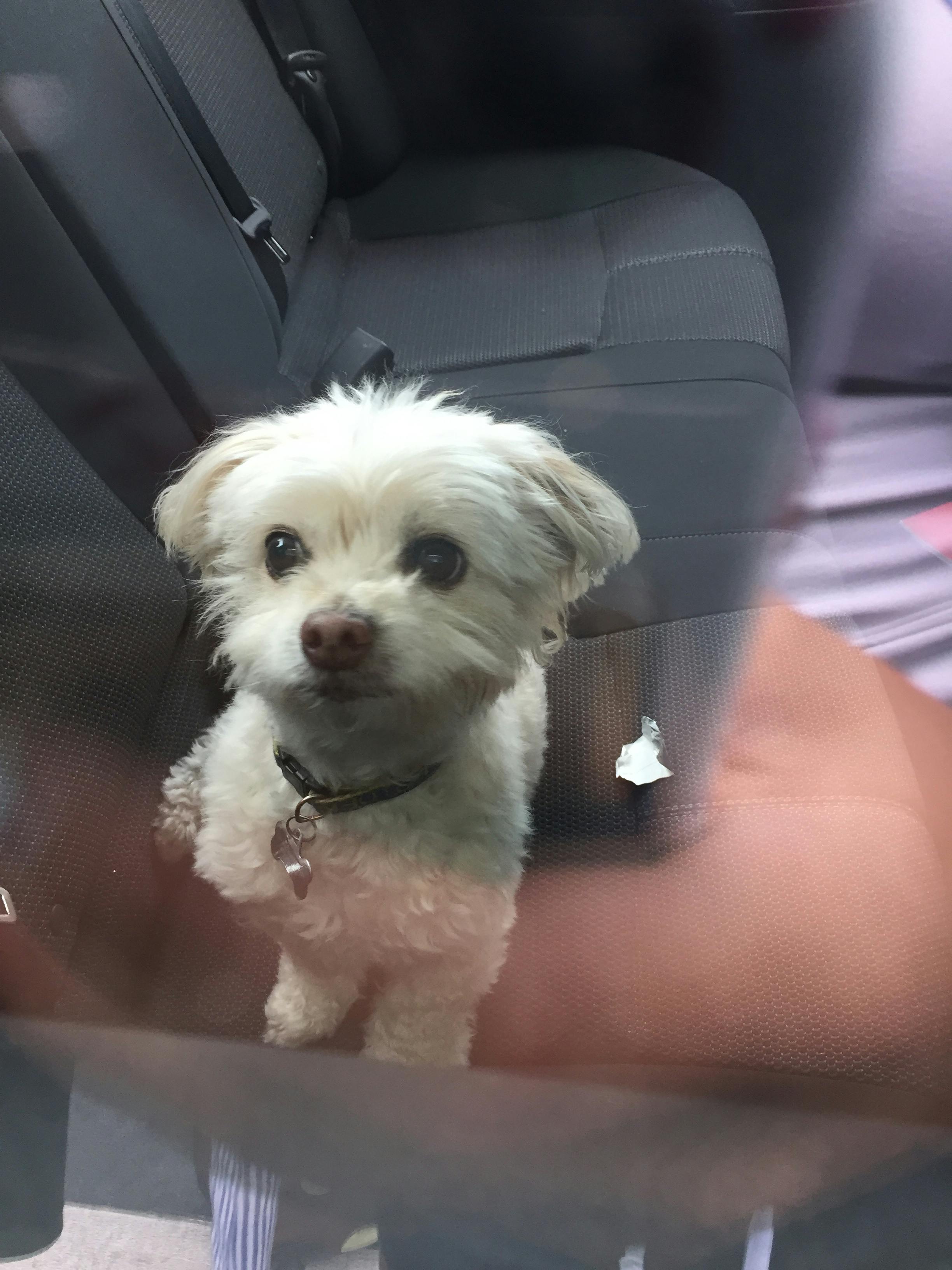 Ozi
Male
Mutt
Palo Alto, CA
He's 10 lbs and was found running along the highway. Ozi means strength, which he must have a lot of to survive alone on the streets of San Jose.