Introduction
The Irish Terrier is one of many breeds whose original heritage is lost to time, but they are most widely believed to be a descendant of the Black and Tan Terriers that were common in Great Britain in the 1700s. They were bred as hardworking farm dogs with a high prey drove and as such, they are capable hunters of rats, rabbits, fox, and badger, and tend to have quick minds and a spunky, can-do attitude. Although they can be quite affectionate with their family and love to be the center of attention, they are often reserved with strangers and can become overprotective and blindly aggressive if they feel they are threatened.  
Irish Terrier Dog Names in Pop Culture
Featured Famous Dog With an Irish Terrier Name
Higgins
Many suitable names for Irish Terriers are quite popular and a few dogs with these names have made the news in recent years.  A blind poodle-mix dog dubbed Fiona was rescued from a trash heap and gained a great deal of attention in 2010, with her rescue being shared on YouTube, along with a request for donations to help restore her sight. Funds from public donations were enough to allow the little dog to receive the surgery and regain partial vision, and she was adopted in 2011. Fiona's story helped to boost adoption rates for special needs dogs and in 2012 she was honored as the ASPCA's dog of the year.
A dog by the name of Killian, a strong Irish name meaning battle and strife, saved his young charge from strife when he uncovered the actions of the infant's abusive babysitter. Killian, a normally friendly and outgoing Labrador Retriever mix, began to growl whenever the babysitter came to their home, frequently placing himself between her and the seven-month-old Finn. Alerted by the canine's unusual behavior, Finn's parents hid their iPhone under the cushions of the couch, where it revealed not only yelling and swearing directed at the infant but physical abuse as well. Finn was immediately removed from her care and the babysitter was charged with assault and battery and convicted of 1 to 3 years in prison.
One of the most famous dogs with a name suitable for an Irish Terrier is Higgins, a scruffy mixed-breed shelter dog adopted by Frank Inn. Higgins was a consummate canine actor who first gained the public eye playing the role of "dog" on the long-running television show, Petticoat Junction. He played the part for six of the shows seven seasons, appearing in a total of 149 episodes from 1964 to 1970, during which time he also made a guest appearance on Green Acres with Eva Gabor as well as one on the Beverly Hillbillies. During his career he became well-known for his ability to convey a large range of emotions with his facial expressions and the speed at which he learned new tricks, learning approximately one new trick or routine each week, and in 1967 he was recognized with a Patsy Award and featured on the cover of TV Guide. He retired in 1971 after being featured in the movie Mooch Goes to Hollywood, starring Vincent Price and Zaa Zaa Gabor, but came out of retirement one more time in 1975 to star in the feature film Benji, an enduring classic movie which has spawned eleven additional feature films, a televisions series, and a video game. 
Irish Terrier Dog Name Considerations
Choosing a name for your new pet is an important early step in caring for your new canine companion. The name you pick is one that you will be saying and hearing several times a day, often for many years. In all likelihood, it will be a name that you will be posting on social media, a name you will be writing down at training classes and yearly checkups, and it may even be a name that you shout across a crowded dog park at the top of your lungs, particularly if your Irish Terrier catches sight of a fast-moving critter like a squirrel or a rabbit. There are many names that are particularly well-suited to the Irish Terrier breed, including commonly seen Irish names like Kelly, Patrick, or Maeve, as well as somewhat more creative or exotic names like Zaire, Oona, or Dingle. Traditionally, these canines were used for as both pest control and as guarding animals, making names like Chase, Ferrell, and Eimar extremely appropriate for the breed as well as names that honor their fiery temperaments like Aiden or Eagan. Irish Terriers typically come in varying shades of wheaten and red, so you won't find names referring to a dark or black coat in this list, but you can look to names like Gilroy, Fiona, and Rowen to describe their color, or Sullivan to describe their eyes.
Male Irish Terrier Dog Names
Votes
Name
Vote
2

Anrai

A name meaning ruler of the home

1

Connor

The meaning of this name is a devotee of wolves or hounds or strong-willed

1

Chase

Like most terrier breeds, Irish Terriers have a high prey drive and tend to chase fast-moving things

1

Dagda

Known also as "the good god," father of the gods and lord of fertility and plenty

1

Dingle

A deep wooded valley

1

Dublin

The capital of Ireland and its largest city, notable for its literary history

1

Fergus

A popular name in Ireland and Scotland that means courageous man or man of force

1

Taliesin

A renowned bard from the middle ages that has attained mythic status in Wales and Ireland

0

Aiden

A name meaning fiery one

0

Ferrell

Brave is the meaning of this name

0

Finn

A popular name meaning fair or light

0

Gilroy

A name meaning either son of the red-haired one or serves the red-haired one

0

Higgins

An Irish surname that means Viking or sea-rover

0

Kells

The mysterious Book of Kells resides at Trinity College and contains the four gospels in Latin written on prepared calfskin

0

Jameson

The most popular Irish Whiskey in the United States

0

Kane

A name meaning fighter or battle in Ireland, but money and putting together in Japan

0

Kilkenny

A tourist destination in Ireland with historic buildings, and active arts scene, and breweries

0

Killian

Battle and strife are the meanings of this name

0

Leprechaun

A member of the fairy realm that is associated Ireland; shoemakers and guardians of a pot of gold

0

Liam

This name means resolute protector

0

Maher

This name means skillful or talented in Arabic, but in Ireland it means generous

0

Niall

A name that means champion

0

Nolan

A name meaning either famous and noble or descendant of a chariot fighter or champion

0

Patrick

The patron saint of Ireland is St. Patrick

0

Quinn

An Irish and Gaelic name that means counsel or wise

0

Sean

A very popular name in Ireland meaning God is gracious

0

Sheridan

Untamed is the meaning of this name

0

Sullivan

This name means dark-eyed one

-1

Eagan

This name means forceful or fiery

-2

Blarney

Many people who visit Ireland make a trip to visit Blarney castle, frequently to kiss the legendary Blarney stone
Female Irish Terrier Dog Names
Votes
Name
Vote
1

Aine

A name from ancient Ireland that means splendor and fire

1

Bailey

In honor of the well-known Bailey's Irish cream, a blend of whiskey and cream

0

Brigid

A solar deity and the Irish goddess of the fires of inspiration, forge, and hearth

0

Casey

A name meaning brave in battle or vigilant

0

Cassidy

This name means curly headed or clever

0

Clover

In Ireland, finding a four-leafed clover is a sign of good luck

0

Connolly

An Irish surname that means fierce as a hound or wolf

0

Cré

The Irish word for earth

0

Danu

An earth goddess known as the mother of gods and of the first tribe of Ireland

0

Deidre

This name means fearsome, broken-hearted, or raging

0

Eimar

Swift is the meaning of this name

0

Fiona

A name that means fair, light, or clear

0

Glen

Ireland contains many narrow, green valleys known as glens

0

Haley

This is a name meaning ingenious in Ireland, but in England, it is a place name meaning hay meadow

0

Inis

The meaning of this name is from the river island

0

Kelly

A name meaning aggressive, war, and lively, in the past this was more common as a surname in Ireland

0

Kiana

A name meaning ancient, also has an association with Hawaii

0

Macha

An Irish war goddess that was strongly linked to the land

0

Madra

The Irish word for dog

0

Maeve

A great warrior queen of Irish legend and a name meaning intoxicating

0

Morrigan

A major Celtic and Irish goddess associated with both war and fate

0

Oona

An Irish name that was popular in the middle ages, believed to be derived from the word uan, meaning lamb

0

Peyton

A name meaning noble or patrician

0

Riley

An Irish or Gaelic name meaning valiant

0

Rowen

This name means little red one or red-haired and is used frequently for both males and females

0

Sorcha

A Gaelic name that is currently in use by both the Irish and the Scotch

0

Torrey

A name that means from the craggy hills; is listed as either a male or female name

0

Trinity

The most prestigious university in Ireland is Trinity college

0

Zaire

This name has several meanings depending on the language it is derived from; in Ireland the meaning is princess

-1

Aran

The collective name for the Inishmór, Inishmaan, and Inisheer islands is the Aran islands
Community Dogs with Irish Terrier Names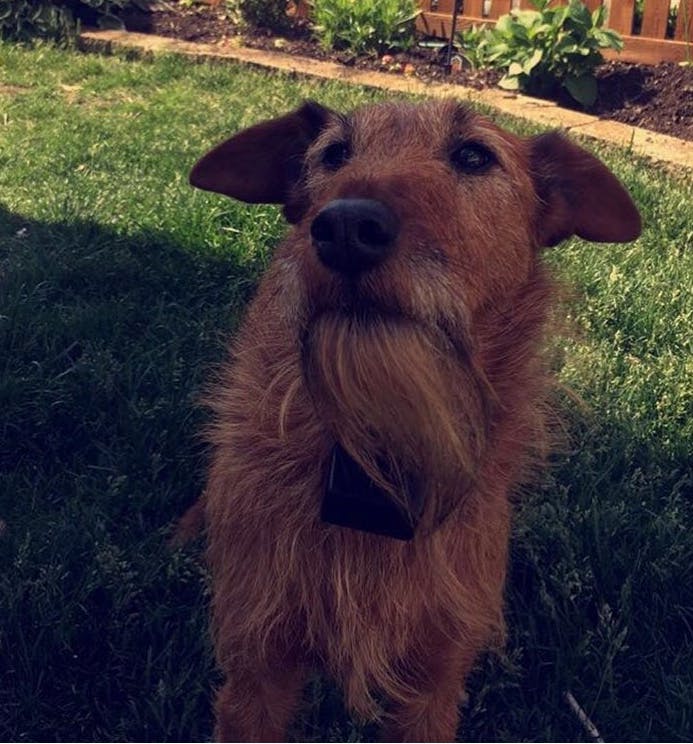 Finley
Male
Irish Terrier
Chicago, IL
my dog was named after hearing the name of a friends cousin. when we looked up the meaning of "Finley" we decided it was perfect for him