Introduction
What a cute, cuddly little Pekingese pup you have sitting on your lap!  She's so small and adorable ... and did I say "cuddly"?  Your husband brought her home to you for a gift recently, and now, comes the naming part of the process, a task which can be fraught with stress, a path which seems endless!  This task doesn't need to be stressful but, rather, it can be quite fun ... especially if you have a plan ... (drum roll heard here) but wait, Wag! to the rescue!  We're here to help with some ideas which may help start those wild imaginative juices to flow, helping you to come up with just the perfect name for the cute and cuddly canine who's warming your lap.
Pekingese Dog Names in Pop Culture
Featured Famous Pekingese Dog
Malachy
If you haven't already done so, it would be a great idea to look up the history of the Pekingese dog.  You will find some very interesting information about it ... like it's one of the most ancient dog breeds on the planet, or, that it was originally owned only by monks and Chinese emperors and their families, or, that the appearance of the breed has changed very little (she's a little smaller now than then) in over 2,000 years.  At one time, it was actually a crime to own a Pekingese if you didn't fall into one of those categories.  She is truly a magical and majestic little creature, if you like toy canine breeds, but not so much if you're into breeds which are considered more versatile and "durable" dogs.  The majesty of the Pekingese isn't always appreciated ... as is the case with Malachy, a male Pekingese who achieved Best in Show rating at Westminster in 2012.  This award, the most sought-after one in "dog-hood", is a source of pride not only for the owner but also for the dog.  However, for the German Shepherd, the Doberman Pinscher, the Wire-Haired Dachshund, the Kerry Blue Terrier, the Dalmatian and the Irish Setter (and their owners) who were bested in the competition, Malachy's achievement was a true and grievous disappointment.  Malachy won the competition, in part, due to his "spotless demeanor", which, based upon the intense verbal flack raised by owners of a variety of other canine breeds, is a lesson that could be considered one of which we could all benefit.  But, as is the case with many of our canine breeds, he took all of the human nastiness in stride, remaining the happy dog he's always been.
Our second featured famous Pekingese spotlight is Fifi, the Peke. She is a figment of a Disney imagination, being created, comic-stripped and filmed as the love interest of Pluto, the dog.  She is also depicted as the pet of Minnie Mouse, when Minnie was a younger mouse.  She first appeared in the Mickey Mouse Sunday comic strip in March, 1932, with her first appearance in a cartoon being released in September, 1933.  Her "acting career" sort of just disappeared after 1955 with her most recent appearance being a playable character in a cellphone video game called Disney Dog. 
Pekingese Dog Name Considerations
The task of selecting the perfect name for that precious pooch is an important one, though it can be fraught with stress and seem quite the overwhelming task.  For many people, the stress potential seems to grow daily as they keep calling her "dog", "baby" or "sweetie pie" so they just opt for the standard stereotypical and common dog names to get the job done and move on.  And, of course, there is nothing wrong with that naming tactic ... unless you want your new pooch to have a special and unique name to set her apart from all of the dogs with whom she will eventually be associating at the dog park.  If you're of the latter frame of mind, then let's talk briefly about some options you may have.  Many pet owners will utilize the color or texture of her coat for name clues, while others will consider some special attribute or personality trait she possesses to stir up some "magical", or even regal, names and still others will use the breed of their new pet for imaginative stimulation.  As is the norm for seemingly daunting tasks, if you approach this task with a plan, it will seem less overwhelming, and it is this last option that we are suggesting to you today ... Pekingese dog names.   Now that we've lit the fire of imagination, let's consider some names or variations of names which are very popular for Pekingese dogs.
Votes
Name
Vote
11

Gizmo

One of the lead characters in the movie called "The Gremlins"

7

Bon Bon

A yummy bite-sized chocolate-covered candy that melts in your mouth, or that sits in your lap

7

Winston

An English word which mean "from Wine's Town"

6

P-nut

A cute variation for Peanut

6

Pipsqueak

A name for an incredibly small or but not so unimportant pup; a 20th century colloquialism

6

Little Doodle

A cute small name for a large dose of puppy love

6

Dinky Dog

If you're into alliteration, this one can describe your pocket-sized precious pooch

6

Puffin

The name of a bird species with large black and white plumage; might be good for that salt and pepper pup

6

Roswell

A Teutonic name which means "mighty horse"

5

Pete

A Greek name (Petros) which means "stone"

5

Noah

A Hebrew name which means "to comfort"

4

Shortstuff

A variation of Shorty, nickname for a short person or dog

4

Gutsy

A name that means having a great deal of courage

4

Tiny Max

For the little terror who's probably chasing the cat about now

4

Basil

A Greek name which means "kingly"

3

Zeus

A great name for the little pup who has a huge attitude

3

Rocky

For that little fighter who's curled up in your lap

3

Bandit

Check your local post office, his picture might be there as the "dog most wanted"

3

Chaka

A name meaning "the lion hunter" ... by the way, where is the cat

2

Mini Mite

As we all know, many large "things" can come in small packages

2

Buddy

What a wonderful name for your new best friend

1

Malachy

Best in Show winner in 2012 at Westminster Dog Show

1

Gobbler

A name for that little crumb muncher who's begging at your feet

1

Nugget

A great name for the "pure gold" treasured canine

1

Squirt

A name that might fit that small, frisky pup

0

Teeny bug

Another sweet reference to your pup's small size

0

Ivan

Ivan the Terrible, a Russian Tsar, though your pup is probably not so "terrible"

-1

Nimble

A fitting name for the pesky pup who's always moving

-1

Little Button

A name that might describe that cute little black nose or the bulgy black eyes of your precious pup

-2

Metro

A great name for those city dwelling canines
Female Pekingese Dog Names
Votes
Name
Vote
7

Maya

A Hindu term which means "magic"

6

Pumpkin

A descriptive name for a Pekingese with a reddish or brown coat

6

Chaos

A great name for that extra hyper pup in the litter

6

Sydney

An English name which means "wide Island, south of water"

6

Cora

A Greek name which means "maiden"

5

Munchi

Another descriptive name for the crumb cruncher who's warming herself in the sunlight by the patio door

5

Pia

A Latin work which means "from Mount Olympus"

4

Pepper

A descriptive name for that spunky pup or for one that has black and white (salt and pepper) coat

4

Candy

The sweetest thing in your life

4

Kaylee

An English name that means "pure, keeper of the keys"; a variation of Kay or Kayla

4

Tessie

An English abbreviation of Teresa which means "harvester"

4

Violet

A Hindi word that means "happy girl"

3

Fifi

Fifi the Peke, Pluto's love interest in Mickey Mouse cartoons and comic strips

3

Misty

A shortened version of "mystique"

3

Kud-le-peke

A play on the term "cuddly" Pekingese

3

Velvet

A name that describes the soft and plushy feel of her coat

3

Isabella

A Latin word which means "devoted to God"; a variation of Elizabeth

2

Little Princess

One who may not yet be queen

2

Nutmeg

A Latin word (Muscada), the feminine form of muscat which means "musky"

2

Mercedes

A Spanish name which means "gracious, gifts, benefits"

1

Midgie

A Greek variation of Margarites which is derived from maragon (pearl)

1

Jade

A precious and valuable gem, especially if she's white

1

Daisy

An English name, also a flower name, that means "days eye"

0

Molly

A pretty common dog name that just rolls off the tongue

0

Scarlett

An English word that means "the color red"

-1

Twigs

A variation of the name Twiggy, which generally refers to a really slim female

-1

Pixie

For that pup who's right out of a Disney tale

-1

Cinnamon

A name for that pup whose coat resembles the reddish brown spice that's great in your morning oatmeal or applesauce

-3

Emma

An English, German and Swedish name which means "complete, whole, universal, also can mean nanny"

-4

Ginger

An English name that means "pure, chaste, virginal"
Community Dogs with Pekingese Dog Names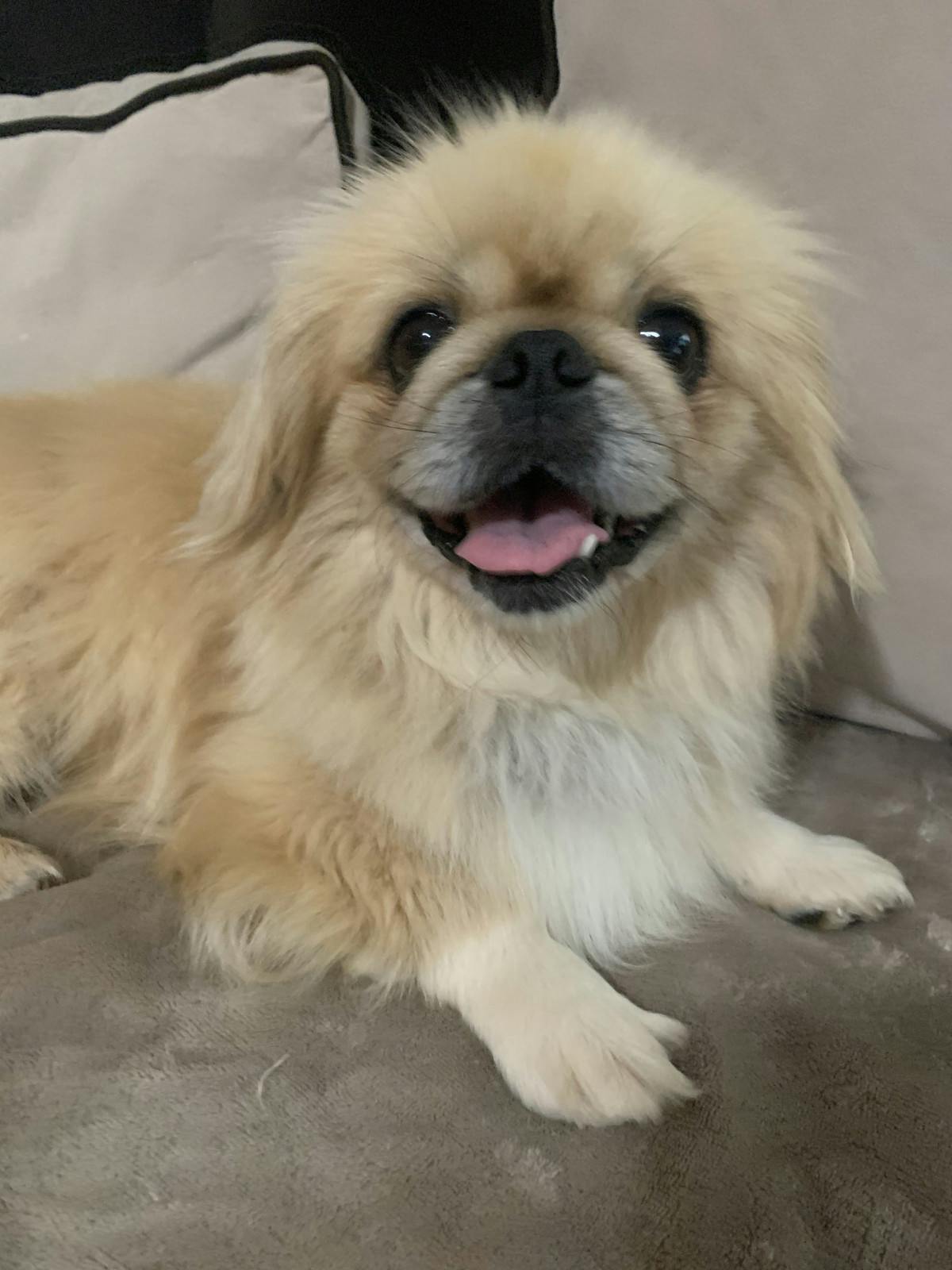 Jasper
Male
Pekingese
Cleveland, AR
Personality
lap dog
Follower
Being a newly adopted dog I didnt like the name he had so I searched Google for names,I found four that I liked and hard as it was I narrowed it down to two and finally settled on the name Jasper.